Jump to recipe
I love tripe but it can get boring to only eat the good old Swabian sour tripe. Sour tripe is a fantastic dish but the Swabians are not the only ones who prepare tripe very well. In fact, tripe is a common food all across Europe except Northern Germany because people there somehow use it as animal feed. If only they would know how glorious tripe tastes. They waste one of the best cuts of the cow!
This recipe for tripe in mustard cream sauce is inspired by the French. If it's a French dish, then you can already assume that the sauce will taste great. In comparison to the Swabian sour sauce, this French mustard sauce is milder and creamier. It doesn't have that fruity punch that you get from vinegar and red wine. And of course, the French like to mellow their sauces with cream which is less common in Swabia. The French finish their sauces with cream and butter, the Swabians with vinegar.
Tips for preparing tripe in mustard cream sauce
This tripe in mustard cream sauce is simple to prepare but it takes more effort than the Swabian version. You first have to prepare a tripe broth that you can later reduce and enrich with egg yolks, mustard, and cream.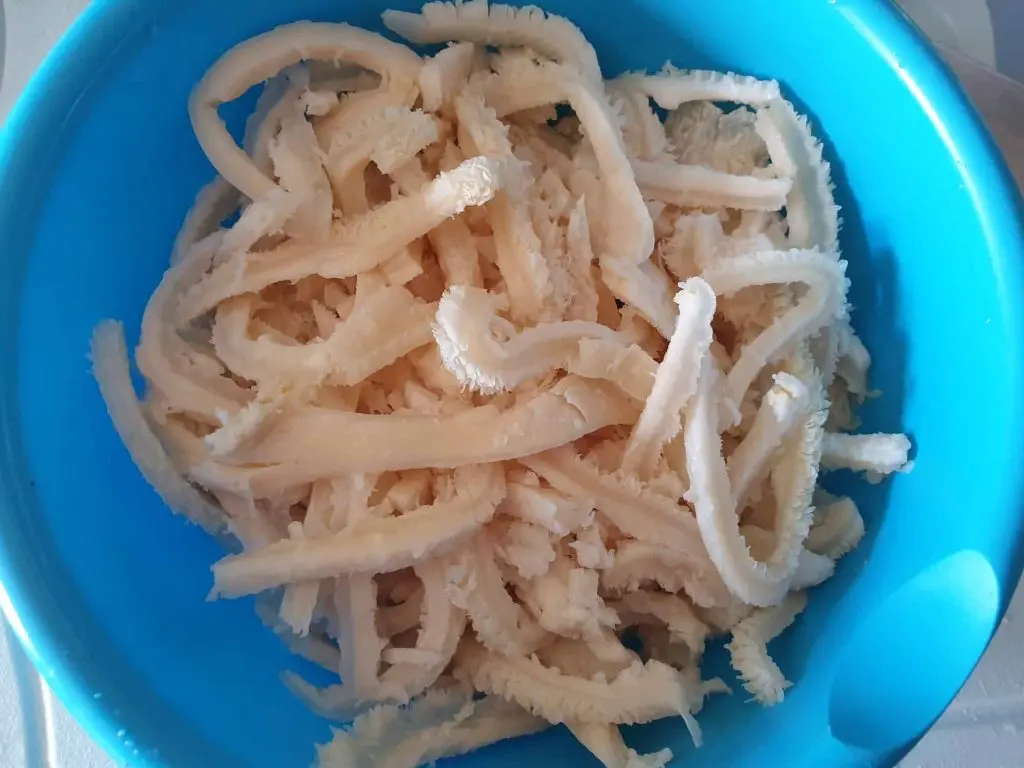 The secret to a well-flavored soup or sauce is that you stud the onions with cloves. Cloves taste wonderful and are one of the key aromatics of Western European food. They round out the flavor and lend dishes a subtle complexity and warmth. In American food, cloves are severely underused and underappreciated!
Instead of kohlrabi, you can use carrots or any other root vegetable that you like in this recipe. And instead of potatoes, you can also serve this dish with noodles.
You can be very generous when seasoning the soup with black pepper and lemon juice. Sourness compliments tripe very well. And as this is a French-style recipe, the pepper of choice to sprinkle this dish with is Kampot pepper. Pure indulgence!
Tripe in mustard cream sauce ('Kutteln Französische Art')

Ingredients
For the broth:
1.5 pounds (680 grams) beef tripe, pre-soaked and pre-cooked, sliced
3 carrots, roughly chopped
1/2 head of celeriac (celery root), roughly chopped
1 small leek, chopped
3 garlic cloves, peeled and lightly smashed
1 onion, halved
2 cloves, stud into the onion halves
a bunch of fresh parsley
a few sprigs of thyme
1 bay leaf
1 teaspoon black peppercorns
1/2 teaspoon coriander seeds
1 teaspoon salt
For the vegetables:
2 tablespoons olive oil
3 garlic cloves, peeled and lightly smashed
1/2 teaspoon black peppercorns
a few sprigs of thyme
3 spring onions, chopped, reserve green part for garnishing
2 kohlrabi, peeled and cubed
10 ounces (285 grams) fingerling potatoes, peeled and cubed
salt, to taste
For finishing the sauce:
3 egg yolks
1 tablespoon Dijon mustard
1 cup (200 grams) heavy cream
lemon juice, to taste
freshly ground black pepper, to taste
salt, to taste
Instructions
Cook the broth:
In a pressure cooker or large pot, combine all the ingredients for the broth. It's best to wrap the spices and herbs in a tea bag so that you can remove them easier after the broth has been cooked. Cover all the ingredients with water until fully submerged, about 8 cups. If using a pressure cooker, bring the pressure up to the high-pressure setting and cook the broth for 30 minutes. After that, let the pressure release naturally. If using a regular stockpot, let the broth simmer, covered, for 3 hours over the lowest possible heat.
Strain the broth into a wide pan and separate the tripe pieces from the vegetables and spices. Discard the vegetables, herbs, and spices.
Prepare the vegetables:
In a large pan, heat the olive oil over medium heat. Add the garlic cloves along with a teabag of peppercorns and thyme sprigs. Add the white part of the spring onions, kohlrabi, and potatoes. Add about 1 cup of the strained tripe broth to the vegetables and leave them to simmer, uncovered, until cooked and almost all the broth has evaporated. Season the vegetables to taste with salt and discard the peppercorns, thyme sprigs, and garlic cloves.
Finish the sauce:
Reduce the strained tripe broth to about half its volume. It's best to do this in a wide pan with a large surface area. In a small bowl, whisk together the egg yolks, mustard, and cream. Whisk the reduced and hot broth into the cream mixture to temper the egg yolks. Then pour everything back into a pot. Season the sauce to taste with lemon juice, black pepper, and salt. Add the tripe and vegetables to your sauce and gently reheat them in the sauce. Be careful to not curdle the egg yolks! The sauce should be smooth and creamy. Don't bring it to a boil.
Garnish the finished dish with a few sprinklings of the reserved green parts of the spring onions.