Jump to recipe
Steamed buns are a staple of Southern German cuisine yet they are most often prepared from a sweet yeast dough. This version with sourdough is a bit different from the sweet version that you eat with vanilla sauce. The reason that I make these buns with sourdough is that I want to enjoy them as a side dish for goulash to soak up the savory sauce. I will post a recipe for the sweet version on this blog another time. It's a crime to eat steamed buns without a sauce in Germany!
What is very important for Germans is that the bottom is crispy. Steamed buns without a caramelized crust are non-acceptable. It takes a bit of experience and good heat management to not burn the bottom but you need to let the buns fry after steaming. Taking the buns off the heat too quickly will result in disappointment. For this savory version, I fry the buns in clarified butter with a few pinches of salt. This is the easy version. The sweet buns which get steamed with milk instead of water are prone to burning but have an outrageously delicious milk caramel crust. But that is a story for another recipe.
The key to success: Don't lift the lid off your pan before the buns are fully cooked. Else they will deflate. And: Keep the dough firm and don't leave the buns to rise for too long. They will grow in the pan. If the dough is too soft or over-inflated the buns are prone to deflate.
I use skim milk powder in this recipe instead of regular milk because I wanted to feed my sourdough starter with water. You can use milk instead of water and skim milk powder if you're fine feeding your sourdough start with milk.
A visual guide to sourdough steamed buns
The dough should be firm and not sticky. You need to knead it until smooth.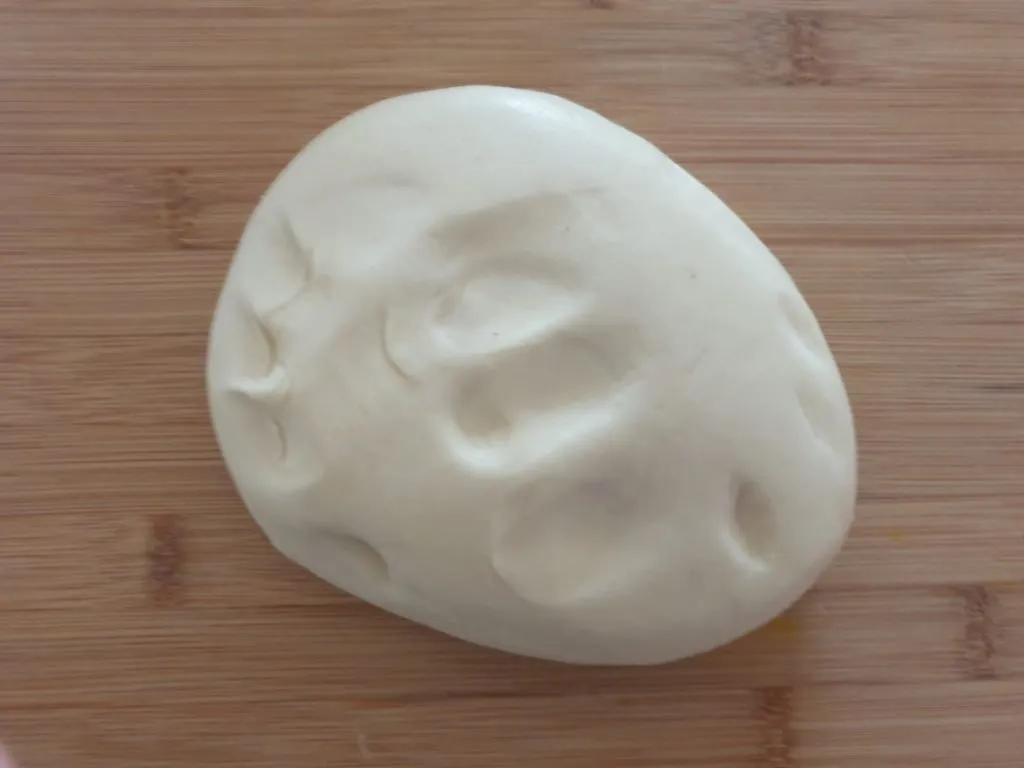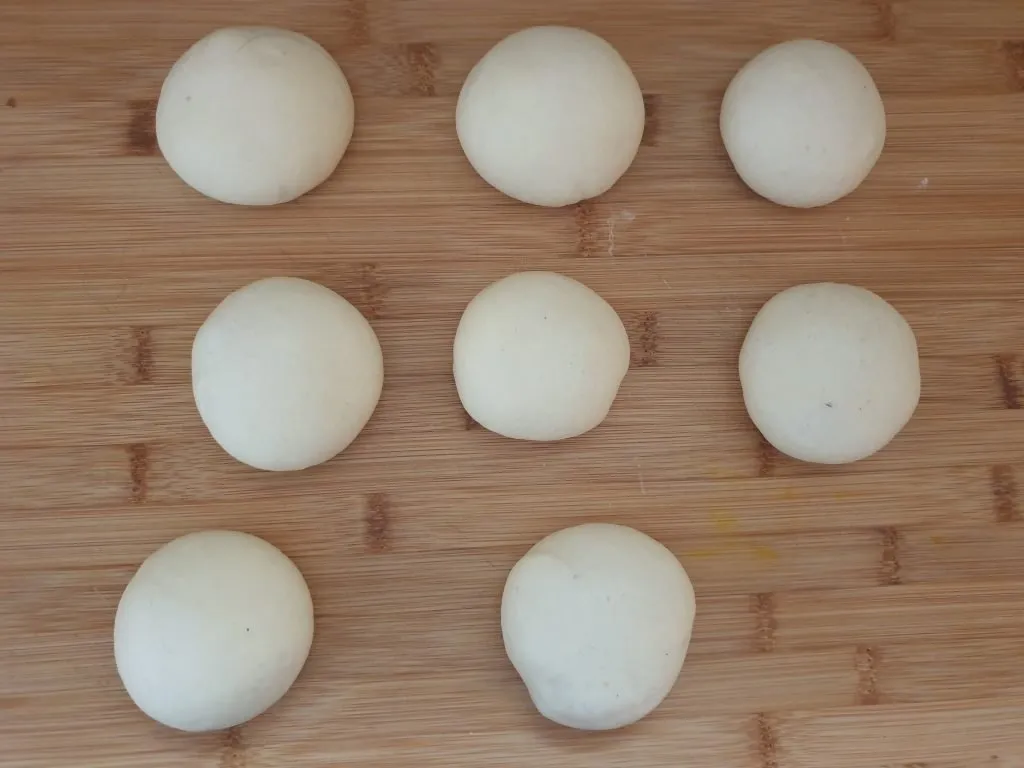 Don't open the lid before the buns are fully cooked!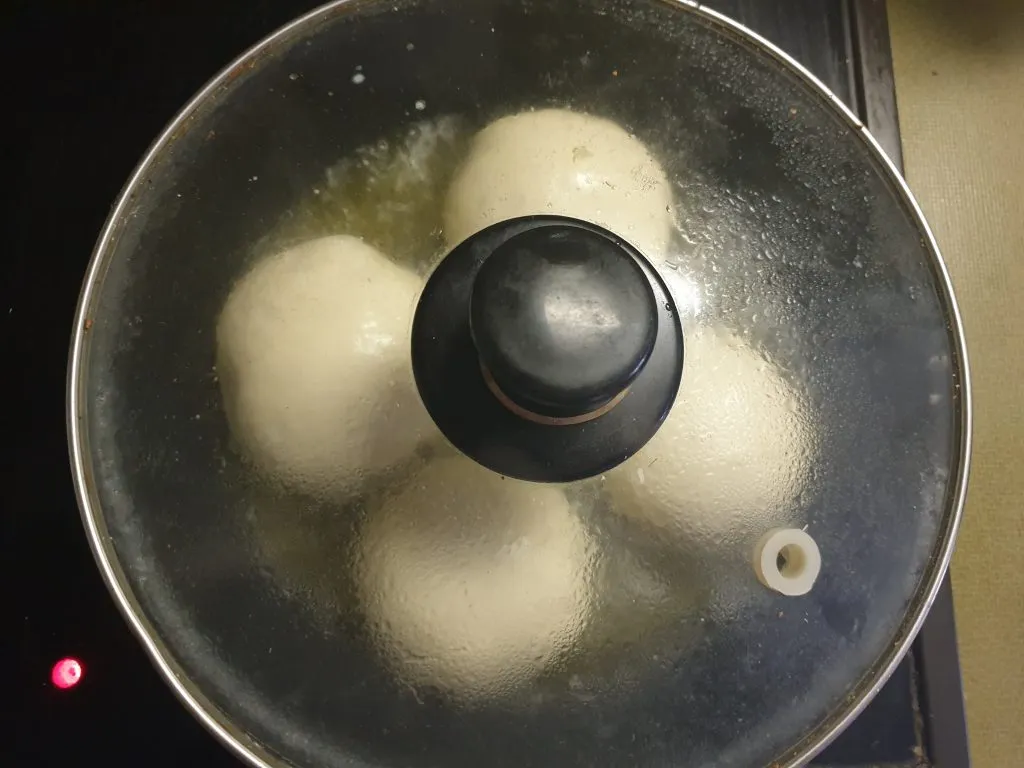 The bottom of the buns should be fried until golden brown!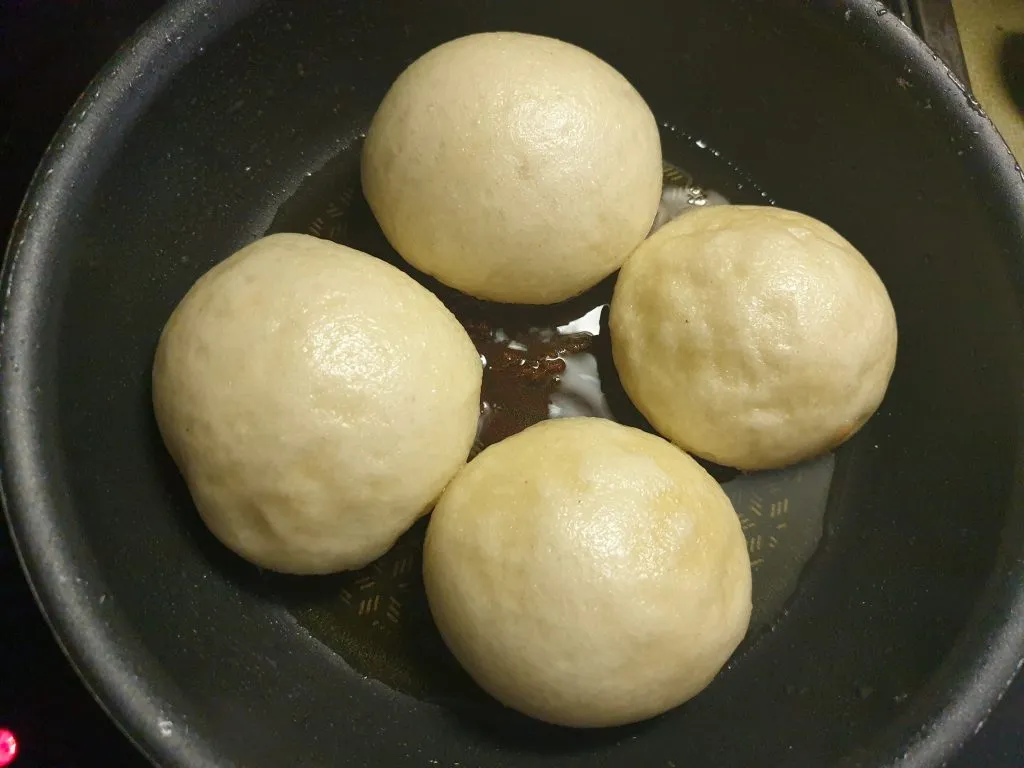 German Sourdough Steamed Buns ('Sauerteig Dampfnudeln')

Ingredients
For the sourdough:
3 grams (0.1 ounces) sourdough starter (wheat)
30 grams (1 ounce) water, at 40 °C (105 °F)
50 grams (1.8 ounces) cake flour (German Type 405)
For the final dough:
105 grams (3.7 ounces) water, at 40 °C (105 °F)
12 grams (0.4 ounces) skim milk powder
5 grams (0.18 ounces) fresh yeast
5 grams (0.18 ounces) salt
20 grams (0.7 ounces) butter
200 grams (7 ounces) cake flour (German Type 405)
For frying and steaming the buns:
3 tablespoons clarified butter
pinch of salt
roughly 1/2 cup water
Instructions
Prepare the sourdough:
Dissolve the sourdough starter in water. Mix with the flour until no dry spots remain and leave to ferment at room temperature, covered, for 12-16 hours.
Prepare the final dough and leave it to rise:
In a bowl, combine the sourdough and all the other dough ingredients. Knead into a smooth dough that can be stretched out thinly without it tearing. Cover with a kitchen towel and leave the dough to rise for half an hour at room temperature.
Divide the dough into 8 pieces, each weighing about 52 grams (1.8 ounces). Shape into round bread rolls with a smooth surface. Cover and leave to rise for 1.5 hours at room temperature.
Fry and steam the buns:
Heat the clarified butter in a large nonstick pot or pan over medium heat. Sprinkle a small pinch of salt into the hot butter. Fry the buns, seam-side down, for 2-3 minutes. Then pour about half a cup of water into the pan and cover it with a lid. Leave the buns to steam until all the water has evaporated and the buns have a golden-brown crust, about 10-15 minutes. Quickly remove the lid from the pot so that no water condenses on the buns. Serve while still hot as a side for savory or sweet dishes.