Jump to recipe
Millet fritters are a great alternative to meatballs. They are crispy on the outside and moist on the inside thanks to the addition of grated carrots. Served with yogurt or any sauce of your liking, they are a great dish to have on the dinner table.
The preparation of these fritters is straightforward and simple. I like to cook the millet in just the right amount of water so that it doesn't turn into mush. I like it if the grains still have some texture and bite to them.
In many old German recipes, they cook millet into a sweet porridge. But I often treat millet like steamed rice. In fact, I even prefer millet as a side dish over rice. Millet has this gorgeous yellow color and tastes amazing with a knob of butter and a pinch of salt.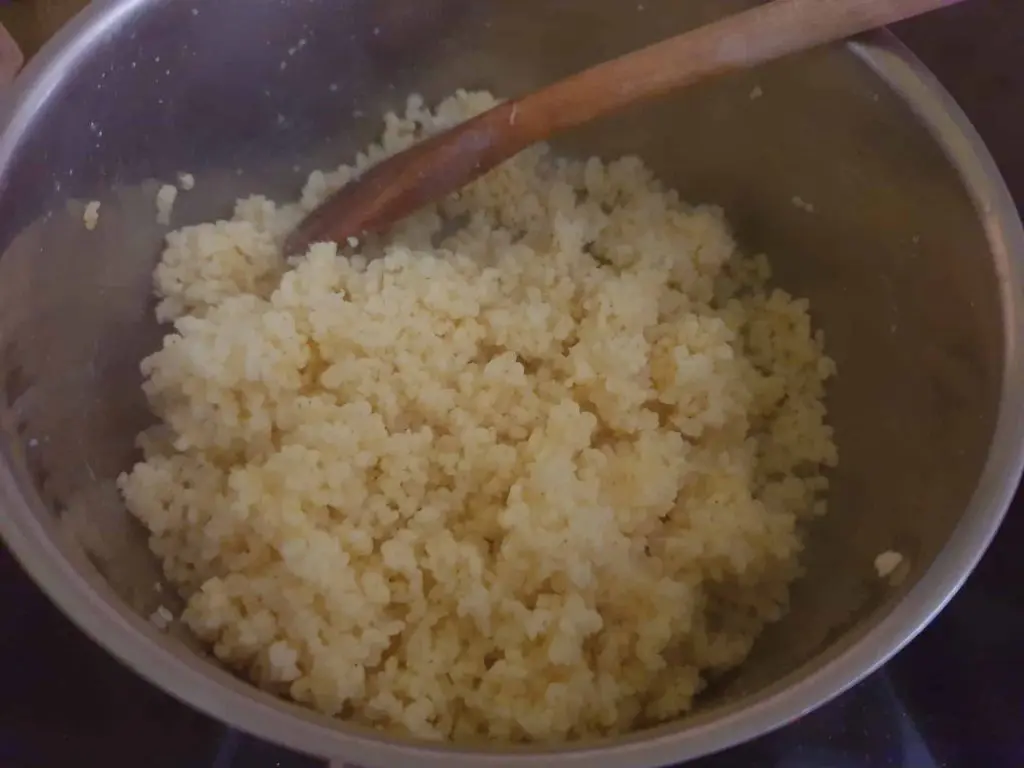 Tips for preparing millet fritters
Whenever you're cooking grains in a pot with just the right amount of water then it is crucial to leave them to swell for at least 10-15 minutes after cooking. I like to just cover the pot with a kitchen towel and leave it to sit on a cold burner on the stove. The kitchen towel helps to absorb any excess moisture and the grains will have a gorgeous fluffy texture after they have had some time to rest and absorb any of the excess moisture on the surface of the grains after steaming.
The breadcrumbs the recipe calls for are required to bind the batter so that it doesn't fall apart when fried. I like to add just as little breadcrumbs as necessary to get the batter to hold together. Then the millet fritters will turn out tender and a bit crumbly. You don't need a knife to cut them. They can easily be torn apart with a fork or knife.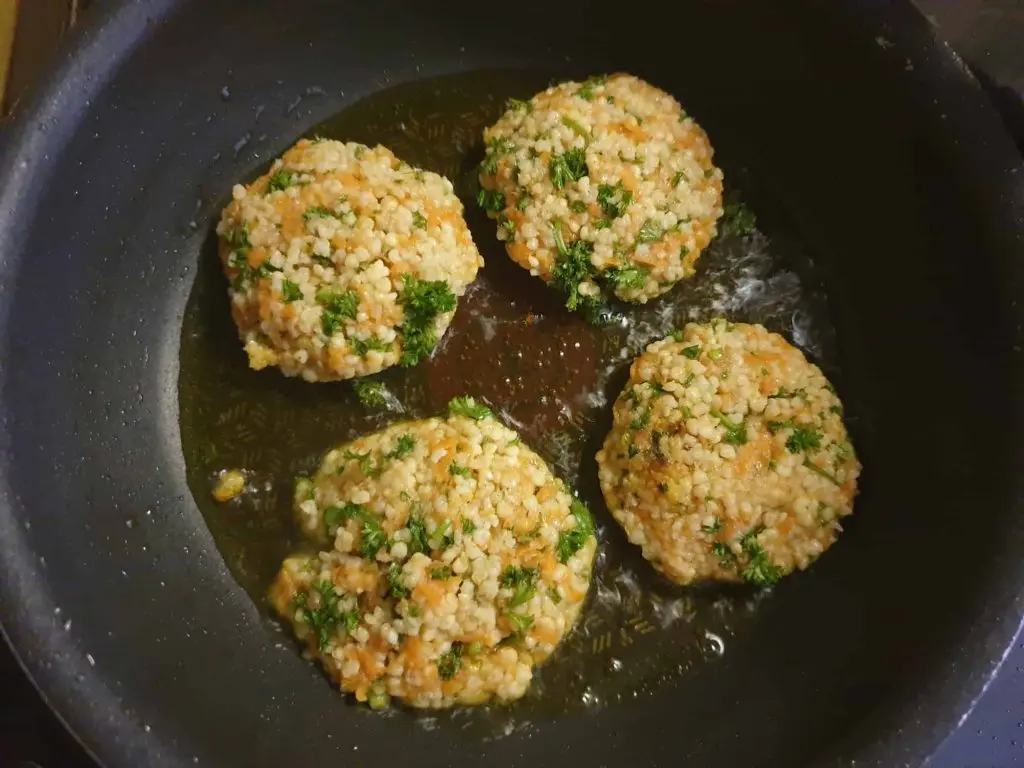 I prefer to eat millet fritters with yogurt and a salad on the side.
Millet Fritters with Carrots ('Hirseküchle')

Ingredients
1 cup (7 ounces | 200 grams) millet, washed and drained
1.5 cups (12.5 ounces | 360 grams) water
4 carrots, grated
a few sprigs of parsley, finely chopped
2 eggs
1/2 teaspoon cinnamon powder
1 teaspoon cumin powder
1 teaspoon agave syrup
salt, to taste
4 tablespoons breadcrumbs
canola oil, for frying the fritters
Instructions
Cook the millet:
In a pot, combine the millet and water. Cover the pot with a lid and bring the water to a simmer. Leave to simmer, covered, until all the water has evaporated. Then take the pot off the heat, cover it with a kitchen towel, and leave the millet to swell for 10-15 minutes.
Prepare the fritter batter:
In a bowl, combine the millet, carrots, parsley, and eggs. Season the batter to taste with cinnamon, cumin, agave syrup, and salt. Add breadcrumbs to bind the batter so that you can shape it into fritters with lightly wetted hands.
Fry the millet fritters:
Heat a nonstick pan over medium heat. Add a thin layer of canola oil and fry the fritters over medium heat until golden brown and crispy on both sides, about 4-5 minutes.
Serve the fritters with any sides or sauces of your choice. I like them with yogurt and a green salad.