Jump to recipe
One of the greatest aspects of German food is that you can eat something sweet like these Bohemian baked yeast dumplings ("Buchteln", "Rohrnudeln", or "Buchtly") as a main dish without anyone giving you strange looks. In Southern Germany, a lot of the vegetarian dishes are sweet. Fruits like apples, Italian plums, mirabelle plums, sour cherries, or pears are abundant in Swabia. And if you have a few fruit trees, like my family has, then you usually always have a lot of homemade fruit preserves in your pantry.
For me, it is a treat to eat a sweet main dish about once a week. I'm always looking forward to it. I have no understanding of people who reject sweet dishes. If I would be a vegetarian, I would have no issue eating sweet dishes more often.
Sweet dishes in Southern Germany don't have to be sugar-laden and overly sweet. These yeast dumplings with jam or fruit filling are not any sweeter than if you would have a milk bread roll with jam for breakfast. They are not a cake. They are sweet but not candy. Outside of Germany, a lot of people fail to distinguish between sweet main dishes and sugar-laden desserts. A sweet main dish always needs to have a good balance of mild sweetness paired with acidity and some exciting fruit or spice flavors.
It's much healthier and better for you to eat a German-style sweet main dish once in a while than to consume industry-prepared snacks where one cookie can have as much sugar as all these 12 dumplings combined! In my childhood, my mother and grandmother cooked a lot of sweet dishes because kids tend to like them more than meat-based dishes. None of us is obese or has diabetes.
How to eat Buchteln?
These baked yeast dumplings are not eaten like a typical bread roll. They are served hot right out of the oven with vanilla sauce or some kind of fruit puree, most commonly apple puree. For an easy and quick vanilla sauce, you can just take a package of vanilla pudding powder and cook it with more milk than usual. I also have a recipe for a vanilla sauce without pudding powder published in my post on apple fritters.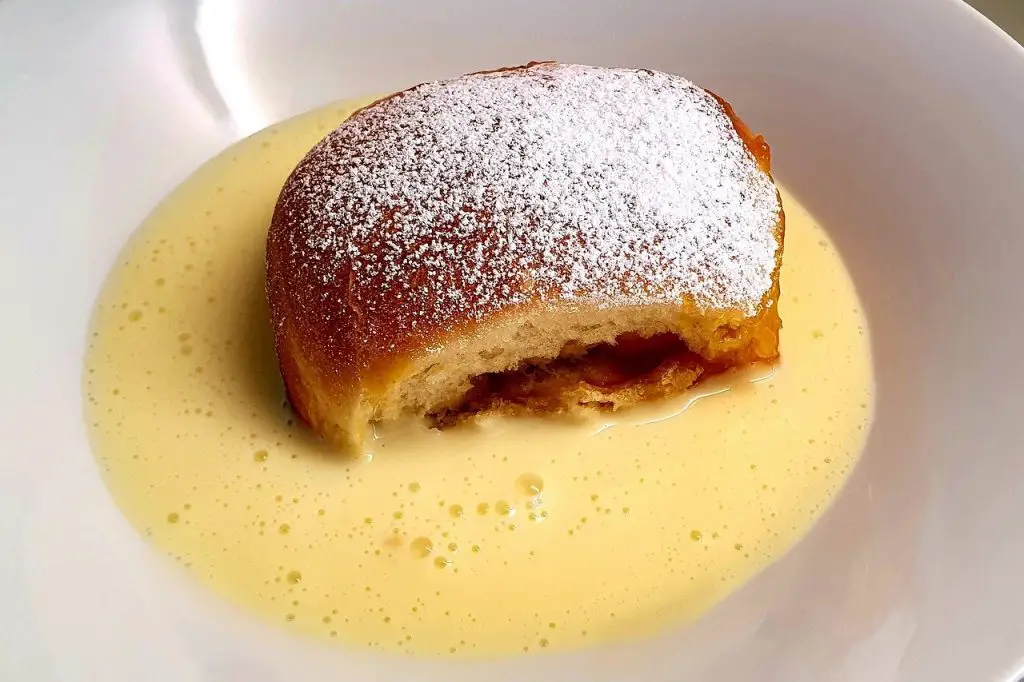 It's very important that you have a sauce on the side to dip the dumplings into. Their main purpose is to soak up the flavorful sauce. You don't eat them with your hands but tear them apart and eat them with a spoon and fork on a plate. Baked yeast dumplings taste best when they are piping hot right out of the oven.
The filling with jam or chopped fruits is recommended but optional. If you have time, then fill them with jam or fruits. If not, that is also ok. Much more important than the filling is the sauce or apple puree on the side!
A visual guide to Bohemian baked yeast dumplings
The first thing to do is to sugar-stress the yeast. This helps to shorten the time it takes for the dough to rise. It's the same concept as salt-stressing the yeast. If you don't know what salt or sugar-stressed yeast is, and want to learn more about the science behind it, then check out my blog post: What is salt-stressed baker's yeast?
Notice how the milk has turned into a foam after we have sugar-stressed the yeast.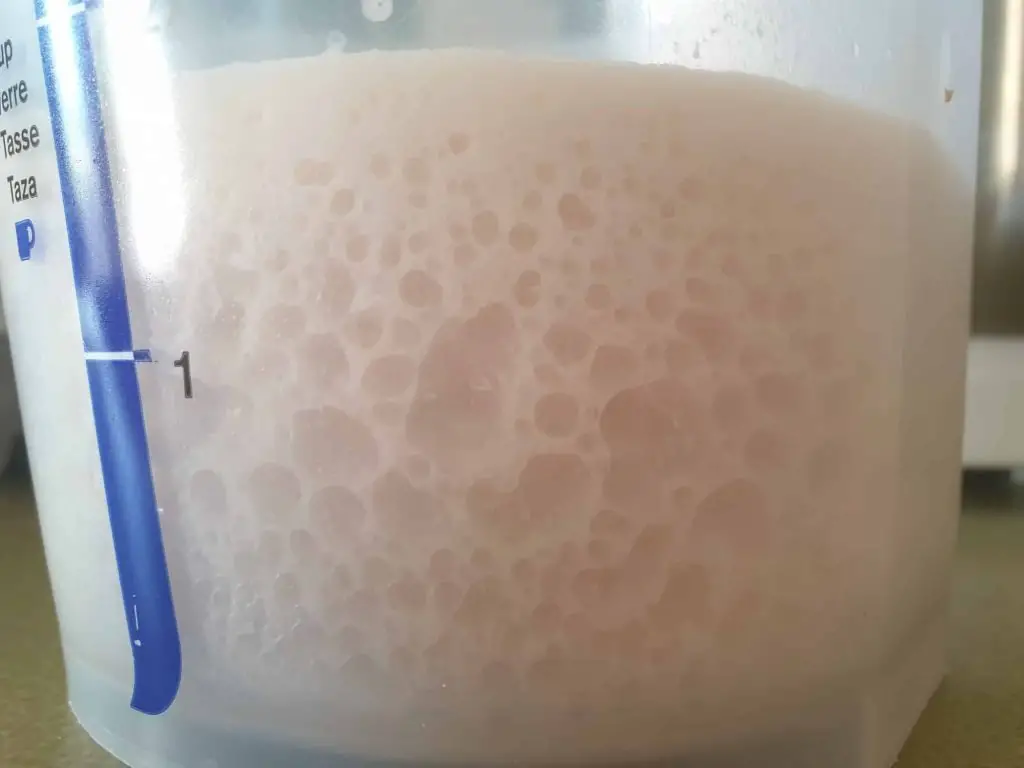 When kneading the dough, it is very important to knead it until it is very smooth and can be stretched out thinly. A lot of inexperienced bakers stop kneading too early. It is normal and desirable that the dough is still a bit sticky after kneading. This means that the dough is well hydrated and that the dumplings will turn out fluffy and tender.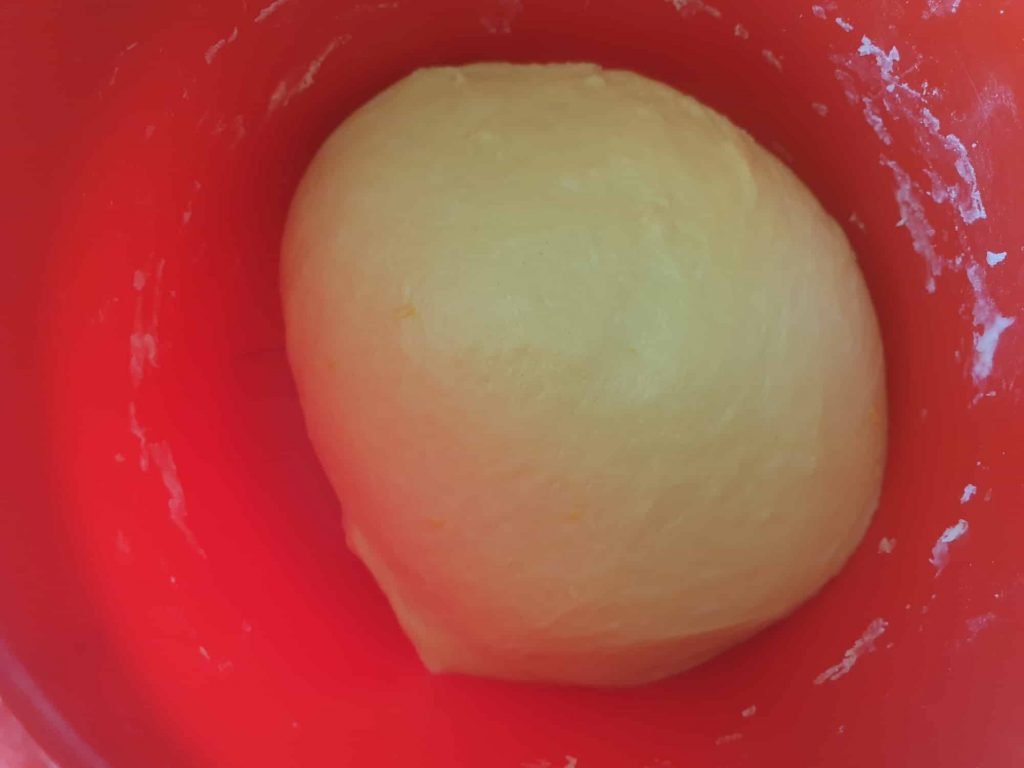 Don't be too ambitious when filling the dumplings with jam. It is very important that you can seal them tightly. If they are not sealed tightly, then the filling will leak out creating a sticky mess. I like a lot of filling but here I am conservative because the jam is going to liquefy in the hot oven. If you want to have fruit pieces in your filling, then choose a junky jam or fill the buns with chopped apples, apricots, plums, or any other fruit of your liking.
The buns should touch each other in the baking pan so that they rise upwards instead of outwards. Brush them generously with butter to prevent them from drying out on the surface.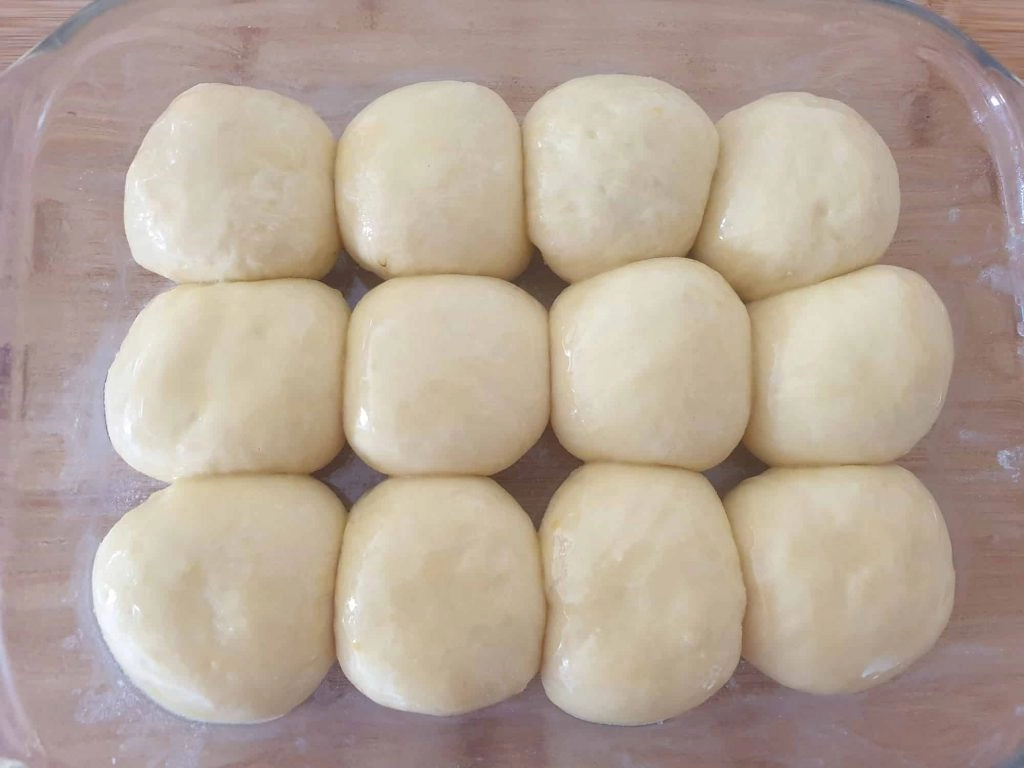 I'm always amazed to see the buns rise in the oven!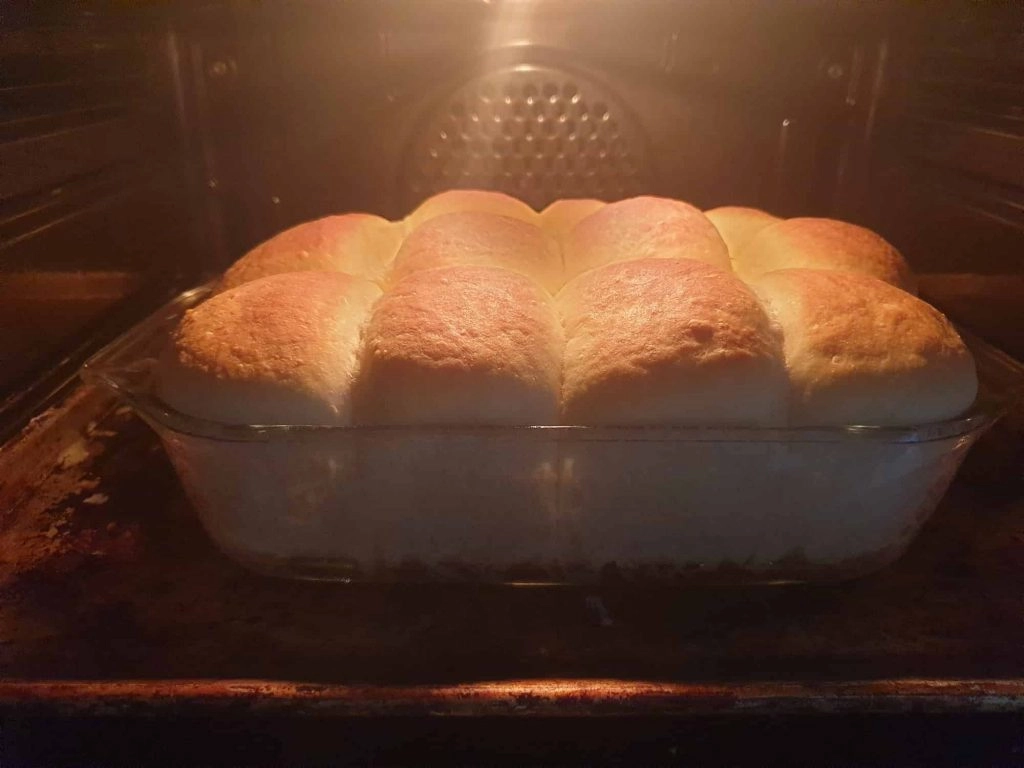 Brush the buns one last time with melted butter after taking them out of the oven and before sprinkling them with powdered sugar. This will give them a nice sheen and helps the powdered sugar to stick to the buns.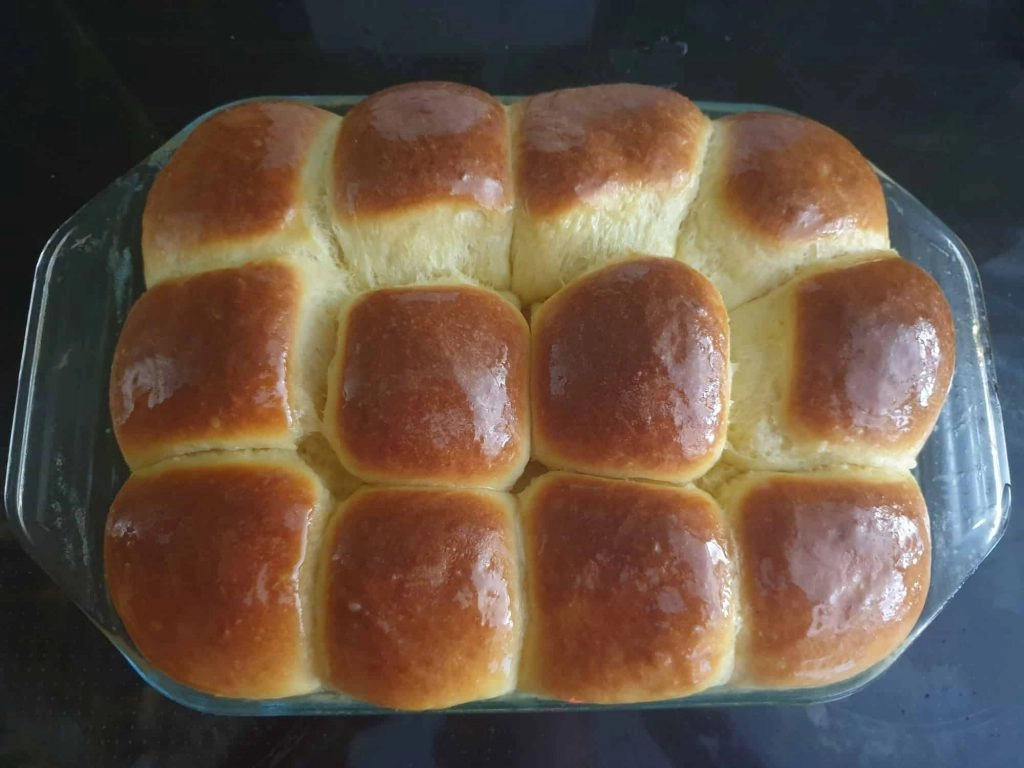 Bohemian Baked Yeast Dumplings ('Buchteln mit Marmeladefüllung')

Ingredients
For the sugar-stressed yeast:
140 grams (5 ounces) whole milk, lukewarm
30 grams (1 ounce) sugar
15 grams (0.5 ounces) fresh yeast
For the final dough:
400 grams (14.2 ounces) cake flour (German Type 405)
2 eggs (about 100-120 grams | 3.5-4.2 ounces total)
25 grams (0.9 ounces) butter
5 grams (0.2 ounces) salt
5 grams (0.2 ounces) vanilla sugar
zest of 1 small lemon
For stuffing, brushing, and sprinkling the dumplings:
chunky jam of your choice (or chopped fresh fruit)
melted butter, for brushing
powdered sugar, for sprinkling
For serving:
vanilla sauce
apple sauce
fruit compote of your choice, eg. quince
Instructions
Sugar-stress the yeast:
Dissolve the sugar and yeast in the milk. Leave to sit at room temperature for 20 minutes.
Prepare the final dough and leave it to rise:
Combine all the final dough ingredients with the foamy yeast milk. Knead with a hand mixer or by hand until the dough is smooth but still a bit sticky. This can take 10-20 minutes. The dough is ready once it releases cleanly from the sides of the bowl and can be stretched out thinly without tearing. After mixing, the dough should ideally have a temperature of about 30 °C (85 °F).
Cover the dough and leave it to rise at room temperature for 30-45 minutes.
Shape and fill the dough balls:
Divide the dough into 12 pieces, each weighing 60 grams (2.1 ounces).
Shape the dough pieces into balls. Flatten the balls with a rolling pin and add a small teaspoon of jam or freshly cut fruit into the center. Pinch the sides of the dough together to seal the buns. Make sure the filling is encapsulated tightly so that it won't leak out of the buns while baking.
Place the filled buns next to each other seam-side down in a buttered baking pan. Brush them generously with melted butter so the surface won't dry out.
Proof and bake the dumplings:
Cover the baking pan with a towel or plastic wrap and leave the filled buns to rise until they have at least doubled in size, about 45-60 minutes at room temperature. In the meantime, preheat your oven to 180 °C (355 °F). Place a tray filled with water on the bottom of the oven to create a moist environment.
Before baking, brush the buns again with melted butter. Place them in the pre-heated oven and leave the buns to bake at 180 °C (355 °F) for at least 30 minutes, until you like their crust color. In case the buns brown too quickly, cover them with aluminum foil. Don't take them out of the oven before the 30 minutes have passed. Else they will still be partly raw and might collapse.
After baking, brush the buns with melted butter one last time. Sprinkle generously with powdered sugar. Serve while still hot with vanilla sauce, a fruit puree, or a fruit compote on the side. Buchteln are meant to be eaten with a spoon and fork. Their task is to soak up the sauce that they are served with.