Jump to recipe
These Swabian egg noodles are made from spelt flour. They have an incredible bite and chew to them but they are a bit more challenging to produce than the ribbon noodles that I have introduced you to in an earlier post.
Fresh noodles are best if they are prepared from a low hydration dough. For my ribbon noodles, I used 3 large eggs for 300 grams of flour. For my Swabian egg noodles, I use 3 small eggs for 300 grams of flour. The noodle dough will be crumbly and you will need good strength to roll it out. But you will be rewarded with firm and chewy noodles.
The Building Blocks of German Cusine Series

This article is part of my basics series, which will introduce you to key ingredients and preparation methods. You can find all these articles in the 'Basics' category of this blog. Listed below are the articles that have yet been published in this series:
What makes these Swabian egg noodles special?
Remember my post about how noodles are made? There I briefly outlined how and why Western noodles differ from Asian noodles. A very striking difference is that Western noodles are traditionally not salted. They are made from semolina and dried.
But isn't the specialty of homemade noodles that they are prepared and eaten fresh? Yes, indeed. But homemade noodles often lack bite and chew. You can't cook them 'al-dente' as is possible with dried noodles.
When it comes to dried noodles, Western products are far superior to Asian noodles. They come in many different shapes, have a beautiful color, and an excellent bite and texture. But when it comes to fresh noodles, the European noodles can be underwhelming to what is produced in the East.
Of course, noodle makers in Europe can produce low-hydration noodles at home. But that alone isn't enough. You need to salt the noodle dough to get a great result. Trust me on this and don't listen to the Italians. Salted noodles are tastier, chewier, and firmer than noodles that are only cooked in salted water.
I know this goes against common wisdom in Europe but I boil these salted noodles in plain unseasoned water. And not just their texture is better, also their taste. Fresh noodles are not boiled long enough for the salt in the cooking water to penetrate them evenly. They taste a bit salty but not well seasoned. If the noodle dough is salted, you don't notice any saltiness in the noodles although they are well seasoned.
The noodle-making process
Production-wise, there is nothing out of the ordinary for these noodles. The only thing you need is a noodle machine. At low hydration, you can't knead the dough until smooth. You can just bring it together and then rely on the sheeting process to develop the gluten.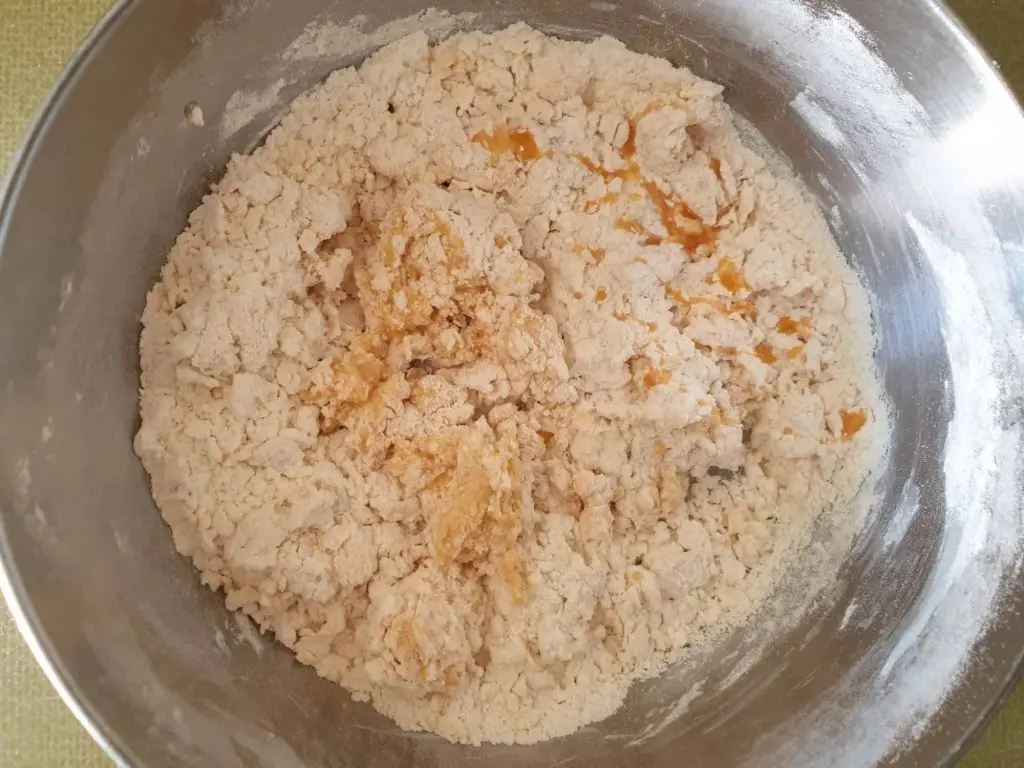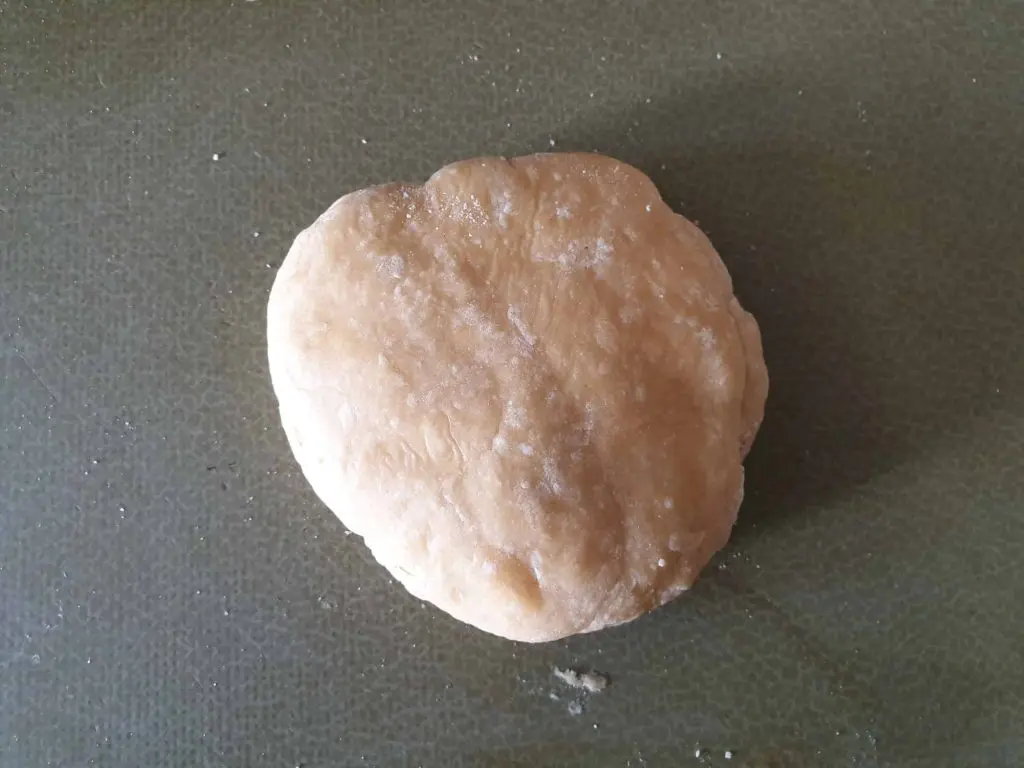 You could try to roll out the dough thinly with a rolling pin and then fold it over itself and roll it out again. But I wouldn't do that unless you want an extreme workout for your hands.
Don't be discouraged if the dough seems crumbly at first. It will come together after you've folded and passed it through your noodle machine a few times. I hand-cut my noodles but you could also pass them through the cutter of your machine.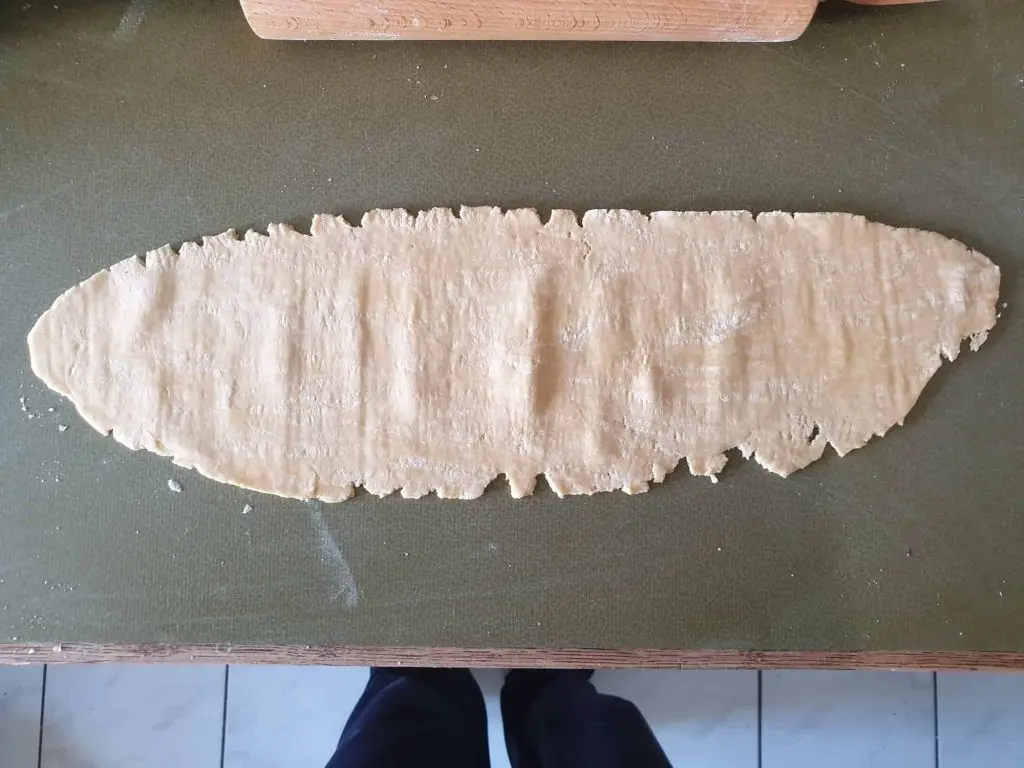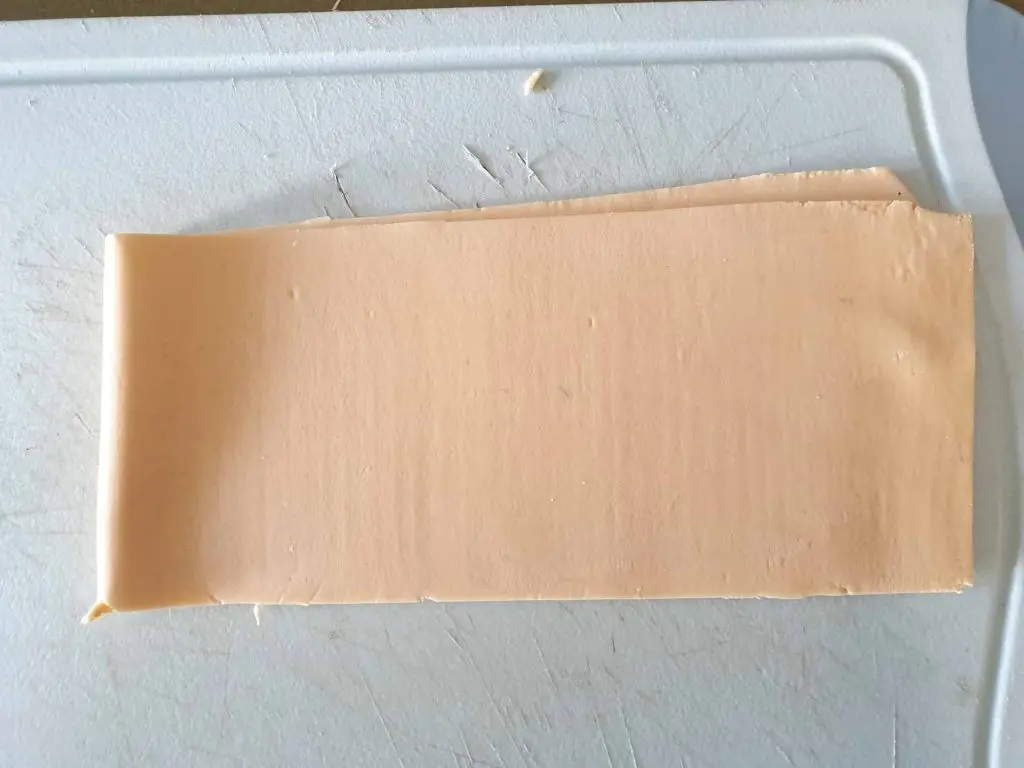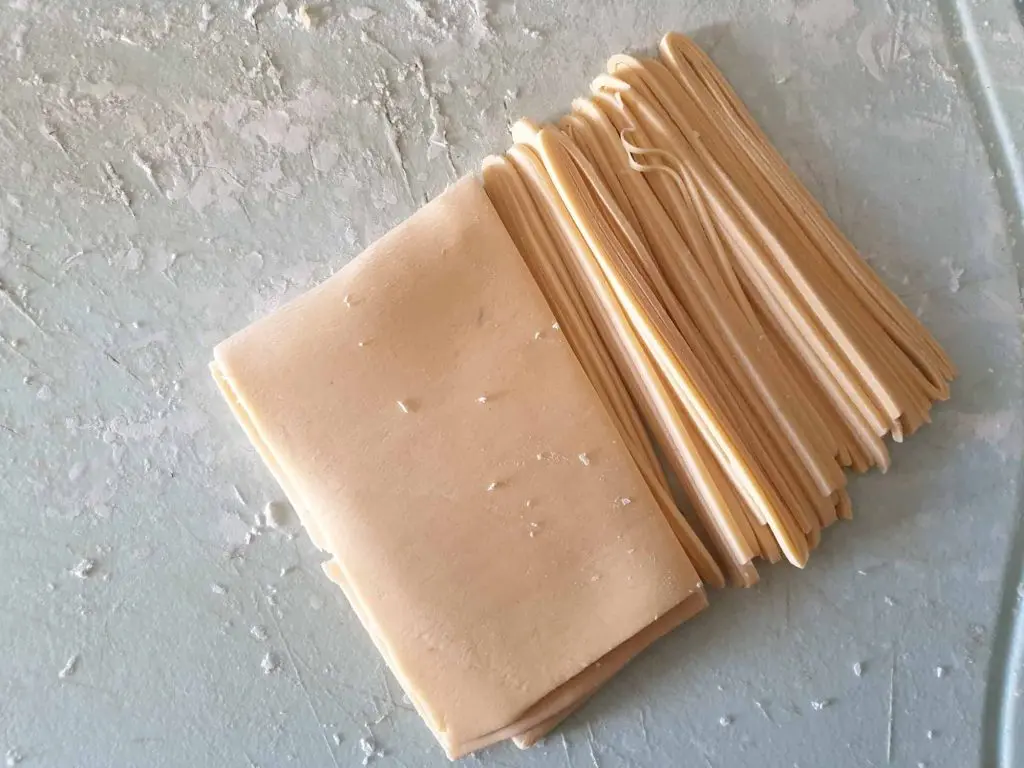 Notice how firm and chewy the noodles are. Wonderful!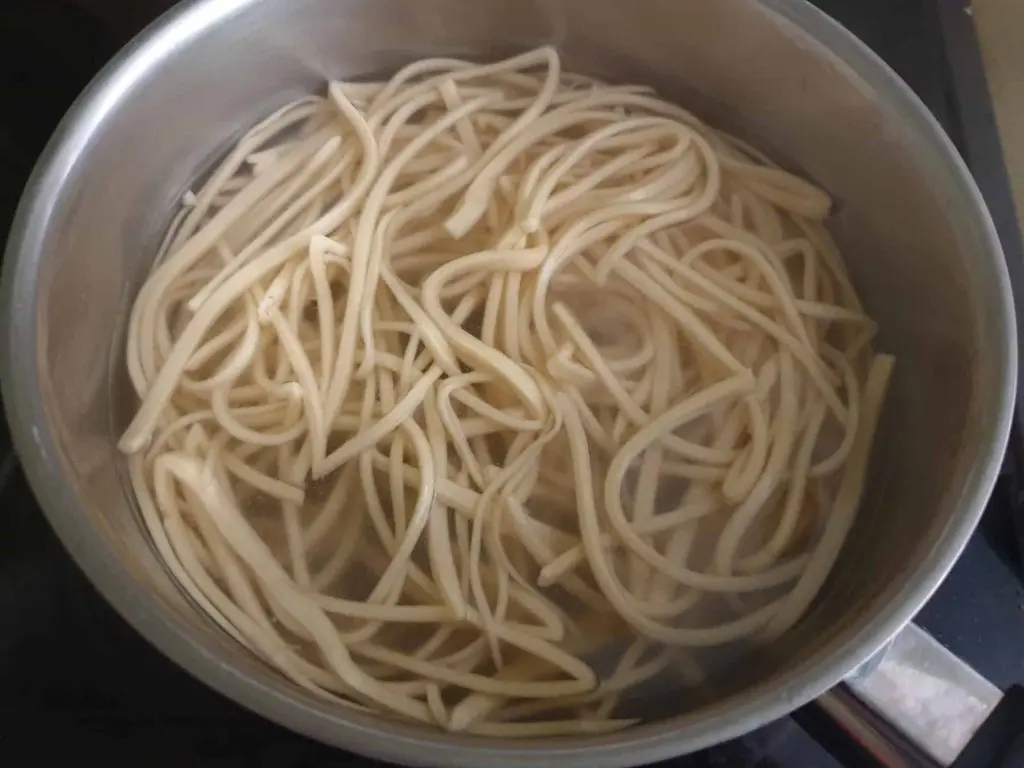 Swabian Egg Noodles ('Schwäbische Eiernudeln')

Ingredients
135 grams (4.8 ounces) eggs (about 3 small (!!!) eggs)
6 grams (1 teaspoon) salt
300 grams (10.6 ounces) white spelt flour (German Type 630)
Instructions
Prepare the noodle dough:
In a bowl, whisk together the eggs. About 3 small eggs will yield the amount specified in this recipe. If you have too much egg by weight, remove any excess (the dough for these noodles needs to be dry). Whisk the salt into your eggs until fully dissolved.
Slowly start to incorporate the eggs into your spelt flour. The dough will look dry and crumbly at first and that is fine. Just press and fold the dough with the palm of your hands until all the flour is incorporated. You don't need to knead the dough. Just press it until roughly combined. Cover the dough with plastic wrap and leave to rest for at least 30 minutes at room temperature.
Roll out the dough and cut your noodles:
It's best to use your pasta machine to roll out the dough. You first need to flatten the dough with a rolling pin until it is thin enough so that your pasta machine can handle it. Pass the dough through the machine on its widest setting. Then fold the dough over itself from both ends. Flatten it with a rolling pin and pass it through the pasta machine again. Do this 5 to 7 times until you have a smooth and homogenous dough sheet without any holes or cracks.
Now you can start to decreased the width of your pasta machine. Just pass the dough through the pasta machine without folding it afterward until it is thin to your liking. You can either cut these noodles by hand or use the noodle cutter attached to your pasta machine. Just make sure to lightly dust the dough with flour or cornstarch before cutting so that the noodles won't stick.
Cook your noodles:
As these noodles are already salted, you don't need to add any salt to your cooking water. Just boil the noodles in plain water for 1 to 3 minutes depending on your preferred noodle consistency. These noodles are then ready to be served. You can either serve them as a side dish, in soup or sauced the Italian way.