Jump to recipe
I love stuffed pork buns. In Germany, it is very common to fill pastries and buns with sweet fillings like jam or pudding. Savory versions are less popular which has always puzzled me a bit.
These pork buns are from Latvia and they are filled with pork belly. If something has pork belly in it, then it doesn't really need a long introduction. Everything with pork belly in it tastes delicious. It's impossible to make pork belly taste bad. It's fatty, juicy, flavor-packed, and tender.
This recipe is adapted from the first draft of the fabulous book Hand Made Made Small Breads. There is also a second version in the book that uses chicken breast in combination with bacon for the filling. But come on: it's chicken breast. Who wants to eat chicken breast if there is pork belly?
A visual guide to Latvian pork-stuffed buns
For the filling, you need to hand-mince the pork belly and gently render its fat until it is crispy and delicious. The onions will soak up all the excess fat and make the filling moist and delicious. The filling for these pork-stuffed buns is not too different from German "Griebenschmalz" which is produced in a similar way.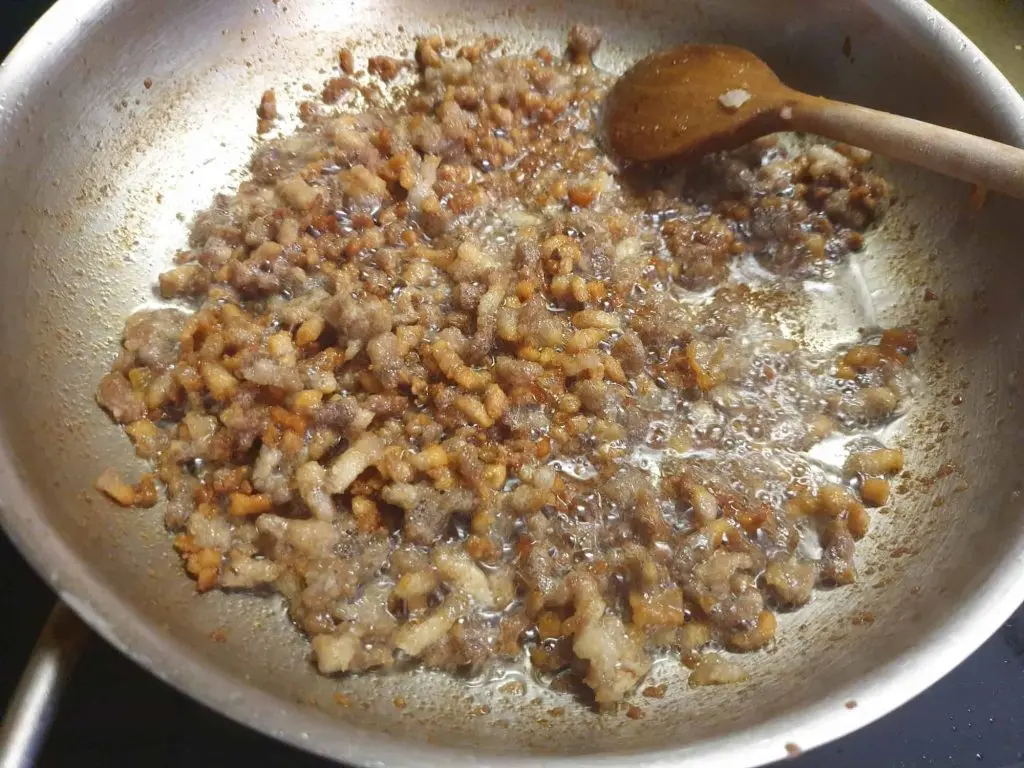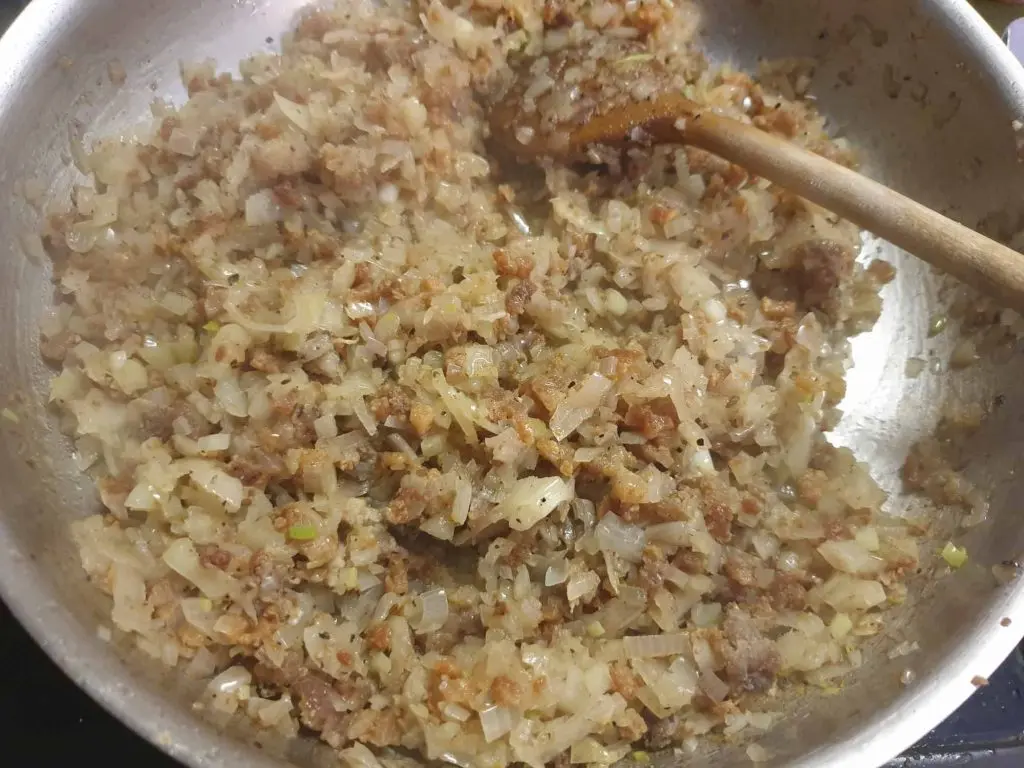 As always: The dough needs to pass the windowpane test! However, it shouldn't be sticky.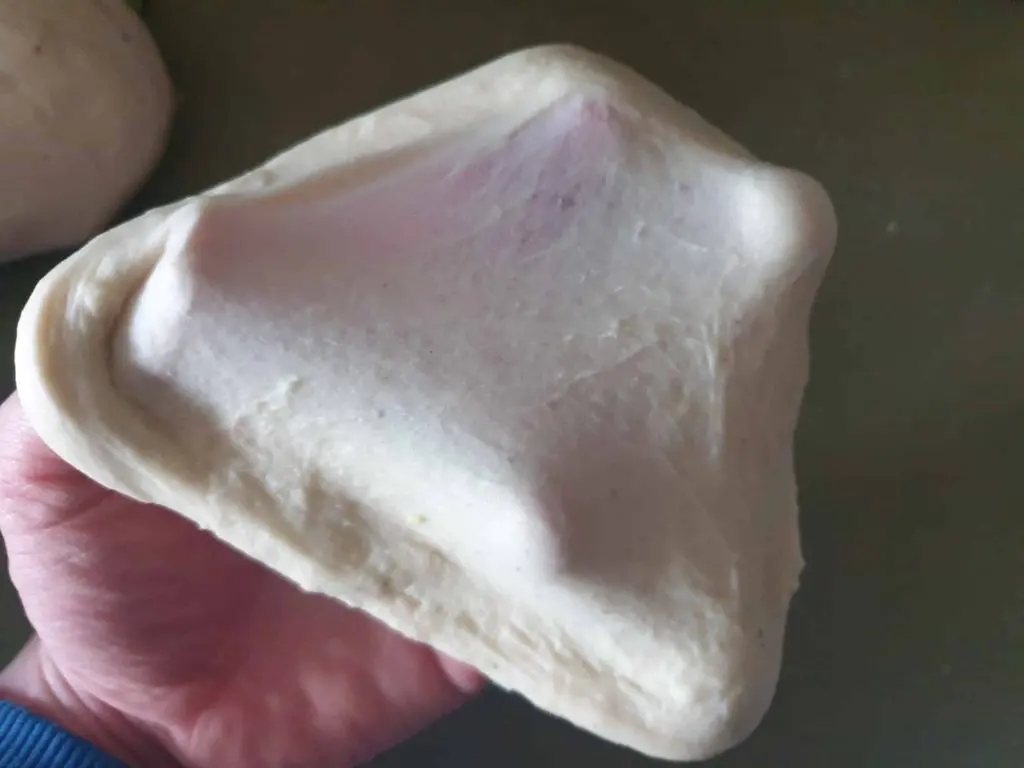 Shaping the buns is easy. The traditional shape is a half-moon. Always make sure that the seam-side is on the bottom of the half-moon so that your buns don't burst open in the oven. And: be generous with the filling. Nothing is more horrifying than buns where the baker was stingy with the filling.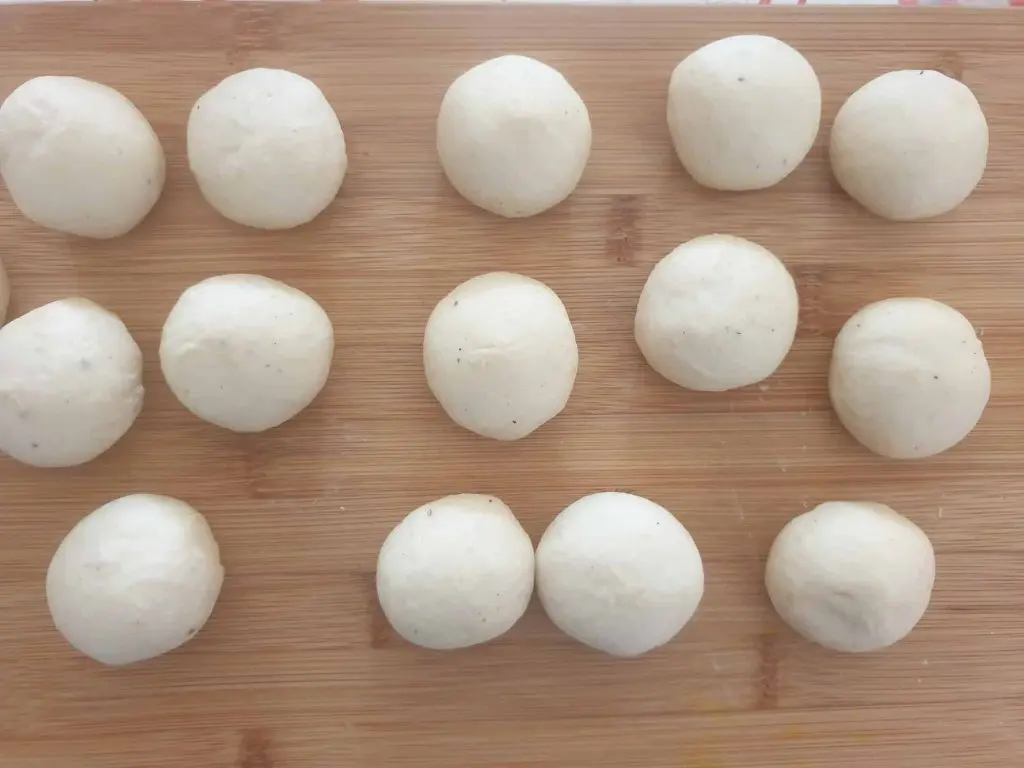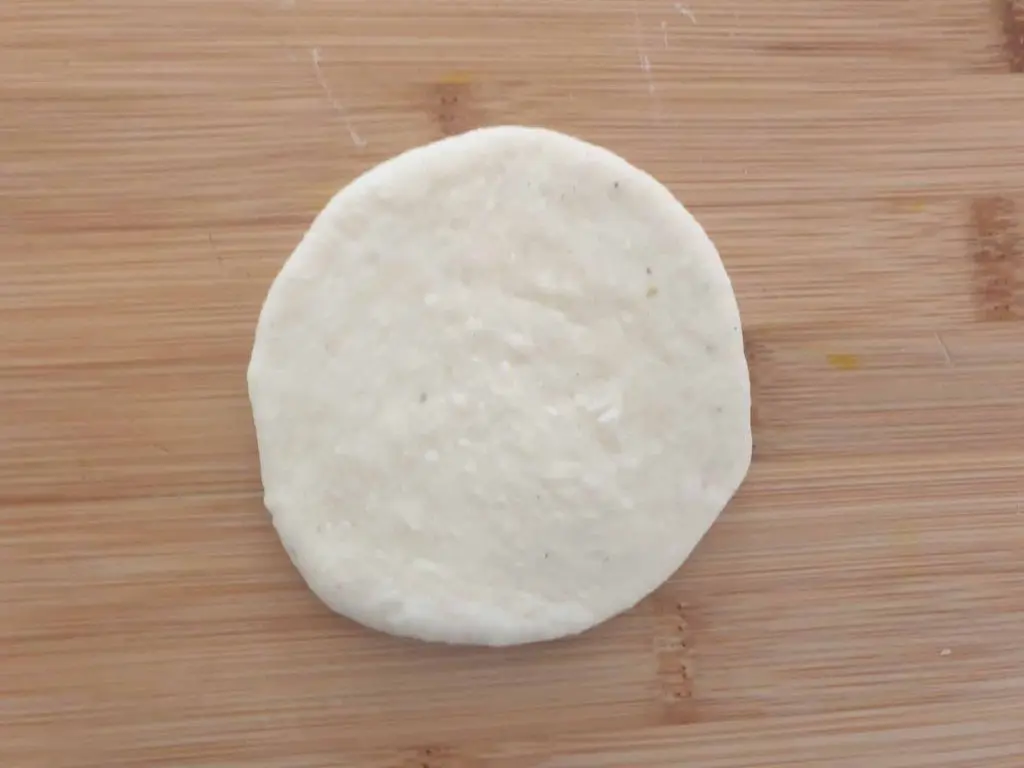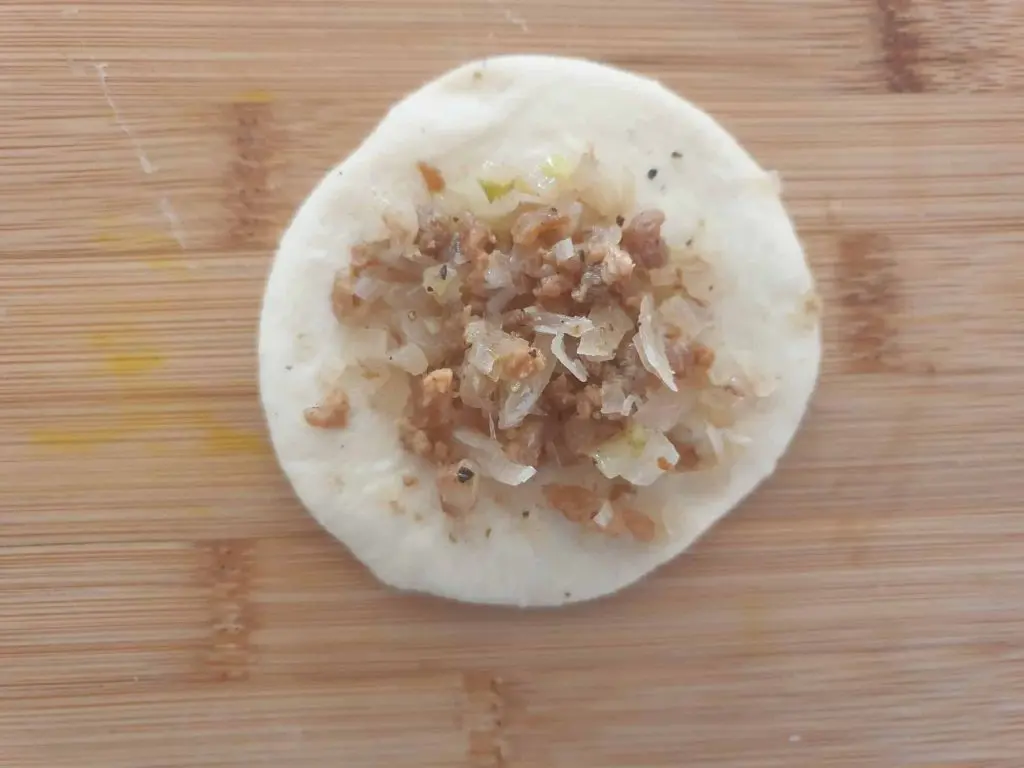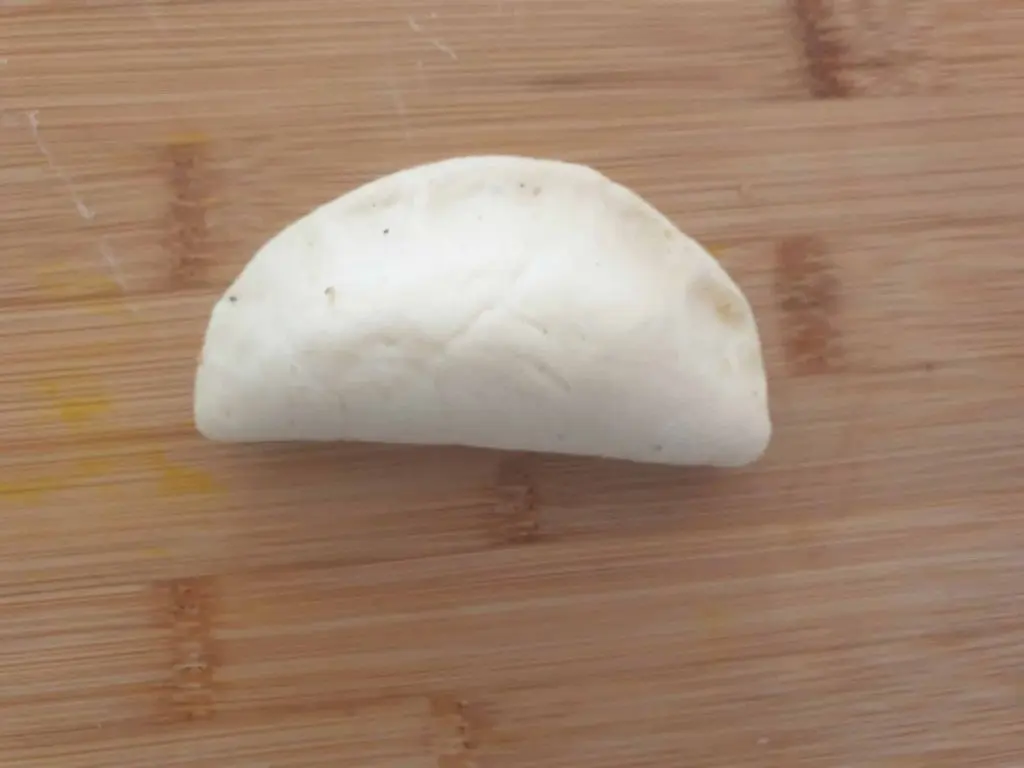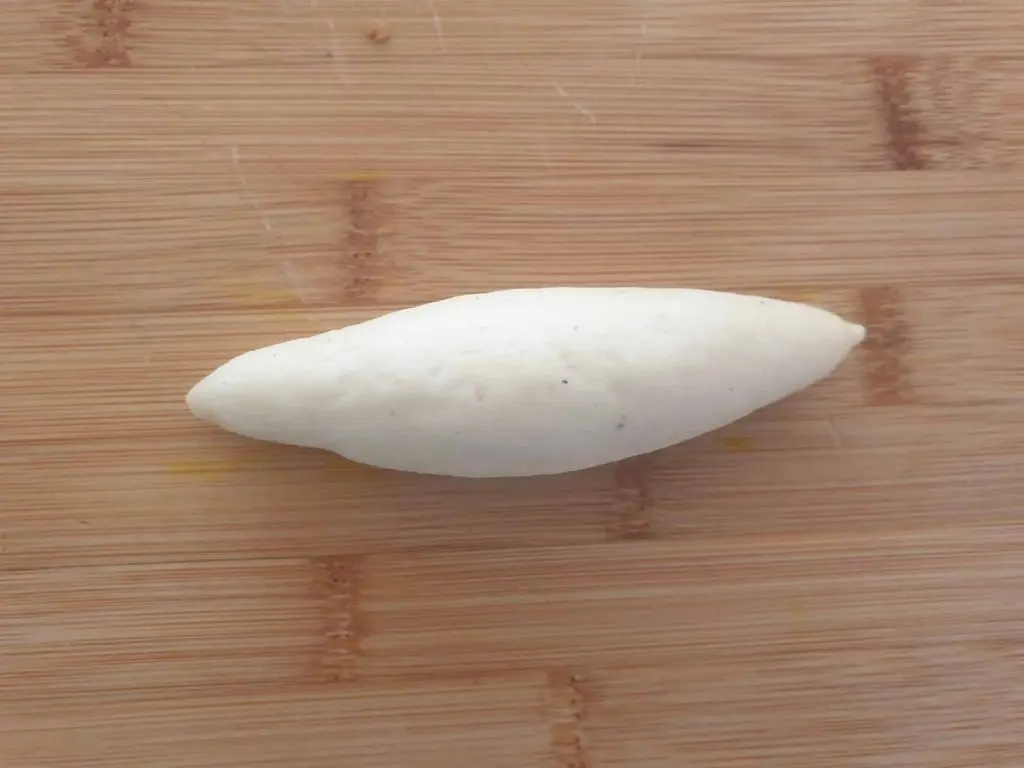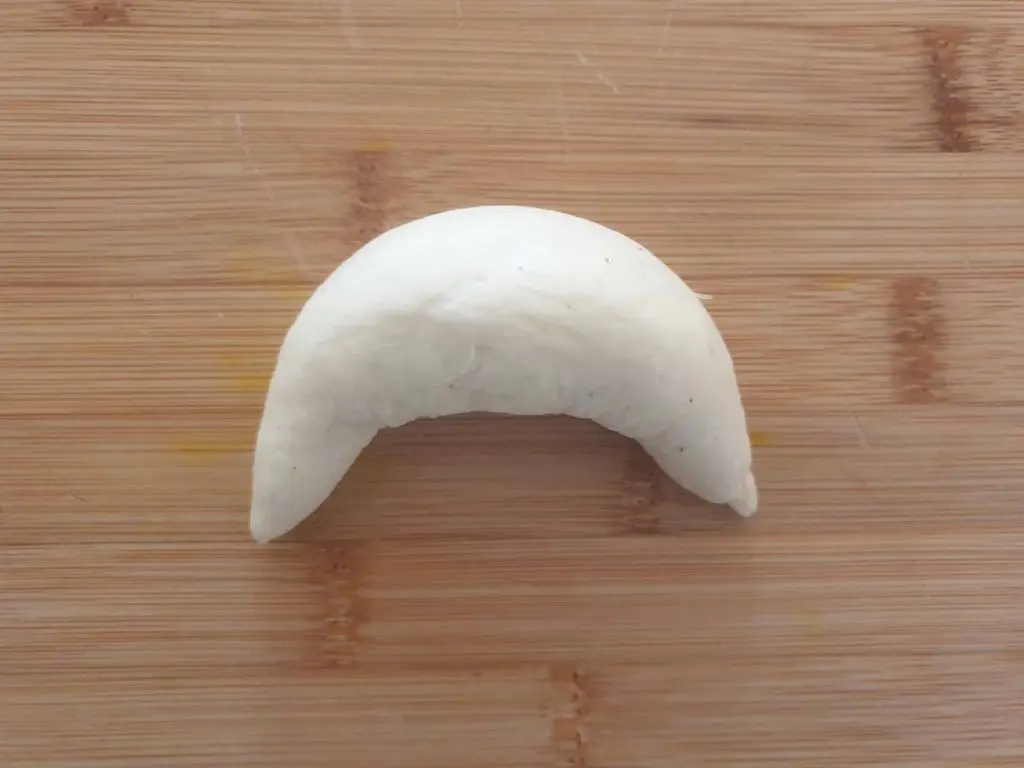 I like to bake these buns golden brown in the oven.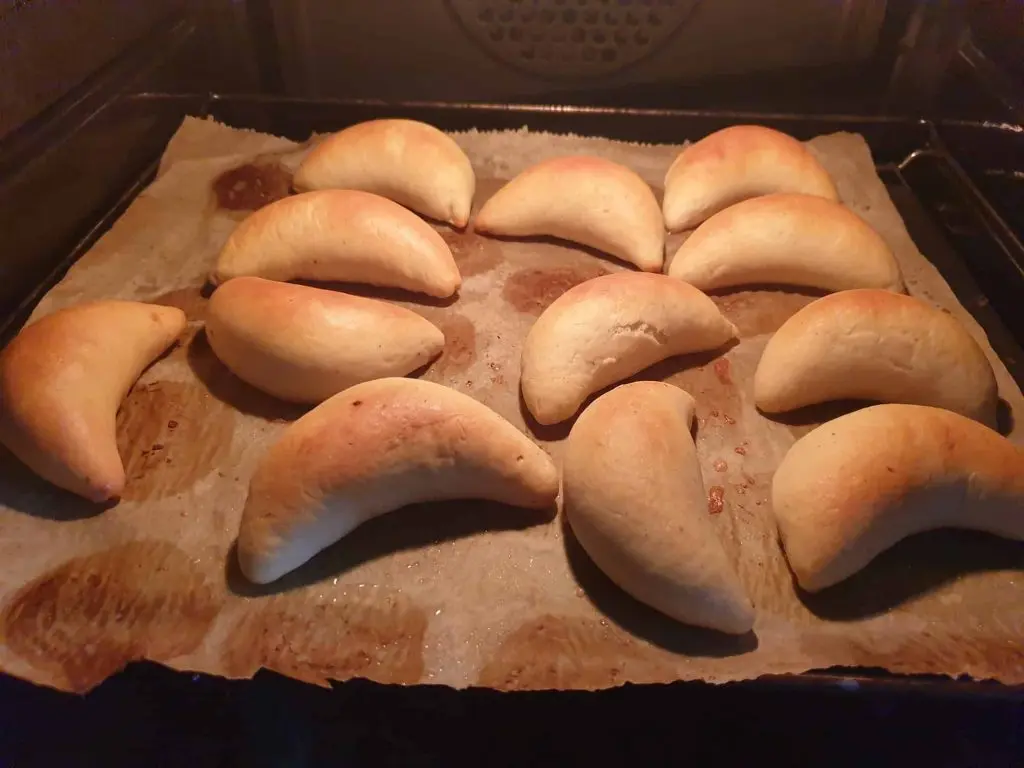 These buns have just the right amount of filling!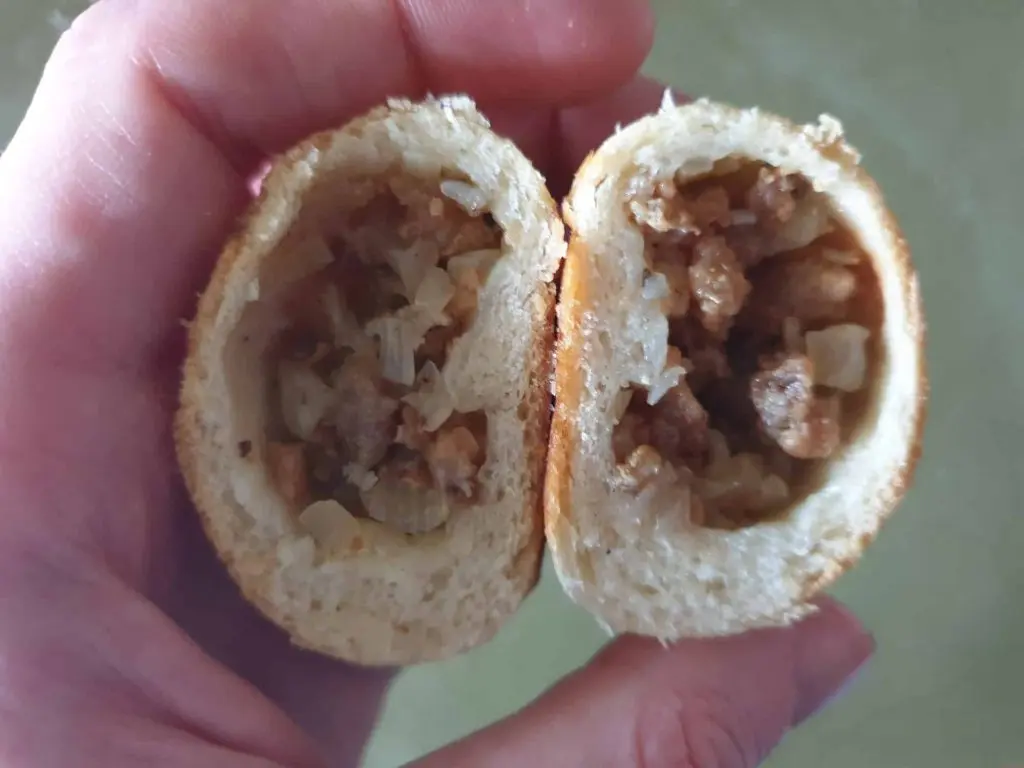 Speķa Pīrāgi – Latvian Pork Stuffed Buns ('Gefüllte Hörnchen')

Ingredients
For the filling:
300 grams (10.6 ounces) pork belly, hand-minced
400 grams (14.1 ounces) onions, finely minced
1/3 teaspoon caraway seeds, toasted and ground
1/3 teaspoon cumin seeds, toasted and ground
1/3 teaspoon black pepper, toasted and ground
1/2 teaspoon sugar
1/4 cup dry white wine
salt, to taste
For the yeast dough:
125 grams (4.4 ounces) whole milk
30 grams (1 ounce) butter
50 grams (1.8 ounces) boiled potatoes, passed through a potato ricer or tamis
10 grams (0.35 ounces) fresh yeast
1/3 teaspoon cardamom seeds, ground
5 grams (0.18 ounces) salt
250 grams (8.8 ounces) cake flour (German Type 405)
For brushing the buns:
egg, beaten
1/2 tablespoon milk
Instructions
Prepare the filling:
Heat the minced pork belly slowly in a cold pan over medium heat to render its fat. Then continue to gently fry the pork belly in its own fat until crispy. This can take about 15-20 minutes.
Once the pork belly is cooked, add the onions, spices, and sugar into the pan. Sweat for 2-3 minutes until the onions are translucent. Then deglaze the pan with a bit of white wine and season the filling to taste with salt. Let the filling cool down completely while you prepare the yeast dough.
Prepare the yeast dough and let it rise:
In a bowl, combine all the dough ingredients starting with the wet ingredients. Knead into a smooth dough that can pass the windowpane test and is not sticky.
Leave the dough to rise, covered, for 30 minutes at room temperature.
Divide the dough and shape the stuffed rolls:
Divide the dough into 30 gram (1 ounce) pieces. Shape into round bread rolls and leave to rest, covered, for 10 minutes.
Take one of the dough balls and flatten it into a thin circle with the help of a rolling pin. Place a generous amount of filling in the center of the circle and fold the dough over itself to seal it as if making dumplings. Then elongate the dough seam-side down by rotating it under the palm of your hands into a croissant shape. Shape into a half-moon and set on a piece of parchment paper to proof, seam-side down. Continue to shape stuffed half-moons until all the dough is used up.
Proof and bake your stuffed buns:
Proof the buns at room temperature until airy and light, about 2 hours.
Preheat your oven with baking steel or stone inside to 200 °C (390 °F).
Brush your proofed buns generously with egg wash.
Transfer your proofed buns onto the hot baking steel or stone and bake at 200 °C (390 °F) for 10 minutes. Then reduce the heat to 180 °C (355°F) and continue to bake the buns until browned to your liking, about 5-15 more minutes.