Jump to recipe
Noodles with caramelized cabbage is a traditional dish that is popular all around Southern Germany. The secret lies in the deep caramelized flavor of the cabbage. Notice how brown it is. That is not because I added dark vinegar or red wine. That's the caramelization from frying the cabbage.
Caramelized cabbage is not only popular in combination with noodles. The noodles in this dish can be replaced with spätzle. That is the way caramelized cabbage is most often served within Swabia.
So why do I serve this caramelized cabbage with noodles? First, noodles and cabbage are delicious together. And second, I just posted a recipe for Swabian egg noodles made from spelt flour last week. What a great way to use them!
Things to look out for when preparing noodles with caramelized cabbage
Caramelized cabbage doesn't take much skill to prepare but you need to be patient when frying the cabbage with a few pinches of sugar. Cabbage is watery. It will leak water that needs to be evaporated off before the cabbage can brown and caramelize. Blonde cabbage is a no-go in this dish.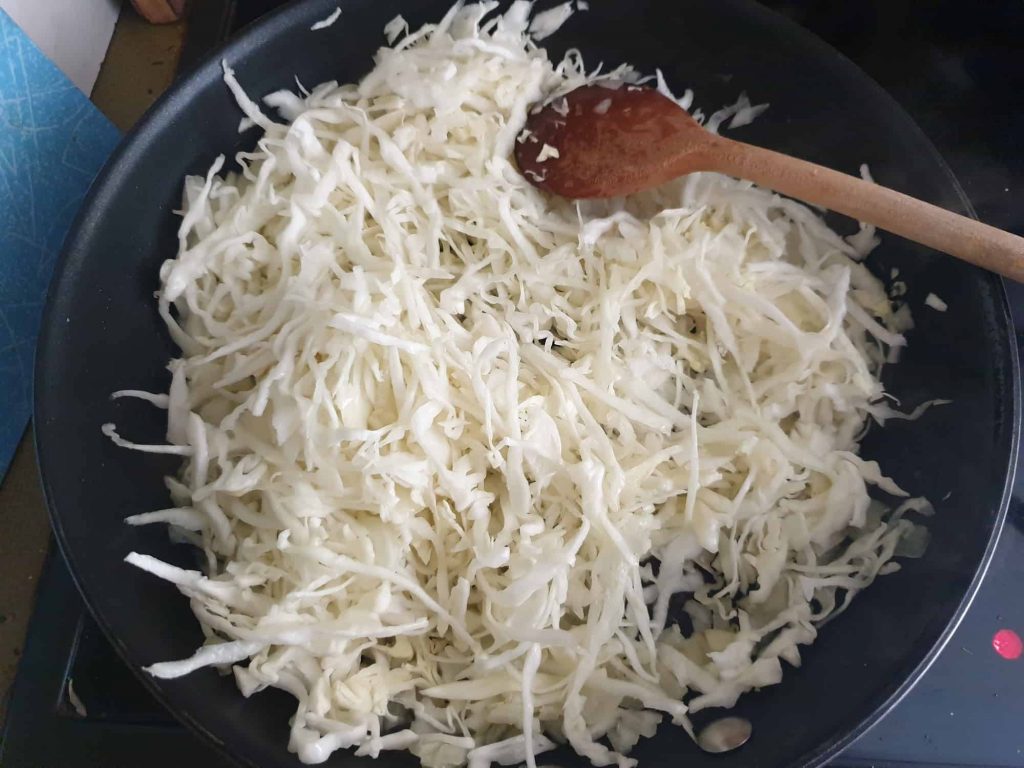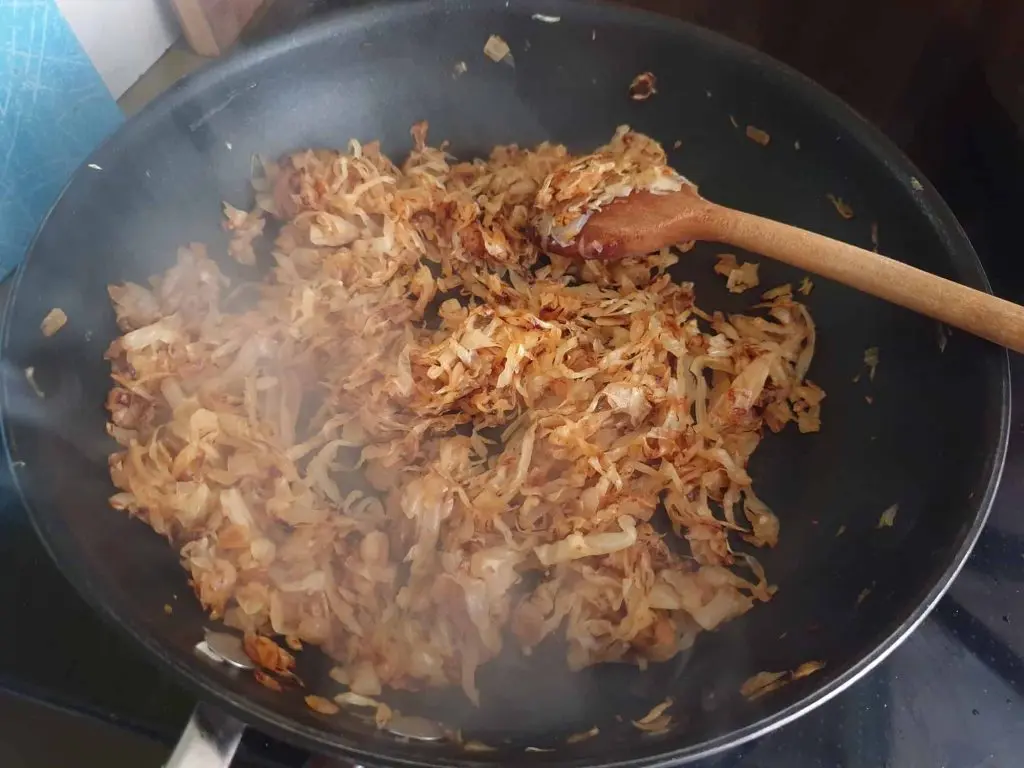 I like to deglaze the cabbage with white wine to balance its sweetness. For seasoning my cabbage, I use caraway seeds and a bay leaf. Caraway seeds have an anise-like flavor and make the cabbage easier to digest. If you want to add any other spices, no one is going to stop you. I have a feeling that cumin would also work well in caramelized cabbage.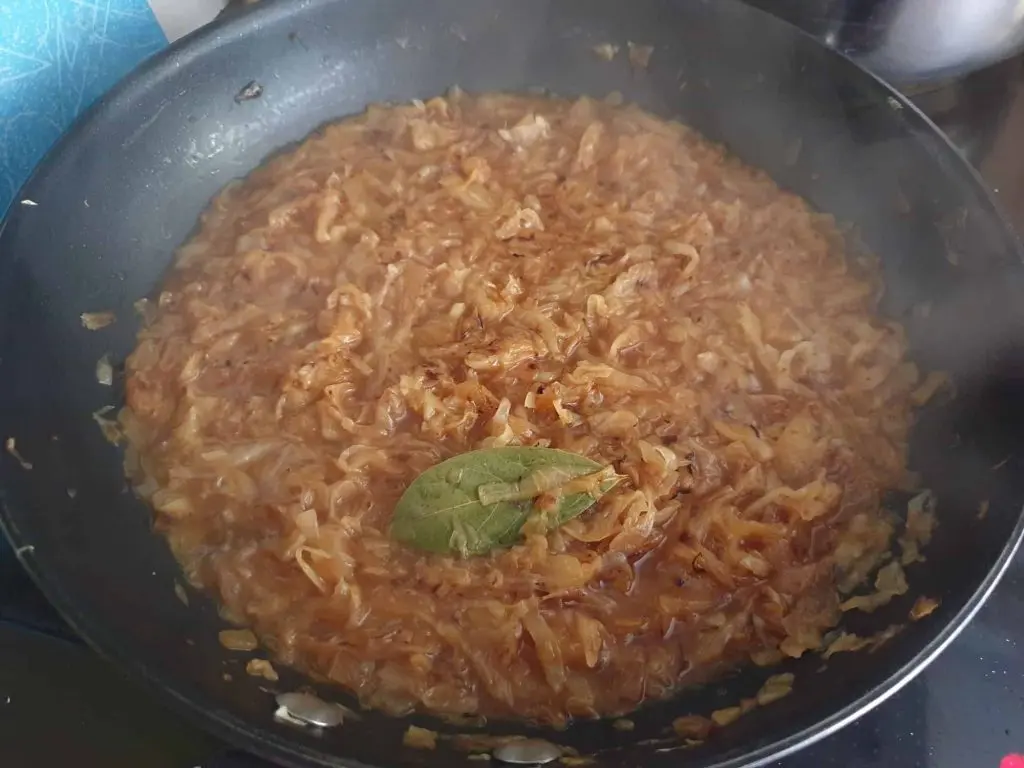 If you don't want to prepare Swabian egg noodles or spätzle then you can also serve the caramelized cabbage with Italian noodles. Besides that, sausage goes great with cabbage.
Noodles with Caramelized Cabbage ('Krautnudeln')

Ingredients
For the caramelized cabbage:
2 tablespoons clarified butter
2 onions, thinly sliced
1 head (2 pounds | 900 g) white cabbage, shredded or sliced very thinly
1 teaspoon sugar
lightly crushed caraway seeds, to taste
1 bay leaf
1 cup dry white wine
1 cup chicken broth
salt, to taste
For serving:
Instructions
Cook the cabbage:
In a large pot, heat the clarified butter over high heat. Add the onions and cabbage along with the sugar. Saute the cabbage, stirring constantly, until wilted and golden brown. You will need to be patient. This can take up to 15 minutes as the water in the cabbage and onions needs to be evaporated first. Once caramelized, add the bay leaf and caraway seeds to taste and deglaze the pot with white wine and chicken broth. Bring to a simmer, then turn down the heat to low and let the cabbage simmer gently until the alcohol has cooked off and the stew has a thick consistency, about 10 minutes. Season the cabbage to taste with salt.
Cook the noodles:
Boil the noodles in salted water until al dente (leave the water unsalted if you're using salted Swabian egg noodles). Add the noodles to the cabbage and mix until well combined. Sprinkle with chives and serve immediately.