Jump to recipe
Traditional Swabian country bread is made from a mixture of wheat and rye flour. So far, so normal. Mixed wheat and rye bread is the most popular type of bread in Germany followed by toast or what American and British people call white sandwich bread.
Many Germans think they live in a country of quality and artisan bread. And while you can easily find great bread in Germany the Germans love toast and white industry bread much more than artisanal whole-grain bread (Vollkornbrot) or rye bread. The average German is much more likely to consume American-style white industry sandwich bread than a multigrain rye sourdough loaf from a local bakery.
But I'm not going to judge anyone on his or her preferences. My education is in the industrial production of food. And as much as people like to complain about industry bread, it is a huge success story.
But let's get back to the topic: Swabian country bread. This one is easy to bake at home. You will be rewarded with a moist and soft crumb surrounded by a super crispy crust.
The flavor is fantastic which is due to the combination of a yeasted poolish and rye sourdough. The buttermilk makes the crumb tender and fluffy while also adding a subtle tanginess to the bread. And best of all: This is not a dense brick as the bread you find in Northern Germany. In Swabia, usually no more than 30 % rye is added to bread. Swabians like the flavor of rye but they generally prefer lighter bread that is easy to digest. This country bread consists of 70 % wheat and 30 % rye.
A visual guide to Swabian country bread
As always: Knead the dough well until it passes the windowpane test. Pay attention that you don't over-knead the dough as this can easily happen in mixed wheat and rye bread. I recommend using the low or medium setting of your dough mixer for most of the kneading time and only turn the speed up for the last few minutes.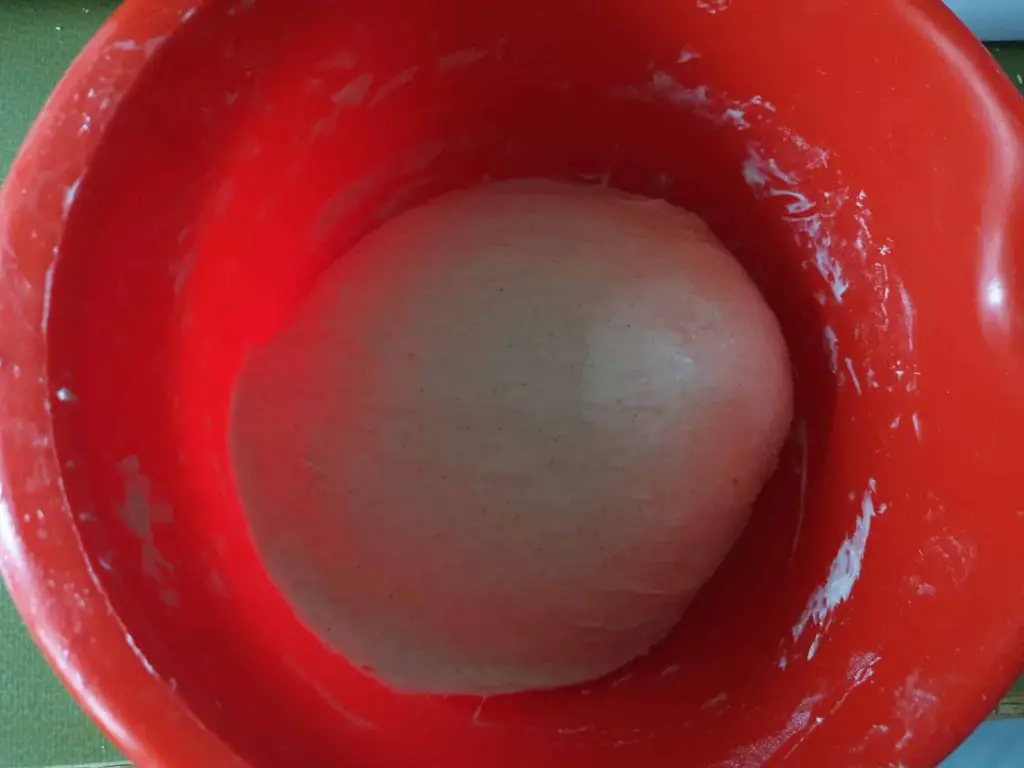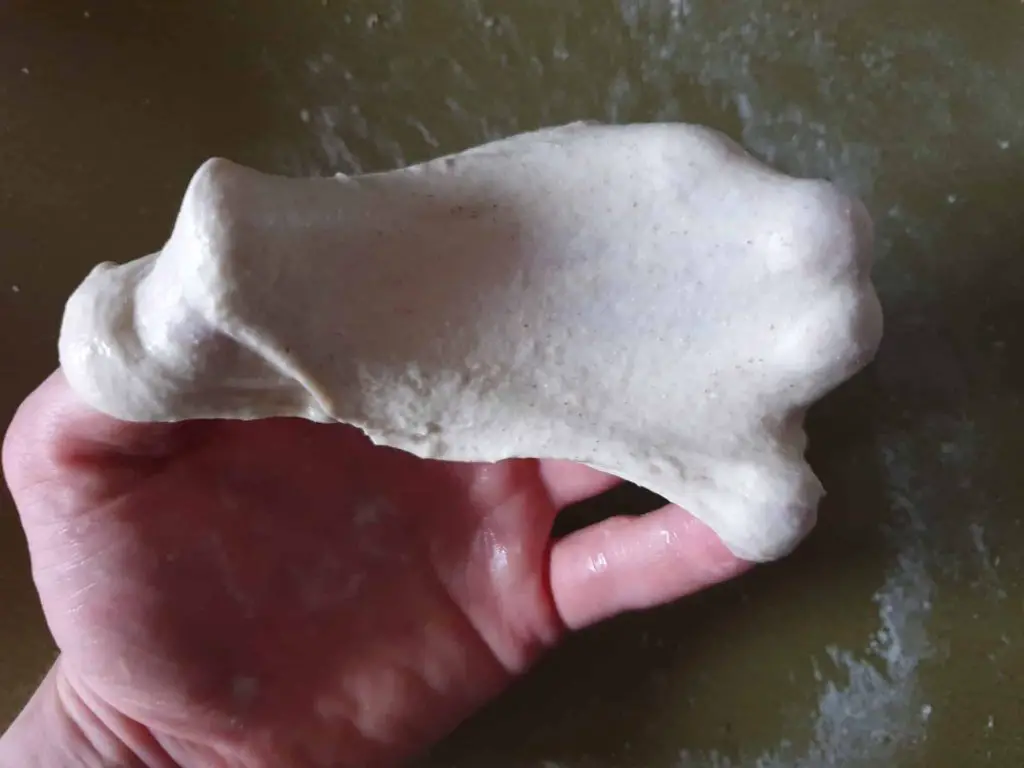 I don't punch down the dough but shape it very gently into an oblong loaf. This is not what most German bakers do. They get told to apply more force to redistribute the gas bubbles so that the crumb is even instead of irregular with larger and smaller holes. I love the uneven holes. I don't want the bread crumb to be completely homogenous so I don't apply much force.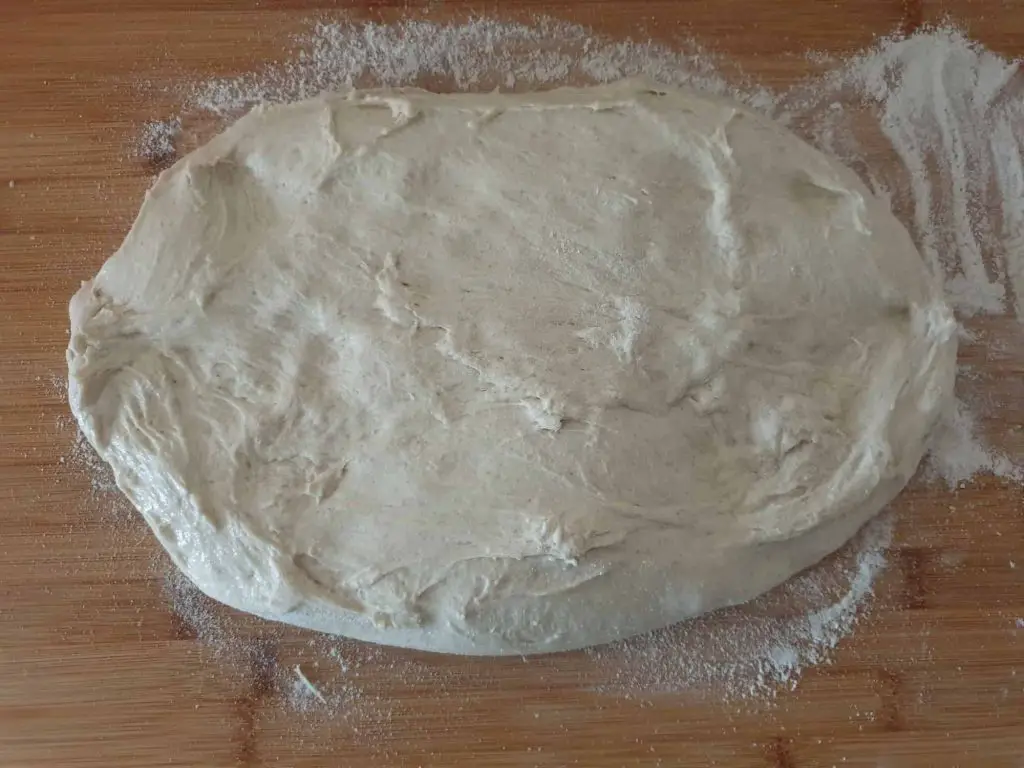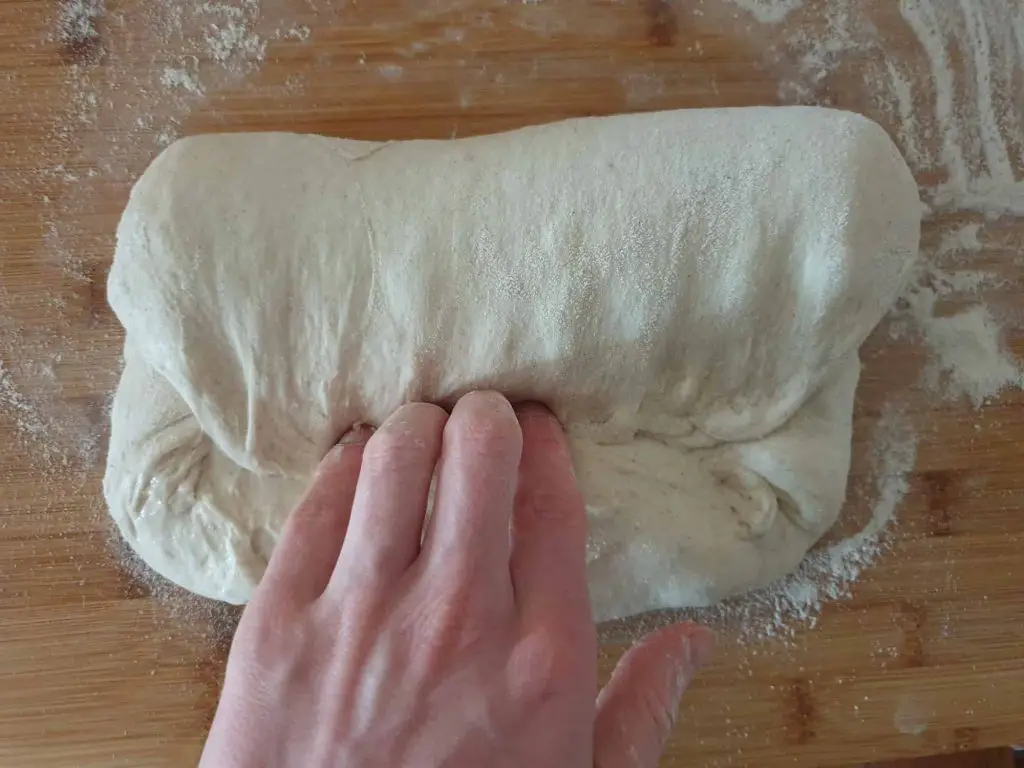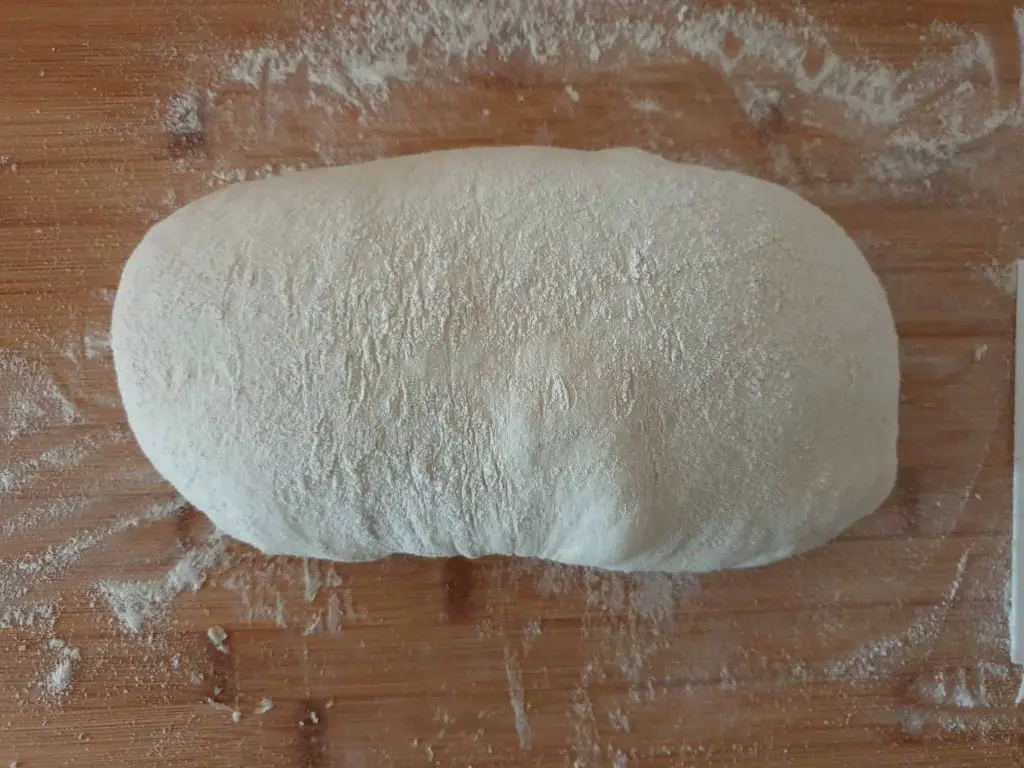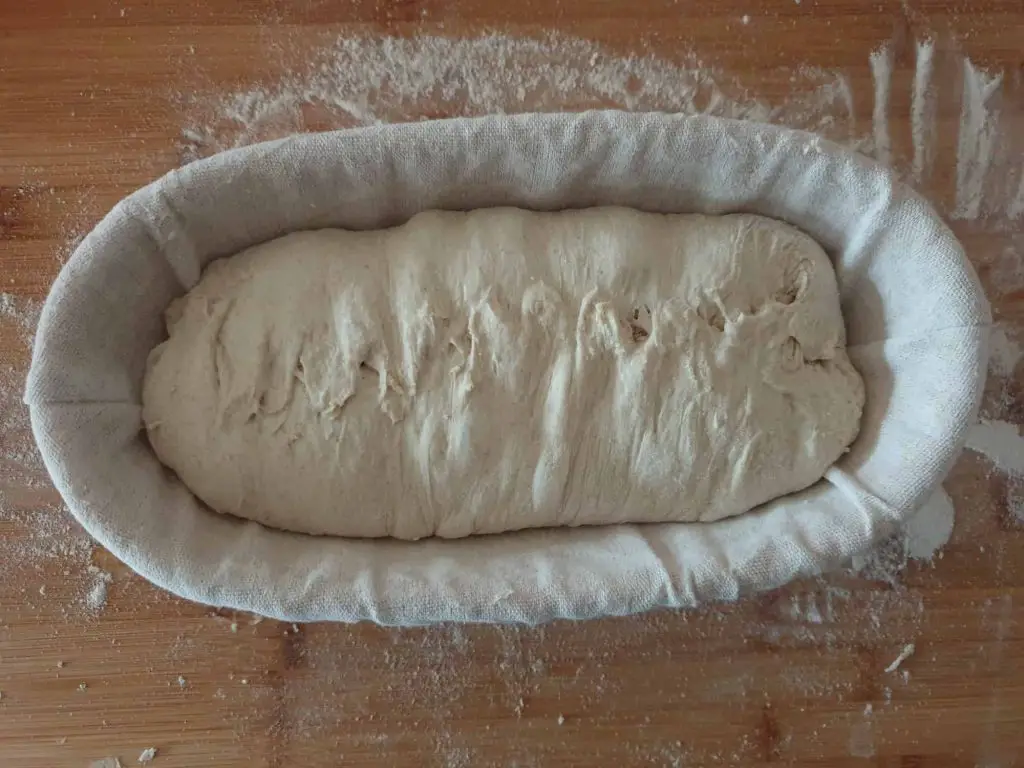 I'm not an artist when it comes to scoring the bread. One long cut is enough for me! I also dusted the loaf with a bit of rye flour because I like the rustic look after baking.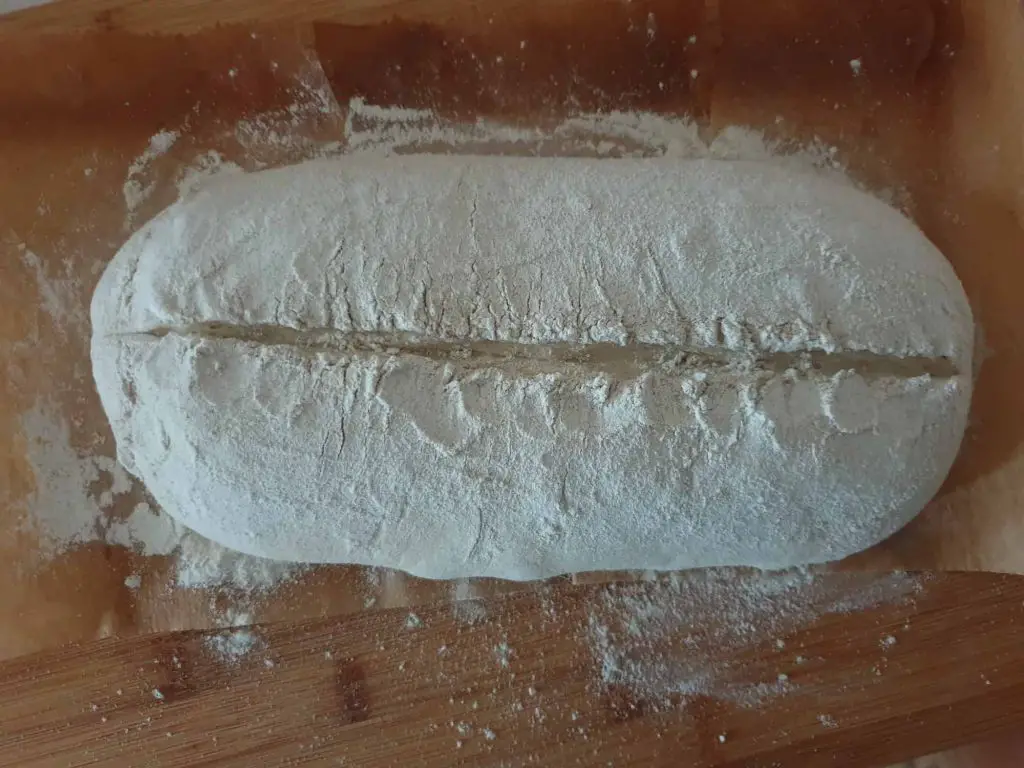 The bread puffed up nicely in the oven!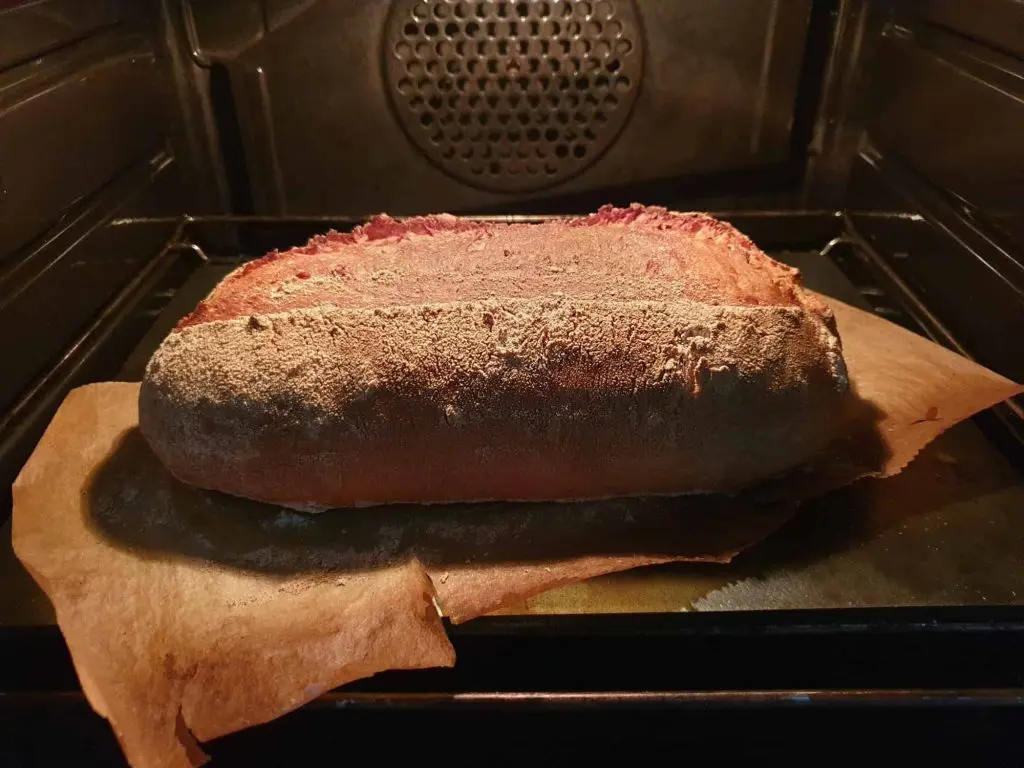 And lastly: Look at that crumb. Very light for a bread with 30 % rye. I love that the crumb is not homogenous thanks to the loose shaping. In Central and Northern Germany, some people would call this a "Brotfehler" (bread mistake). In my Swabian eyes, this is no flaw but a wonderful feature!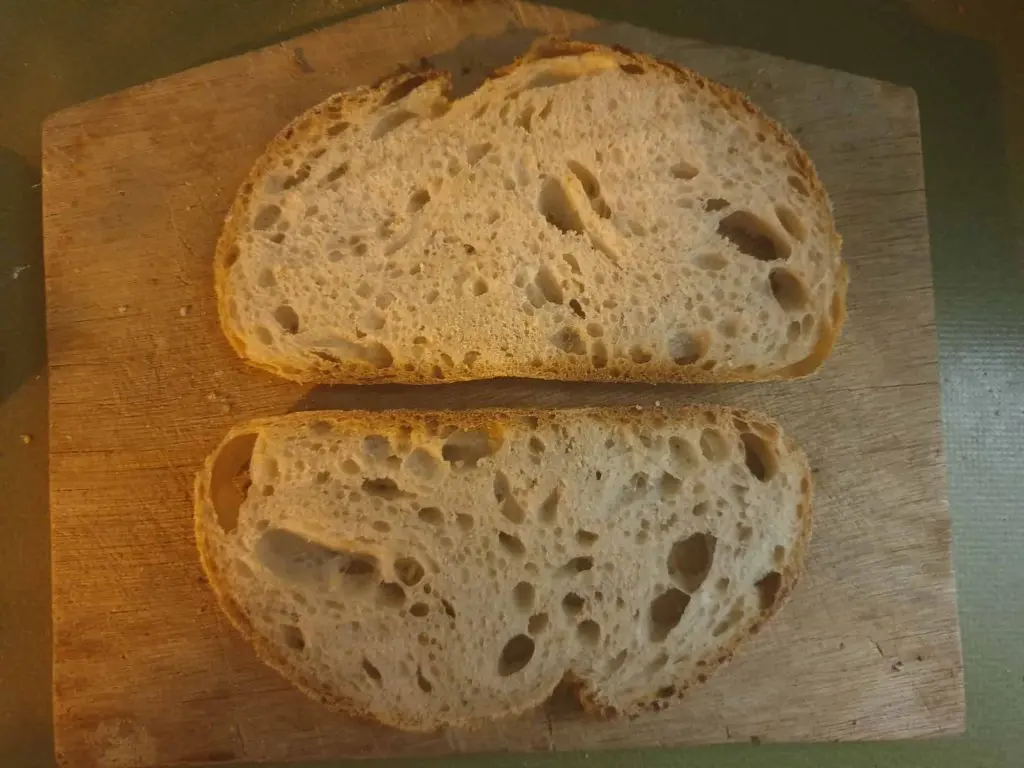 Swabian Country Bread ('Schwäbisches Landbrot')

Ingredients
For the poolish:
2 grams (0.07 ounces) fresh yeast
75 grams (2.6 ounces) water, at room temperature
75 grams (2.6 ounces) white wheat flour (German Type 550)
For the sourdough:
7.5 grams (0.26 ounces) sourdough starter (wheat or rye)
75 grams (2.6 ounces) water, at 40 °C (105 °F)
75 grams (2.6 ounces) medium-dark rye flour (German Type 1150)
For the final dough:
265 grams (9.3 ounces) half-white wheat flour (German Type 812)
75 grams (2.6 ounces) medium-dark rye flour (German Type 1150)
10 grams (0.35 ounces) salt
2.5 grams (0.1 ounces) fresh yeast
75 grams (2.6 ounces) buttermilk, fridge-cold
145 grams (5.1 ounces) water, at room temperature
Instructions
Prepare the poolish:
Dissolve the yeast in water. Mix with the wheat flour until no dry spots remain. Cover and leave to ferment at room temperature for 4-5 hours. Then transfer the poolish to the fridge and leave to ferment overnight or up to 2 days.
Prepare the sourdough:
Dissolve the sourdough starter in water. Mix with the rye flour until no dry spots remain. Cover and leave to ferment at room temperature for 16-18 hours.
Prepare the final dough and leave it to rise:
In a bowl, combine the poolish, sourdough, and the rest of the ingredients for the final dough. Gently knead into a smooth dough for about 10-15 minutes or until you can stretch out the dough very thinly without it tearing. The dough temperature after kneading should ideally be around 22-25 °C (71-77 °F).
Cover the dough and leave it to ferment at room temperature for 1.5 hours.
Shape and proof the dough:
Preheat your oven with baking steel or stone inside to 240 °C (465 °F). Place a tray filled with water on the bottom of the oven to generate steam.
Transfer your risen dough onto a floured work surface. Shape into an oblong and leave to proof in a banneton, seam-side up, at room temperature until the dough is ready to be baked, about 30 minutes.
Score and bake the bread:
Invert the proofed dough onto a piece of parchment paper. Score the loaf lengthwise with a serrated bread knife and transfer it onto your pre-heated baking steel or stone.
Bake the bread with steam for 10 minutes at 240 °C (465 °F). Then remove the water tray from the oven and turn down the heat to 210 °C (410 °F). Continue to bake the bread until browned to your liking, about 45 more minutes. Make sure to leave the loaf long enough in the oven so that it turns out crispy.
Leave the baked loaf to cool down completely for a few hours before slicing it.
T