Jump to recipe
What do you do with leftover Maultaschen? You fry them in a pan until crispy and serve them with a Swabian potato salad. Delicious and it doesn't feel like eating boring leftovers.
If you don't know how to prepare Swabian soup dumplings ("Maultaschen") then please refer back to my post about them. This recipe assumes that you have already made a batch. Of course, you can also use store-bought dumplings to prepare this recipe if you don't feel like making the Maultaschen yourself.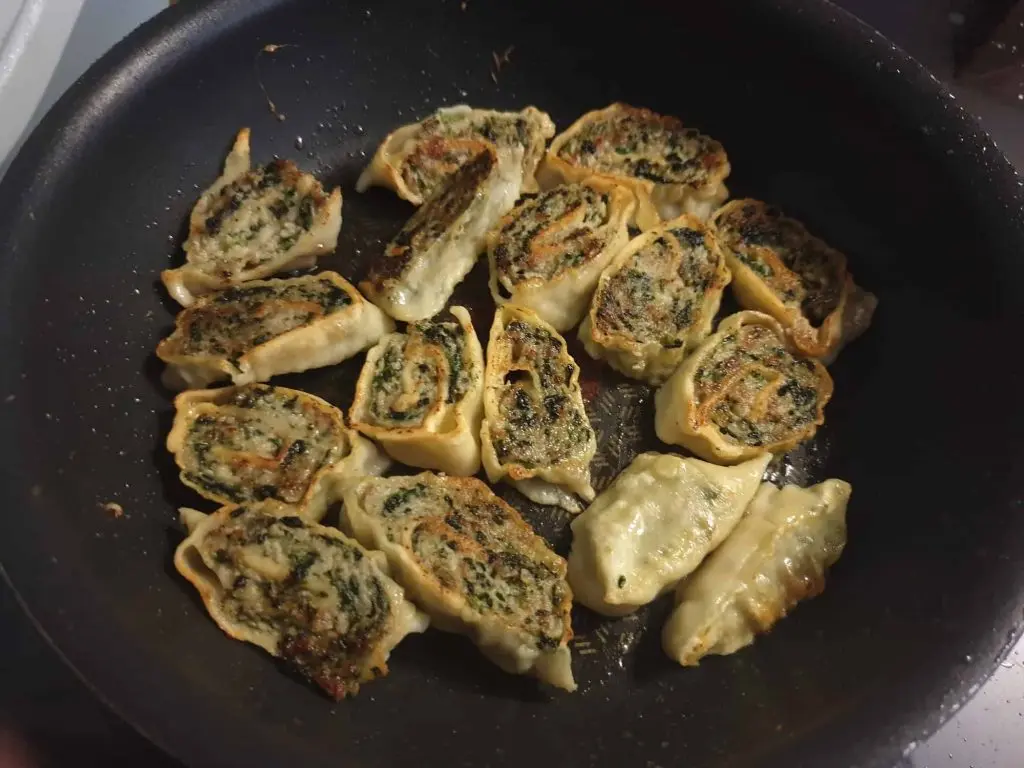 I also assume that you have leftover potato salad from the previous day. Eating Maultaschen without a potato salad is a no-go in Swabia. The Swabian potato salad is always marinated with beef broth and never ever with mayonnaise. Mayonnaise doesn't exist in Swabian food.
In the North of Germany, they like to drown their food in mayonnaise. We don't do that in Southern Germany. Vinegar and oil is the way to go. The creamy salad sauces that you find in Southern Germany are based on heavy cream and yogurt. So much tastier than mayonnaise.
Stir-fried German Soup Dumplings with Egg ('Gebratene Maultaschen mit Ei')

Ingredients
For the fried onions:
2 onions, thinly sliced
1 tablespoon all-purpose flour
1 cup clarified butter or canola oil
salt, to taste
For the fried dumplings:
6 eggs, size M
1 tablespoon whole milk
salt, to taste
4 tablespoons of the oil used for frying the onions, divided
8 German soup dumplings (Maultaschen), cooked, and cut into slices
For serving:
Instructions
Fry the onions:
Dust the onion slices generously with flour. Heat the clarified butter or canola oil in a small pot or pan to about 320 °F (160 °C) and fry the onion slices in two batches until golden brown and crispy, about 3-4 minutes. Drain the fried onions on paper towels and season lightly with salt.
Fry the eggs and dumplings:
In a bowl, whisk together the eggs and milk and season lightly to taste with salt. Heat 2 tablespoons of the frying oil of the onions in a nonstick saute pan over medium-low heat. Add the eggs and slowly let them set and scramble. Don't stir the eggs too much as large curds are preferable for this dish. Once slightly undercooked, take the eggs out of the pan and add another two tablespoons of oil to the pan. Turn the heat up to medium and add the sliced Maultaschen. Stir fry for 4-5 minutes or until golden brown on all sides. Add the eggs back into the pan and mix briefly.
Serve the dish:
Sprinkle the scrambled egg and dumpling mixture with a few fried onions and serve alongside a Swabian potato salad for a full meal.