Jump to recipe
Today, I want to do a recipe review of a mixed bread with seeds made from wheat and rye flour. By accident, I stumbled across the by-far best German bread baking book. It's called "Brot: Bread Notes From A Floury German Kitchen" and written by a guy named Nils Schöner. It's nothing fancy, just a plain kindle ebook.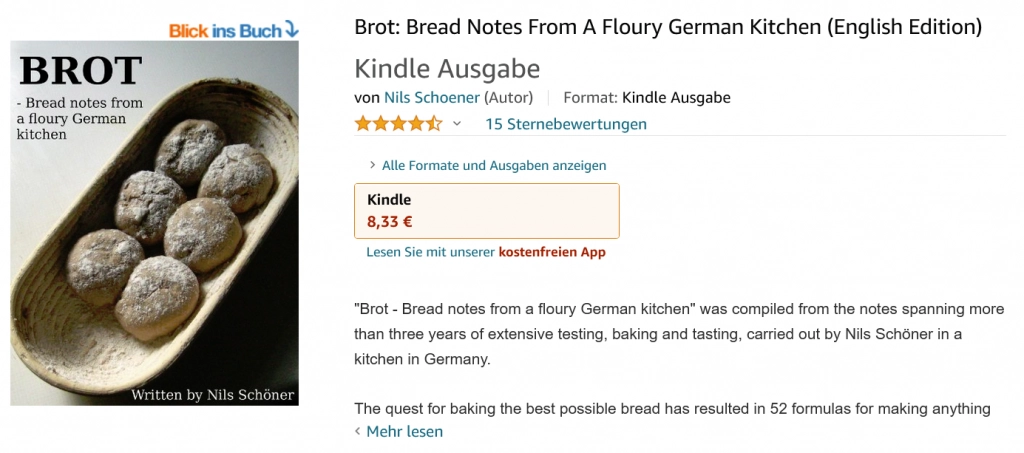 I don't own many bread baking books and I am no fan of the highly produced stuff. For me, it's not inspiring to look at perfectly crafted recipes and gorgeous pictures. I don't care about visuals and perfectionism. What I look for in a book is if the author really has to say something. Modern cookbooks lack that. They are mere food porn. The author's personality is often uninspiring and doesn't really shine through.
I don't want to see perfectly crafted recipes. I want to see the process and thought behind them. I don't want to see "the best recipe", "baking with perfection", or "baking like a master at home". I want an honest book that doesn't take things too seriously. Recipes are an inspiration, no manual. There are no hard rules when it comes to baking. Whatever you like and make in your kitchen is perfect!
And Brot: Bread Notes From A Floury German Kitchen delivers in that regard. It is full of German bread recipes, mainly from the North. The recipes are not detailed. They are guidelines. But they teach you all that you need to know when it comes to baking rye and whole-grain bread.
You see, I am a Southerner. In Swabia, we prefer light wheat and spelt bread. Rye is sometimes mixed with wheat flour but we are no fans of wholegrain and dense bread here. But the Northerners are. So if you want to learn about this kind of bread, it's good to learn it from an expert rather than from me.
What the original recipe for mixed bread with seeds looks like
The mixed bread with seeds recipe that I am going to review today – it turned out excellent – is called spring bread in the book. The author calls it spring bread because he claims it to be too light and lacking in flavor for winter. Well, certainly not in Swabia. But preferences are different. While the Swabians like light and fluffy potato bread, pretzels, or milk bread, the Northerners adore hearty loaves of bread.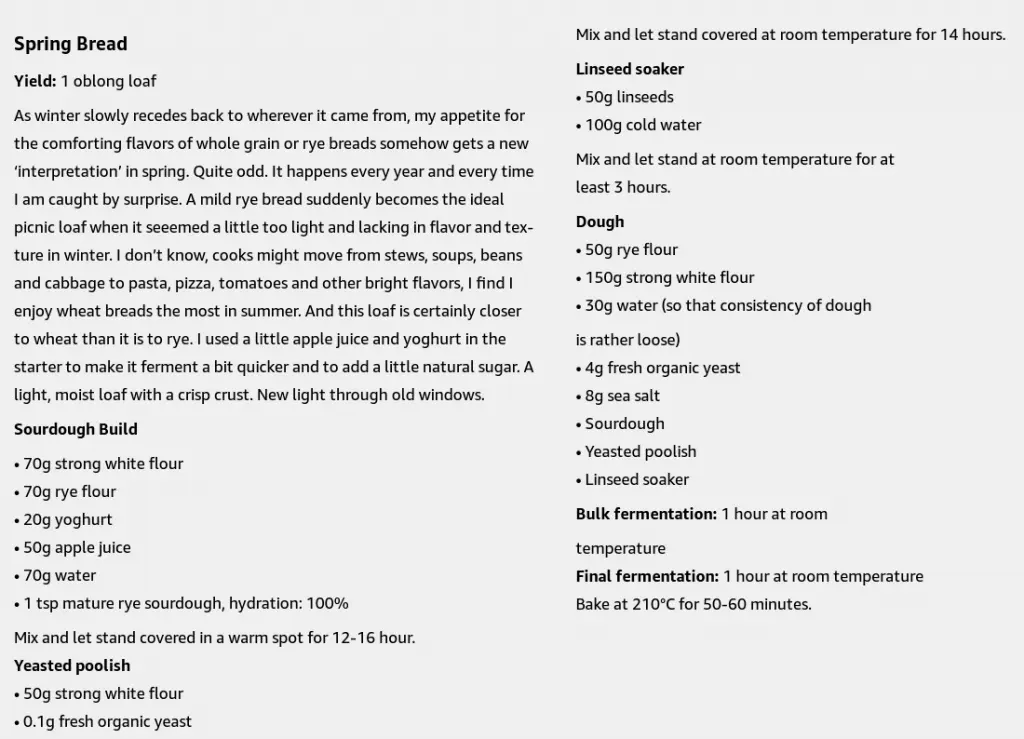 As always, I changed a few minor things:
I used a seed mixture rather than just flaxseeds
I used half-white flour (German Type 812) instead of white flour (German Type 550). I know, I know: I made the bread heartier even though I claimed to like it lighter before… But let me tell you, the Type 812 flour is the standard for bread in Swabia. And it's still wheat, not rye flour.
I had to play around a bit with the hydration. I just added water to the final dough until the consistency felt right.
I baked the bread at a higher temperature than what the recipe called for.
Were all these changes for the better? I don't know for certain. I never follow any recipe in its original form. But the end result was really delicious so I consider this mixed bread with seeds a big success. The book did a great job guiding me to my desired result!
A visual guide to my version of the recipe
As always, the dough needs to be well developed after kneading. But be careful to not over-knead the dough. Bread dough with rye flour in it is very easy to over-knead if you use a stand mixer. Adding to that, this dough contains two pre-ferments where the gluten has already been partially developed. If you're insecure, aim to slightly under-knead the dough rather than risk over-kneading it.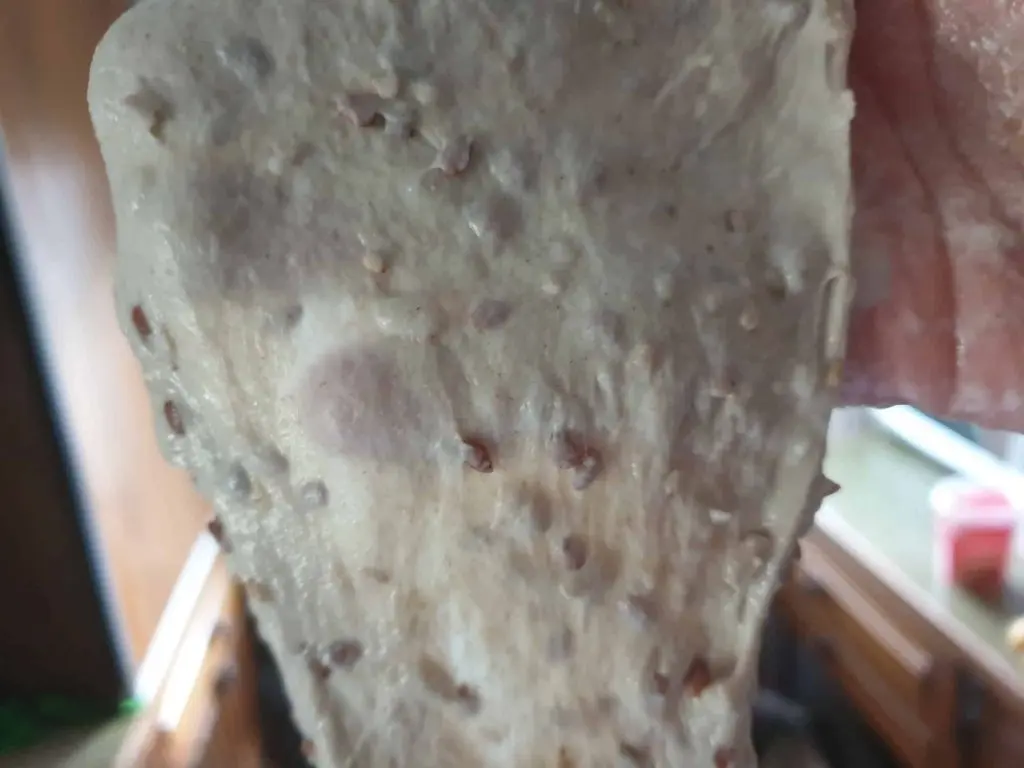 I shaped the dough rather loosely to get a more rustic and uneven crumb. Below you can see my method. Having said that, you can shape the dough however you want. Just make sure it has some tension after shaping.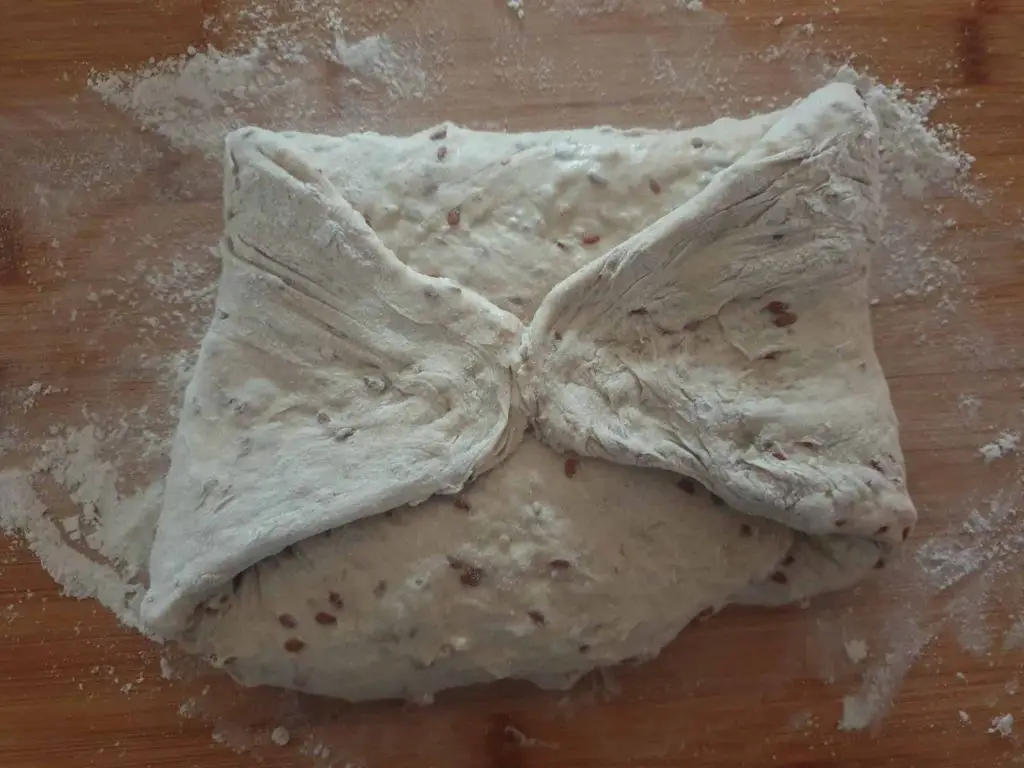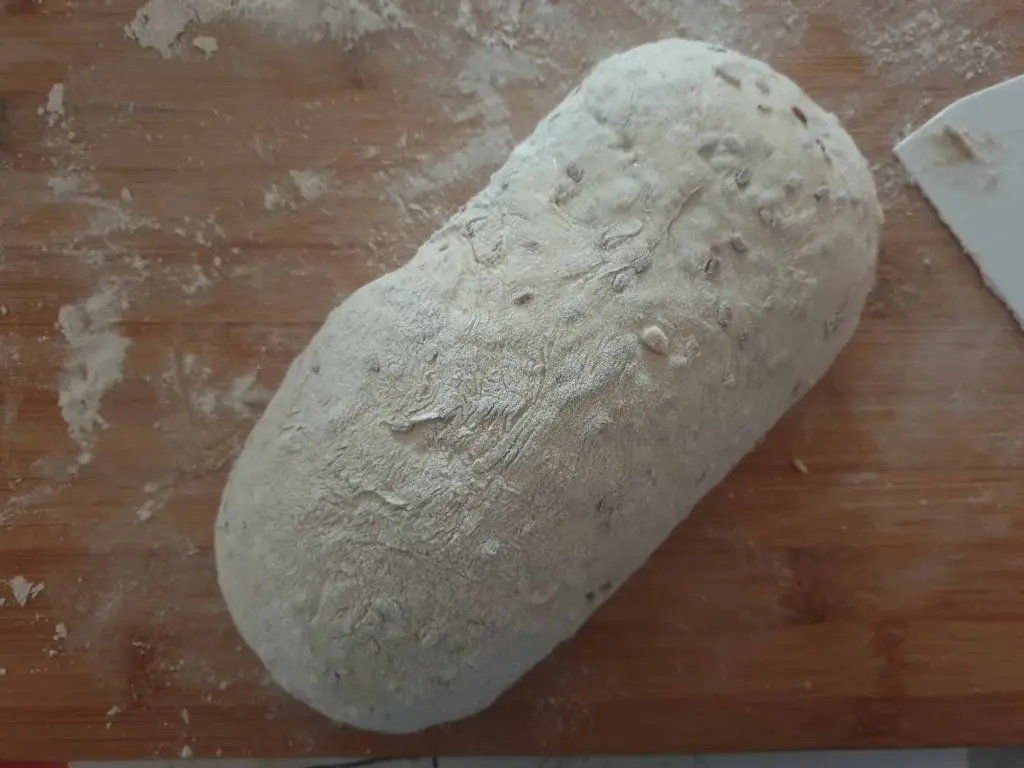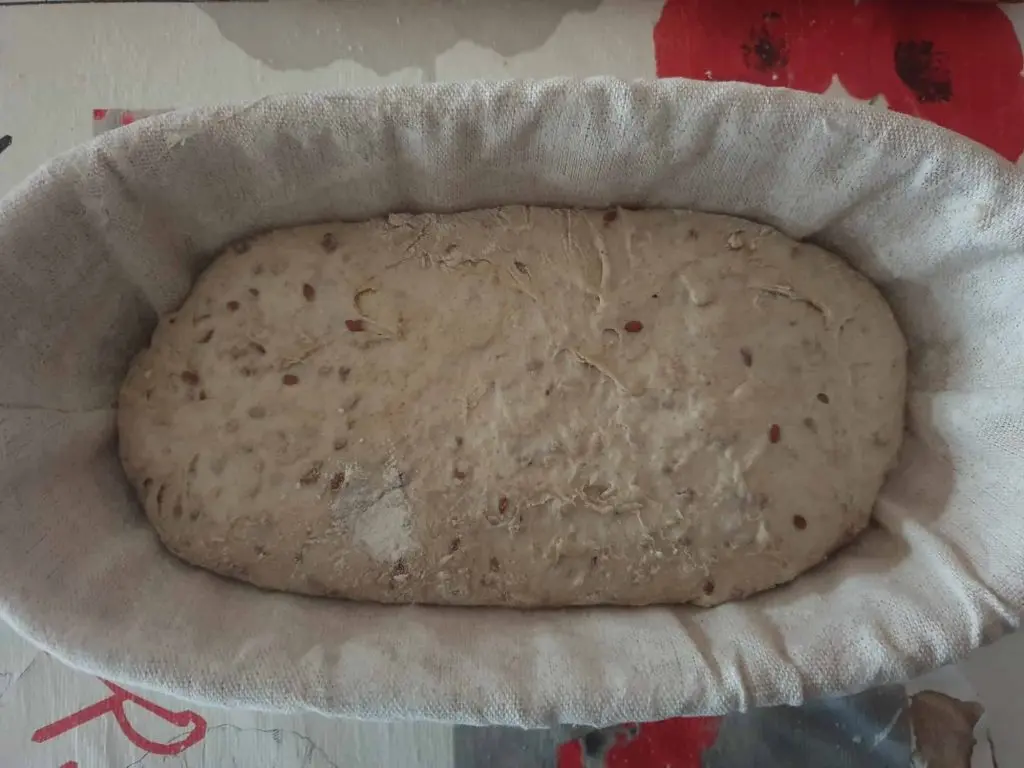 When it comes to scoring, I am a simple man. One long slash is enough for me.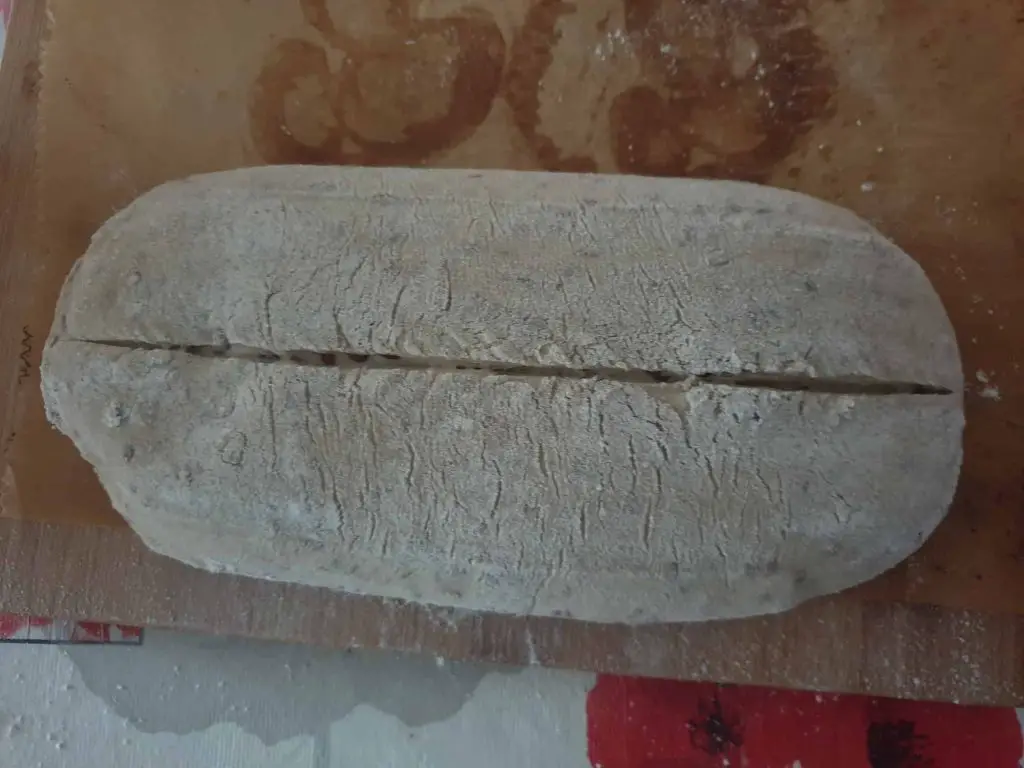 Watching the dough rise in the oven was spectacular! Look at how much it puffed up. There's nothing more satisfying about baking bread than staring into the oven in amazement.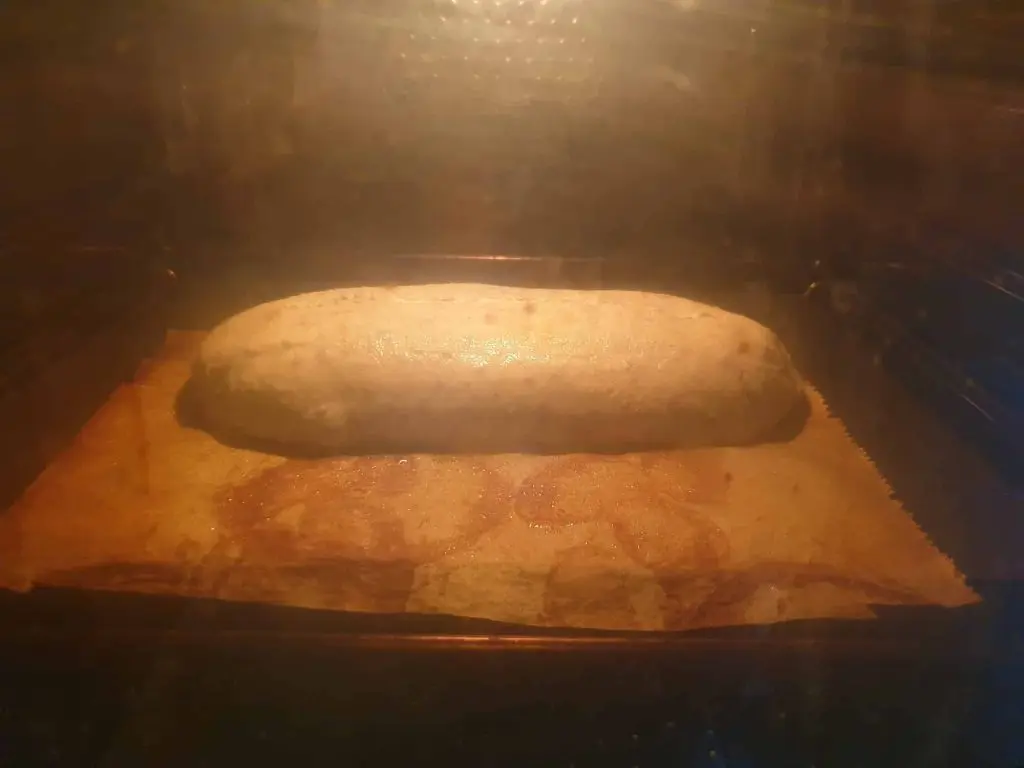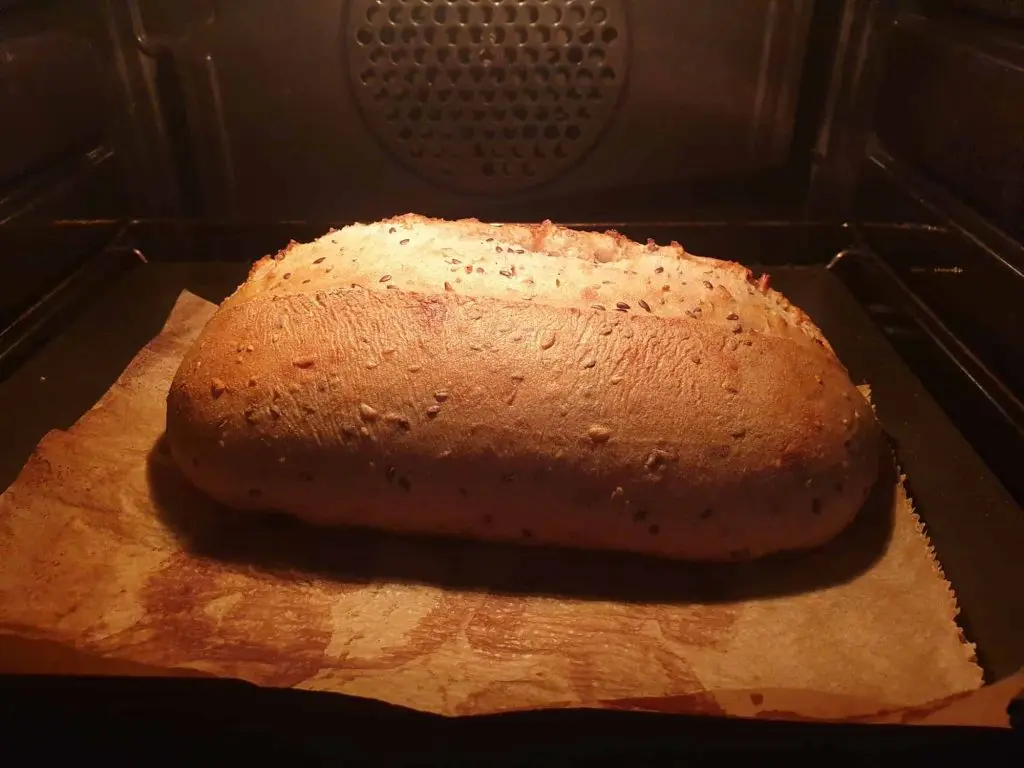 Thanks to the gentle shaping, the crumb was wild and uneven rather than completely uniform. It had a little chewiness to it and the crust was ultra-thick and crispy. A delicious slice of bread. Considering we used half-white flour and 30 % rye flour this a very good result. The taste was mainly dominated by the yummy seeds. I can only encourage you to try this recipe – the original or my version – you won't be disappointed.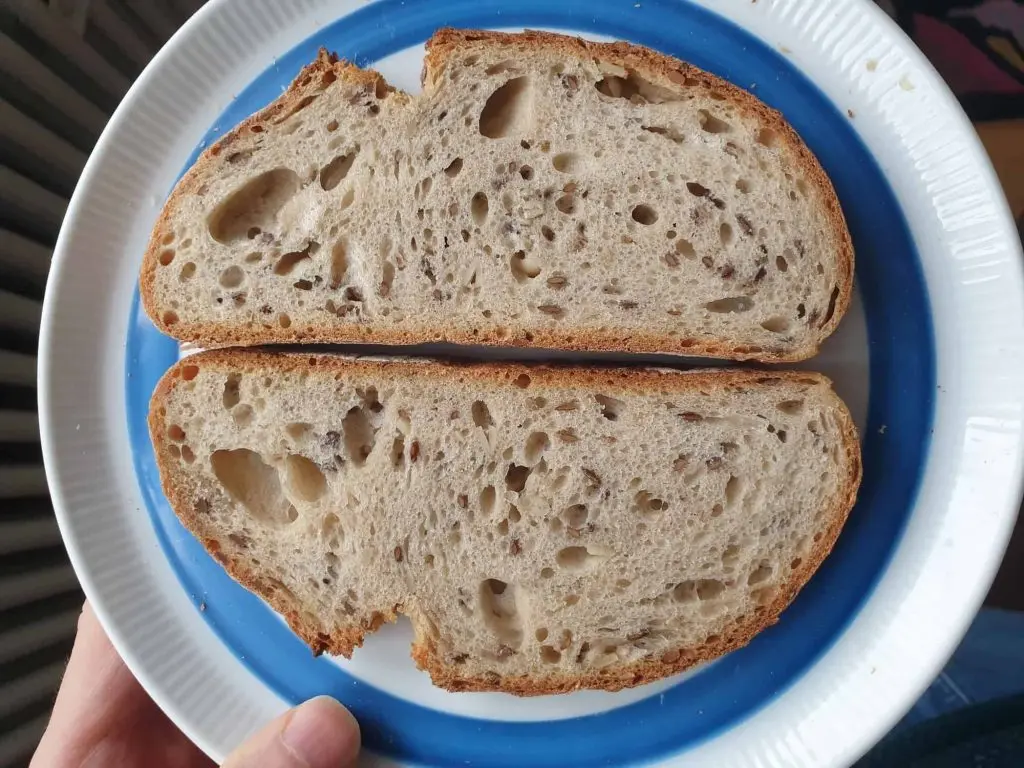 Mixed Bread with Seeds ('Mischbrot mit Körnern')

Ingredients
For the sourdough:
20 grams (0.7 ounces) full-fat (3.8%) yogurt
50 grams (1.8 ounces) apple juice, at room temperature
70 grams (2.5 ounces) water, at room temperature
10 grams (0.4 ounces) sourdough starter, wheat or rye
70 grams (2.5 ounces) light rye flour (German Type 997)
70 grams (2.5 ounces) half-white soft wheat flour (German Type 812)
For the poolish:
0.1 grams (0.0035 ounces) fresh yeast
50 grams (1.8 ounces) water, at room temperature
50 grams (1.8 ounces) half-white soft wheat flour (German Type 812)
For the Quellstück (soaked thing):
50 grams (1.8 ounces) seeds of your choice
100 grams (3.5 ounces) water
For the final dough:
80 grams (2.8 ounces) water, at room temperature (so the dough is loose and sticky, add more if necessary)
4 grams (0.15 ounces) fresh yeast
8 grams (0.28 ounces) salt
50 grams (1.8 ounces) light rye flour (German Type 997)
150 grams (5.3 ounces) half-white soft wheat flour (German Type 812)
Instructions
Prepare the pre-ferments:
The evening before you plan to bake, combine all the ingredients for the sourdough in a bowl starting with the wet ingredients. Mix well, cover, and leave to ferment at room temperature for 12-16 hours.
Dissolve the yeast for the poolish in water. Mix with the flour, cover, and leave to ferment at room temperature for 14 hours.
In a bowl, cover the seeds for the Quellstück with water. Leave in the fridge overnight.
Prepare the main dough and leave it to rise:
Drain any excess soaking liquid from the seeds.
In a bowl, combine the sourdough, poolish, and the ingredients for the main dough. Mix well and knead gently until smooth, about 5 minutes. Incorporate the seeds and continue to knead the dough until you can pull it apart very thinly without tearing it. Be careful to not over-knead the dough as that can happen very quickly with mixed doughs. My dough had a temperature of 20 °C (68 °F) after kneading because I store my flour in a cool spot and kneaded the dough very gently. Your dough temperature might be higher depending on your ambient temperature.
Cover the kneaded dough and leave to rise in a warm spot for 1 hour.
Shape, proof, and bake your bread:
Preheat your oven with baking steel or stone inside to 250 °C (480 °F). Place a tray of water on the bottom of the oven to generate steam. Alternatively, you can also bake the loaf in a preheated Dutch oven.
On a lightly floured work surface, form the bread into your desired shape. Make sure to give it enough tension so that it will hold its shape in the oven.
Proof the bread at room temperature seam-side up in a proofing basket until it has puffed up nicely, about 50 minutes to 1 hour. Invert the proofed bread onto a wooden board.
Score with one or a few shallow cuts and bake on your baking stone or steel for 20 minutes at 250 °C (480 °F). Make sure to generously spray your oven with water at the beginning of baking to enable the bread to rise further in the oven. After 20 minutes, remove the tray of water from the oven and reduced the heat to 210 °C (410 °F). Bake your bread for another 30-35 minutes or until browned to your liking. Leave to cool down completely before slicing it.