Jump to recipe
People in Asia might prefer their soup noodles to be spaghetti-like long strips. But from a German perspective, this is a very inconvenient way to enjoy noodle soup. Why would you eat the noodles separate from the broth and other soup ingredients? In a German soup, every ingredient needs to be spoonable. Thus Swabian soup noodles need to be cut short.
The Building Blocks of German Cusine Series
This article is part of my basics series, which will introduce you to key ingredients and preparation methods. You can find all these articles in the 'Basics' category of this blog. Listed below are the articles that have yet been published in this series:
What are Swabian soup noodles made of?
When it comes to noodle-making, Swabia often gets reduced to spätzle. I mean, nothing against spätzle. They are tasty. But it's wrong to assume that all other Western noodles come from Italy. Swabia has always been a region that values grains like wheat and spelt over potatoes. So it is quite logical that noodles are produced in Swabia by countless small noodle manufacturers. If you come to Swabia, there's no need to purchase Italian noodles. The Swabian ones are just as fine and a local product. Noodles and dumplings in all forms and shapes are traditional in Swabia.
The most important characteristic of soup noodles is that they shouldn't be mushy. How do we achieve noodles with a good bite? We dry them. We can then later cook them a bit shy of al-dente to get a good bite.
The by far best noodles to dry are semolina noodles. As much as I love spelt, it is much better to prepare and eat those fresh. Spelt noodles have a greyish color that gets enhanced when you dry them. They always look a bit unappetizing in comparison to yellow semolina noodles. Not just homemade spelt noodles are grey. The commercial ones are too. Take a close look the next time you are at the grocery store. The grey spaghettis are the spelt spaghettis.
Why a noodle machine is recommended
A noodle machine will save you a lot of trouble when making Swabian soup noodles. The noodle dough is dry and tough. If you're looking for a workout, it can be rolled out and cut by hand. But I wouldn't recommend it. A noodle machine is a cheap investment with a huge return. I wouldn't make noodles or dumplings without mine.
Don't panic if the dough seems too dry or crumbly at first. The kneading is done by the noodle machine. Keep folding and passing the noodle dough through the machine until you have a smooth dough sheet. If your dough is too wet, the noodles will be sticky.
In bread making, the master is the one who can handle the wettest dough whereas, in noodle making, the master is the one who can handle the driest dough. For more detailed information, check out my post on how noodles are made.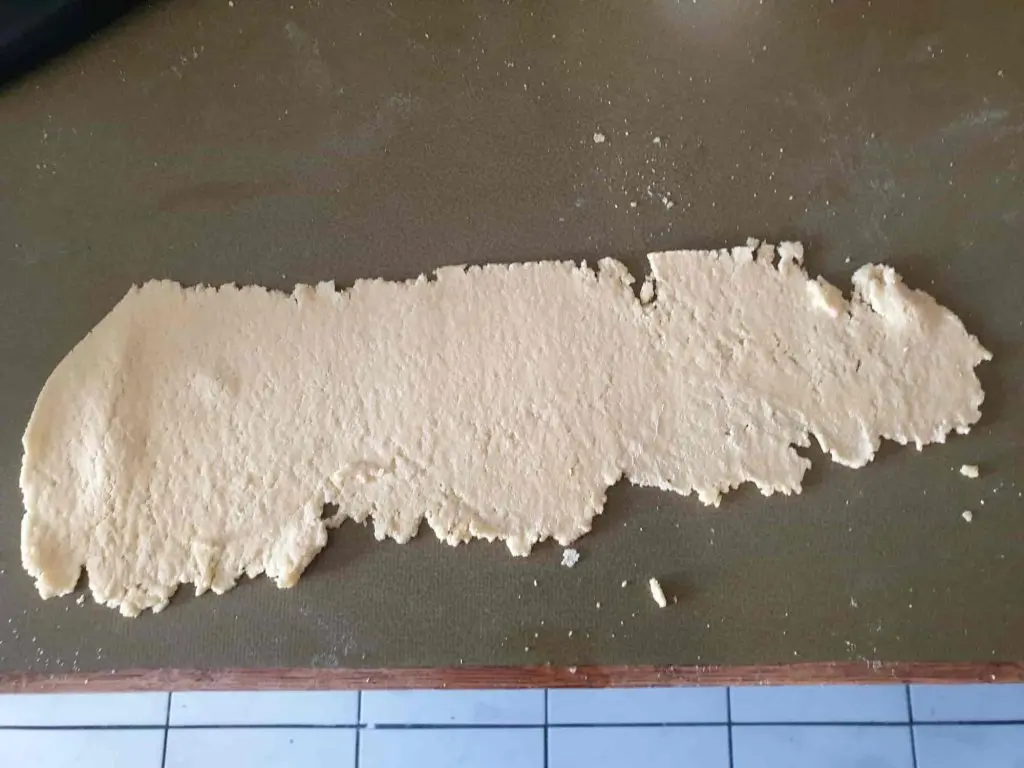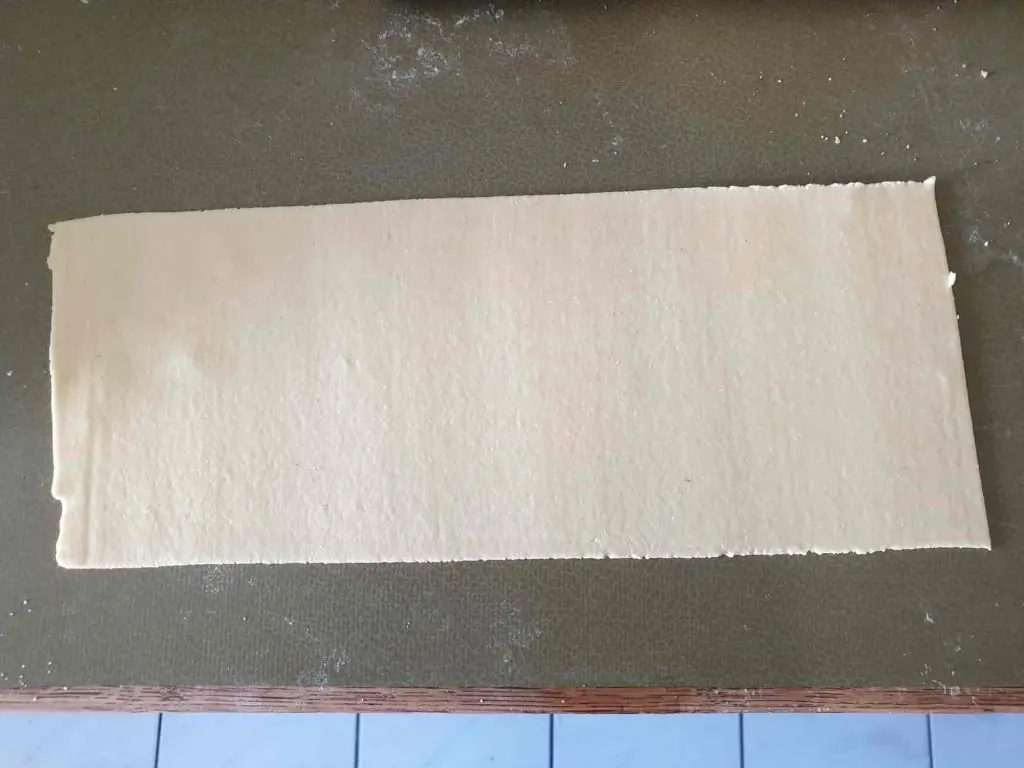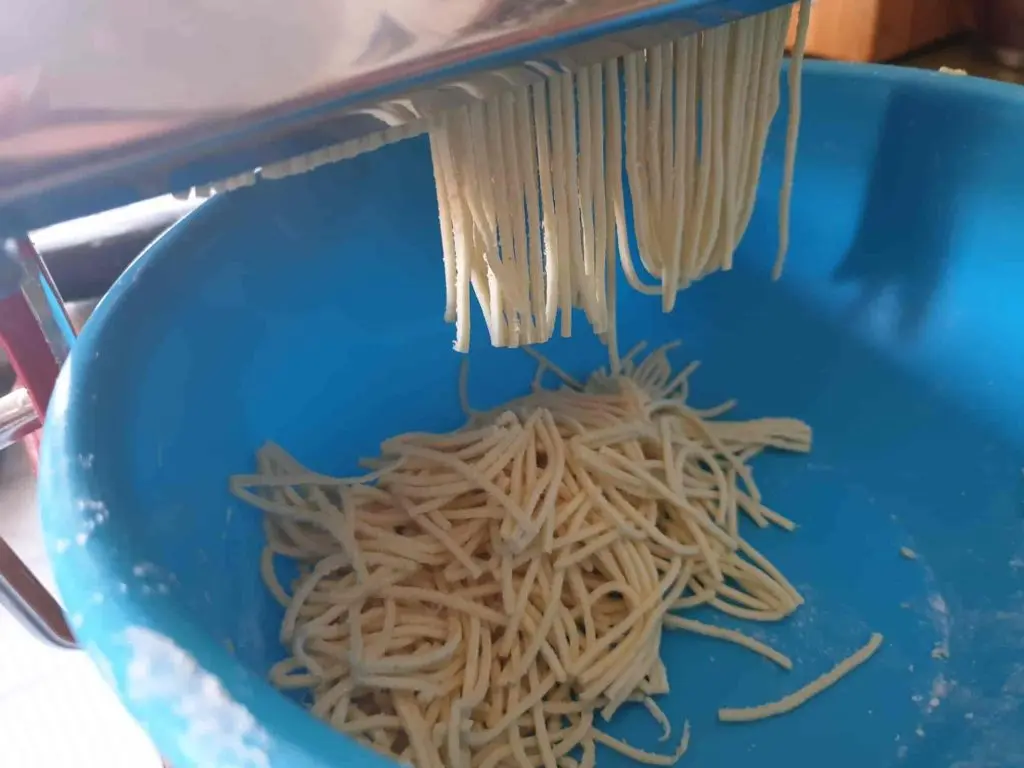 Swabian Soup Noodles ('Schwäbische Suppennudeln')

Ingredients
10 ounces (300 g) semolina
4 – 4.5 ounces (120 – 135 g) water
Instructions
Prepare the noodle dough:
Slowly start to incorporate the water into the semolina. The dough will look dry and crumbly at first and that is fine. Just press and fold the dough with the palm of your hands until all the flour is incorporated. You don't need to knead the dough. Just press it until roughly combined. Cover the dough with plastic wrap and leave to rest for at least 30 minutes at room temperature.
Roll out the dough and cut your noodles:
It's best to use your pasta machine to roll out the dough. You first need to flatten the dough with a rolling pin until it is thin enough so that your pasta machine can handle it. Pass the dough through the machine on its widest setting. Then fold the dough over itself from both ends. Flatten it with a rolling pin and pass it through the pasta machine again. Do this 5 to 7 times until you have a smooth and homogenous dough sheet without any holes or cracks.
Now you can start to decreased the width of your pasta machine. Just pass the dough through the pasta machine without folding it afterward until it is thin to your liking. Dust the dough sheet generously with cornstarch before cutting the noodles.
I use the spaghetti cutter of my pasta machine to cut the noodles. Pass the dough through the cutter until you have noodles that are about 1 inch (2.5 cm) long. Then cut the noodles with scissors and continue passing the dough through the cutter, cutting the noodles every 2.5 inches, until the dough sheet is used up.
Dry the noodles:
Spread the noodles out on a baking sheet lined with parchment paper and leave them to dry in the sun or next to a heater until completely dried. Store in a dry spot until you use them.