Jump to recipe
Last week, I've given you a recipe for Swabian semolina soup noodles. There is no better way to enjoy them than in a piping hot bowl of German chicken soup. A long time ago, I had already published a recipe for chicken noodle soup. This one was meant to be a way to use up leftover chicken from cooking chicken broth.
The recipe that I am showing you today is not too different from my old recipe but I have changed a few things. First, I like chicken skin. And I like tender and juicy chicken which is why the chicken is cooked in a more gentle way for this recipe. You don't need to boil a chicken broth to death to develop flavor.
I see that a lot of English language recipes claim to cook chicken bones for hours and hours. This has always seemed a bit strange to me. The bones are not all that flavorful. What lends broth flavor is meat. This is why I only cook chicken broth from whole chickens or with chicken legs and bones.
Seriously, if you are frugal and only use bones to cook broth then you are missing out. The meat is where it's at flavorwise. The bones can only lend collagen and richness if they contain a bit of fat. But they can't give you a deep meaty flavor.
The key ingredient of German chicken noodle soup is a tasty chicken
It's advisable to use good-quality chicken for this German chicken soup recipe. I am not a fan of the chewy and rubbery texture of older frozen chickens for soup. I always like to use French chickens from the Alsace. I don't know how the French people do it but their chickens really taste better compared to the German ones. If you're living in the US, I guess you're out of luck unless you can find a local farmer that doesn't sell the bland, gigantic, and chlorinated chickens.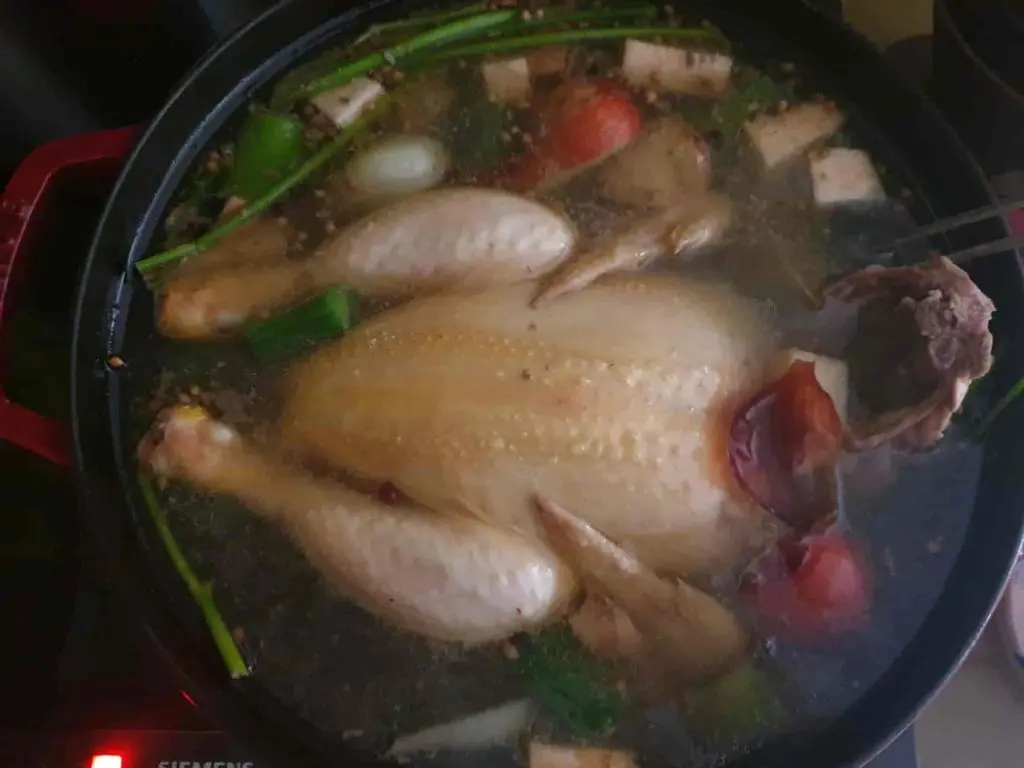 I don't like to do unnecessary steps when cooking but I think it is essential to cook the noodles separately from the broth. If you cook them in the broth there's a high risk that they might get mushy until you get to serve the soup. The broth should be poured over the noodles shortly before serving. Otherwise, they will soak up the broth and lose their bite.
Chicken Noodle Soup ('Hühnersuppe')

Ingredients
For poaching the chicken:
1 chicken, about 3 pounds (1.4 kg)
salt, to rub the chicken
1 pound (500 g) chicken backs
2 carrots, roughly chopped
1/2 leek, roughly chopped
1/4 celeriac (celery root), roughly chopped
1-inch piece of ginger, crushed
a handful of parsley stems
1 large onion, halved
2 cloves
2 bay leaves
5 allspice berries
3 juniper berries
1 teaspoon coriander seeds
1 teaspoon mixed peppercorns
1/2 tablespoon salt
For assembling the soup:
2 tablespoons butter
4 carrots, cut into bite-sized pieces
5 ounces (1 cup | 150 g) green beans, ends trimmed and halved
5 ounces (1 cup | 150 g) frozen peas
lemon juice, to taste
salt, to taste
6 servings dried soup noodles
a handful of roughly chopped parsley leaves, for garnishing
Instructions
Poach the chicken:
Rub the chicken skin generously with salt. Set aside.
Add the chicken backs, carrots, leek, celeriac, ginger, and parsley stems into a large stockpot or Dutch oven. Spike the onion halves with the cloves and add them into your pot together with the bay leaves, allspice berries, juniper berries, coriander seeds, peppercorns, and 1/2 tablespoon of salt. Add enough water so that all the broth ingredients are fully submerged. Bring the water to a light simmer.
Rinse off all the salt from the chicken (this is to remove the unpleasant poultry smell). Then add it into your simmering broth, breast-side up. Take it out of the broth, pour off the water from the cavity, and submerge the chicken again. Repeat 2-3 times. This will help the chicken to cook more evenly. Make sure the chicken is fully submerged in the broth. If not, add extra water. Keep the broth just below a simmer and poach the chicken until cooked, about 40 minutes. You can check the doneness by piercing the chicken thigh with a knife at its thickest point. If the juices run clear, the chicken is cooked. While the chicken poaches, skim off any impurities that might rise to the top of the broth.
Once cooked, take the chicken out of the poaching liquid and immediately cool it down in an ice-water bath. Keep the broth simmering while the chicken cools down. Once the chicken has cooled down completely, after about 10 minutes, you can carve it. Separate the carcass from the meat. Cut the chicken breast into bite-sized pieces. Make sure to leave the skin on. It is very flavorful. I like to cleave the thighs and wings through the bone. However, you can also debone and shred them into bite-sized pieces if you don't like to chew on bones. Set the chicken meat aside.
Remove all the solids from your broth and strain it through a fine-mesh sieve or cheesecloth.
Cook the soup:
Heat the butter in a pot over medium heat. Add the carrots and beans and sweat for 2-3 minutes. Add the chicken broth and bring it to a light simmer. Let the soup simmer for about 10 minutes or until the vegetables are tender to your liking. Add the peas into your soup and season to taste with lemon juice and salt.
In a separate pot of salted boiling water, cook the dried soup noodles until 'al dente', about 5 minutes. Drain the noodles and divide them evenly among the individual serving bowls. Nestle a few chicken pieces on top and pour the hot soup over the noodles. Garnish with a handful of chopped parsley leaves and serve piping hot.