Jump to recipe
We love savory cakes in Germany. Among my favorite cakes are quiche, flammkuchen, and cabbage cake. And this onion cake. Onions are naturally sweet and delicious.
There are countless different preparation methods for the pie crust. Most people prefer yeast dough. But for this recipe, I decided to introduce you to another unique German pie crust: quark-oil dough.
The quark-oil dough is leavened with baking powder. You can just mix all the dough ingredients and put the cake directly in the oven. There is no need to wait for the dough to rise. It will puff up in the oven.
I know that quark is a specialty product of Europe and might be hard to source elsewhere. For this recipe, it is no good idea to substitute the quark with cream cheese. Cream cheese is way more watery than quark. You need a substitute with a similar consistency. Maybe you could use a very firm greek-style yogurt.
Having said that, the quark-oil dough is no must for onion cake. You can prepare a simple yeast dough and the onion cake will still taste delicious. I always switch between both doughs depending on my mood.
Things to consider when working with quark-oil dough
The quark-oil dough was initially invented to imitate yeast dough. It is seldomly prepared in professional bakeries and more common in home-cooking because a lot of home cooks have an aversion to working with yeast. There are even people who use it as a pizza crust in Germany. However, for pizza, a well-fermented yeast dough tastes much better. But in cakes, the quark-oil dough is delicious.
The quark-oil dough doesn't need to be kneaded. Just mix it until homogenous. That is enough. It's ok if the dough is crumbly when you roll it out. This will give it a short bite.
The easiest way to observe if someone is a good baker is to look at the way the person handles dough. For yeast dough, you always want to knead the dough for a long time until smooth. For quark-oil dough and shortcrust pastry, the dough should never be kneaded. Mixing is enough.
If you've ever made Alsatian Flammkuchen before, then the topping for the onion cake will sound pretty familiar to you. The difference lies in the seasoning. For flammkuchen, I season the onions with nutmeg. For onion cake, I season the onions with caraway seeds. And, of course, onion cake has a lot more topping than flammkuchen.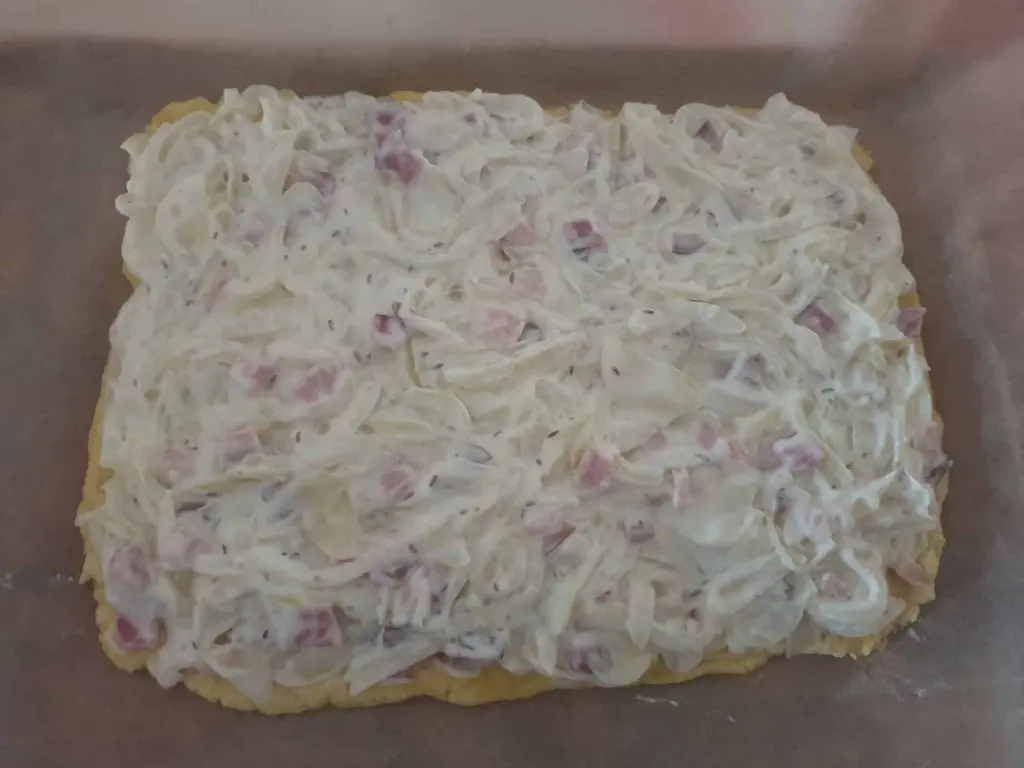 It's common to enjoy onion cake with a glass of Federweißer or white wine. The cake can be eaten warm or at room temperature. In Swabia, we love to enjoy onion cake at coffee or tea time. But it can also be a main dish paired with a green salad.
Onion Cake ('Zwiebelkuchen')

Ingredients
For the topping:
2 tablespoons clarified butter
4 extra-large white onions (about 3 pounds | 1.3 kg), sliced
salt, to taste
6 ounces (175 g) smoked black-forest bacon, cut into small cubes
caraway seeds, lightly crushed, to taste
1/2 tablespoon white flour
14 ounces (400 g) Schmand or American-style sour cream
For the quark-oil dough:
4.5 ounces (125 g) low-fat quark or topfen
3.5 ounces (100 g) whole milk
5 ounces (150 g) canola oil
0.2 ounces (6 g | 1 teaspoon) salt
2 teaspoons baking powder
12 ounces (350 g) cake flour
Instructions
Prepare the topping:
Preheat your oven to 350 °F (180 °C).
In a large pot, heat the clarified butter over medium-high heat. Add in the sliced onions along with a pinch of salt, to taste. Cook the onions for about 10 minutes until they have lost their pungency. Don't let them take on any color. Because of the salt, the onions will leak water. This water needs to be cooked off so the topping doesn't turn out watery.
Once the onions are cooked, add the bacon, caraway seeds, and flour into the pot. Stir in the Schmand or sour cream and taste the filling if it needs more caraway or salt.
Prepare the quark-oil dough:
In a bowl, combine all the ingredients for the quark-oil dough. Briefly mix the dough by hand until homogenous. Don't knead it.
Assemble and bake the onion cake:
Lightly dust the surface of the quark-oil dough with flour and roll it out evenly on a parchment-lined baking sheet. Then generously spread the topping on top of the quark-oil dough.
Bake the onion cake in the pre-heated oven at 350 °F (180 °C) for 35-45 minutes until baked through and browned to your liking.
Leave the cake to cool down for at least 15 minutes as the hot quark-oil dough is very fragile. Onion cake can be eaten lukewarm or at room temperature.