Jump to recipe
Kaiserschmarrn can be as simple or sophisticated as you want it to be. In its simplest form, it's just a torn apart German pancake. However, in most cases, it's not prepared by accident but with intention.
The recipe that I'm presenting to you here is one of the more sophisticated versions. It includes separating the egg yolks from the egg whites to get the Kaiserschmarrn extra fluffy. Opinions and tastes differ. Some people like Kaiserschmarrn pillowy, others like it firm and crispy. I like both versions.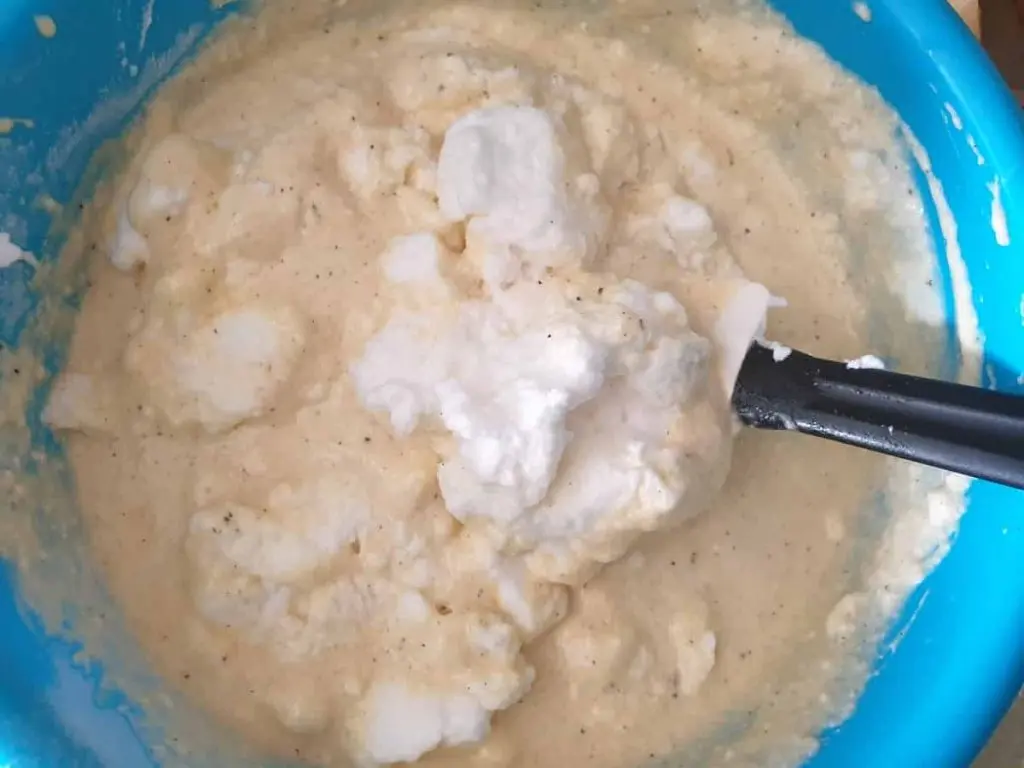 The only thing that I would consider a no-go in Kaiserschmarrn is baking powder. Baking powder gives a horrible cakey texture. I know that Americans like to put baking powder in pancakes to get them fluffy. I'm not really a fan of American pancakes either. But if you like that texture, you could consider adding baking powder to your Kaiserschmarrn batter. After all, Kaiserschmarrn is basically an American-style pancake that gets torn apart.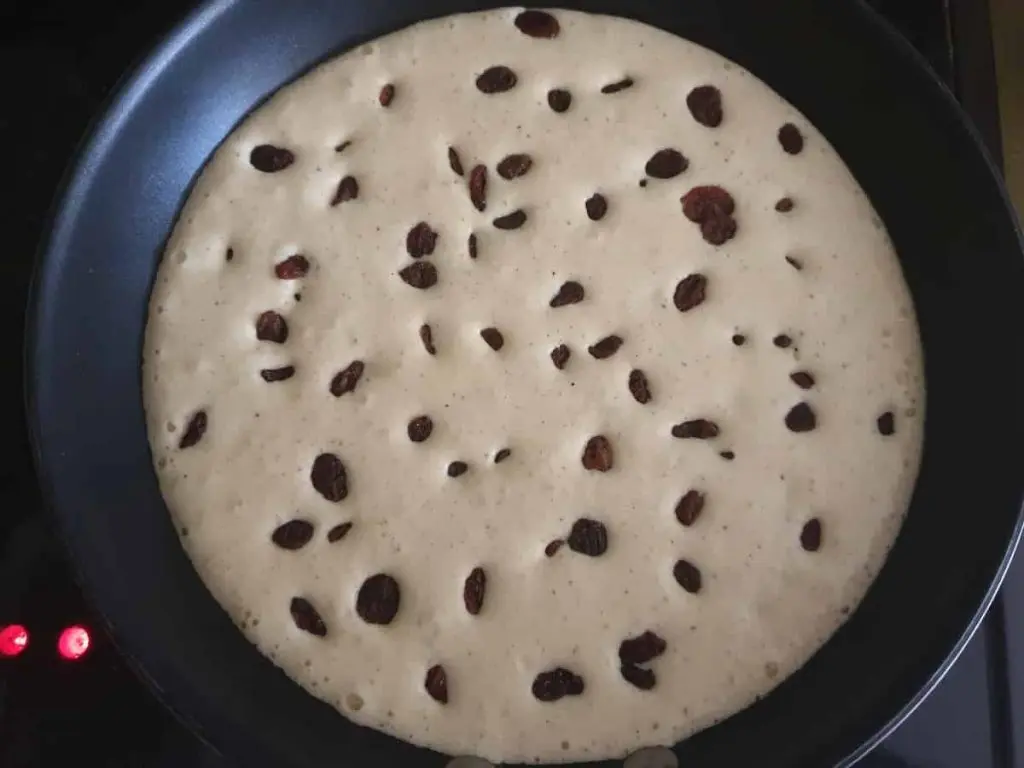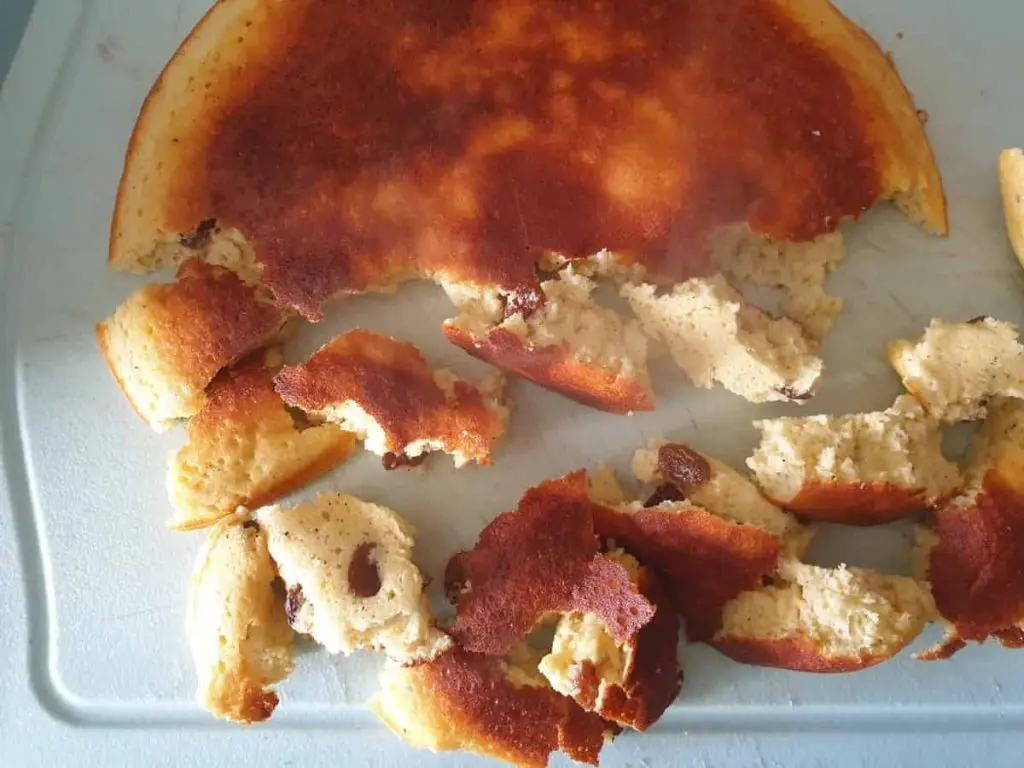 The best way to serve Kaiserschmarrn is as a savory main dish sprinkled with powdered sugar and apple sauce. It's perfect comfort food for cold days.
Just in case you prefer savory over sweet food: There's also a recipe for the savory version from Swabia called Kratzete on my blog.
Emperor's Mess ('Kaiserschmarrn')

Ingredients
For the apple sauce:
1/4 cup sugar
1 cinnamon stick
2 pounds (900 g) tart apples (eg. boskop), cubed
1 cup water
salt, to taste
For the Kaiserschmarrn batter:
3 tablespoons butter
4.5 ounces (125 g | 1 cup) all-purpose or cake flour
9 ounces (255 g | 1.1 cups) whole milk
4 eggs, size L, yolks and egg whites separated
1 vanilla bean, cut in half and deseeded
zest of half a lemon
salt, to taste
2 tablespoons of sugar
For frying and serving the Kaiserscharrn:
2 teaspoons clarified butter, divided
1/2 cup rum-soaked raisins, divided
2 tablespoons butter, divided
2 tablespoons sugar, divided
powdered sugar, for dusting
Instructions
Prepare the apple sauce:
In a pot, heat the sugar over medium-high heat until it starts to caramelize. Add the cinnamon stick and let the sugar caramelize until it has a dark orange color. Add the apples along with the water and cover your pot. Bring the water up to a light simmer and let the apple sauce cook for 10 minutes or until the apples start to disintegrate. Season to taste with a few pinches of salt and remove the cinnamon stick. Purree the apple sauce in a blender and pass it through a fine-mesh sieve afterward to achieve a smooth consistency. Add extra sugar or salt if desired and leave the apple sauce to cool down before serving.
Prepare the pancake batter:
Preheat the broiler of your oven (480 °F / 250 °C).
Add the butter into a small saute or saucepan. Heat over medium-high heat and wait until it turns hazelnut brown. Immediately take it off the heat and set aside.
In a large mixing bowl, combine the flour and milk. Whisk together until smooth and no lumps remain. Add the egg yolks, vanilla seeds, lemon zest, and brown butter. Whisk together until smooth and leave to sit for at least 15 minutes so the flour can fully hydrate.
In the meantime, combine the egg whites and salt in another mixing bowl. Whisk the egg whites until firm peaks form. While whisking, add the sugar to your egg whites.
Take one-third of your beaten egg whites and whisk them into your batter. Then slowly start to incorporate the rest of the egg whites by gently folding them into the batter with a spatula. Continue to fold until no streaks of egg white remain.
Fry and serve your Kaiserschmarrn:
You will need two 6-8-inch nonstick saute pans for this recipe (or work in two batches).
Heat 1 teaspoon of clarified butter over medium heat. Add half of your pancake batter into the pan and leave it to spread out evenly. Arrange the raisins evenly on top of your pancake. It's ok if they sink into the batter. Fry the pancake on the stove until it starts to set on the bottom and turns lightly golden brown, about 3 minutes. Transfer the pan onto the middle rack of your pre-heated oven and leave to bake for 3 minutes or until the batter has completely set. The top doesn't need to get browned. Invert the pancake onto a cutting board shred into bite-size pieces by tearing it apart with two forks.
Return the saute pan to the stove and heat again over medium heat (be careful the handle might be very hot from the oven). Add 1 tablespoon of butter along with 1 tablespoon of sugar and the shredded pancake. Caramelize the Kaiserschmarrn until browned to your liking. Take the pan off the heat and divide among individual serving plates. Dust generously with powdered sugar and serve with the apple sauce on the side.