Jump to recipe
I've already shared with you my recipe for white ciabatta rolls. My recipe for whole-grain ciabatta rolls is not much different except that it includes an additional ingredient: wheat bran.
I incorporate the wheat bran after mixing the dough. What you will immediately notice is that the gluten strands will be shortened by the bran. The crumb of these whole-grain ciabatta rolls is nevertheless phenomenal.
When I imagine German whole grain bread then I usually think about those dense bricks that they bake in Northern Germany. Many Southerners think they are hard to digest and unpalatable. But these ciabatta rolls are nothing like those Northern German bricks that can only be eaten by people that want a workout for their teeth.
These whole grain ciabatta rolls are light and toasty. The perfect sandwich bread for me.
A visual guide to whole grain ciabatta rolls
The wheat bran should be toasted before soaking it for maximum flavor!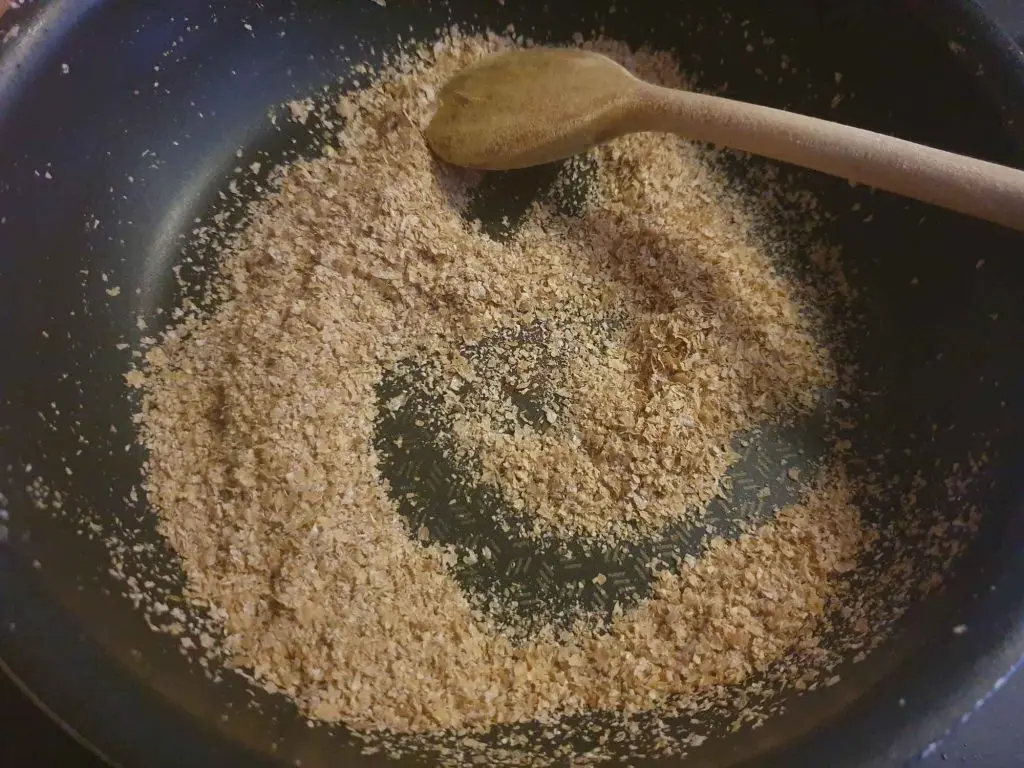 The soaked bran looks a bit like dog food but it is easy to incorporate it into the fully-kneaded dough.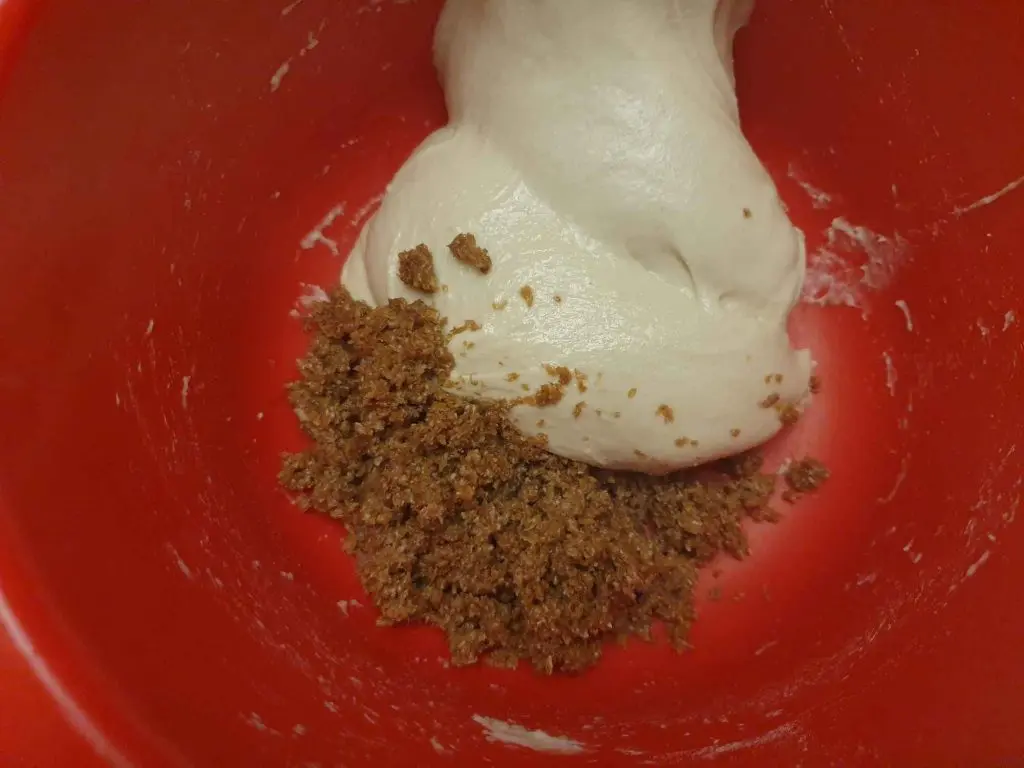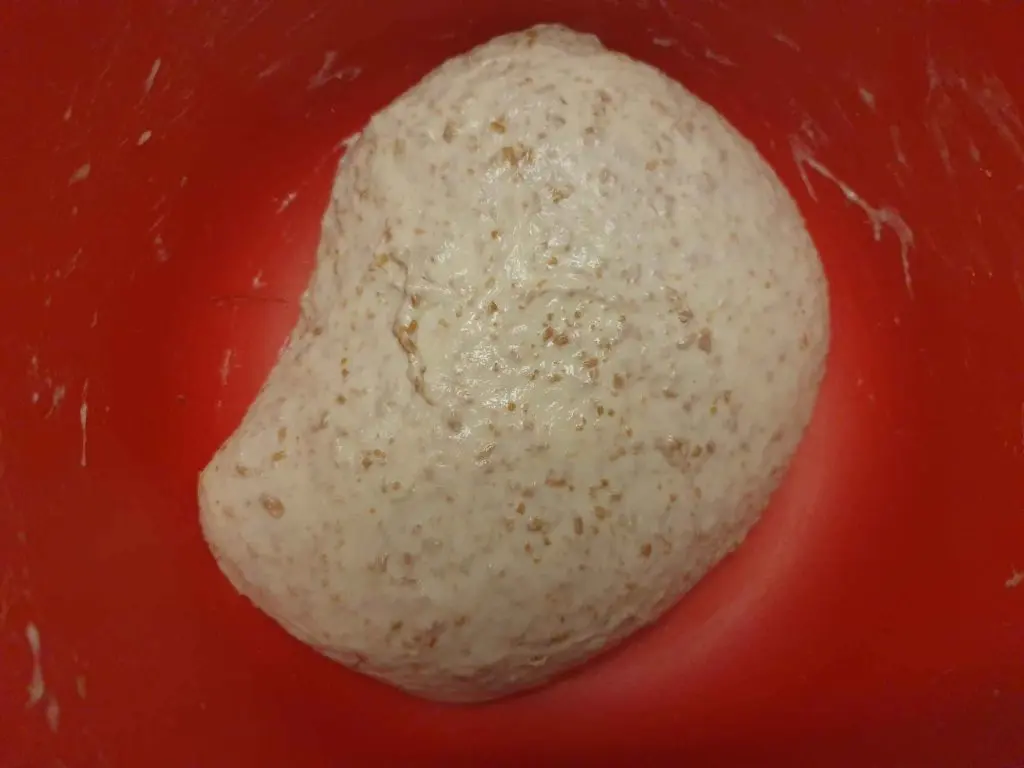 The moment I anticipate the most is when I transfer the dough onto my work surface.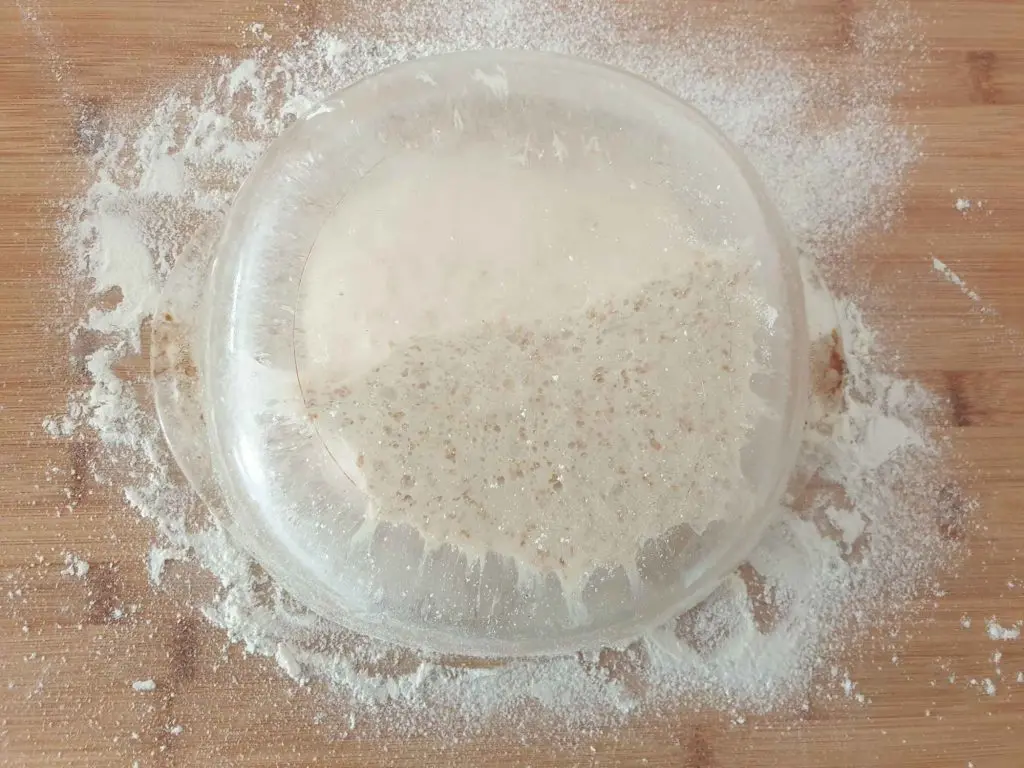 Don't apply any pressure and don't deflate the dough when dividing and shaping it.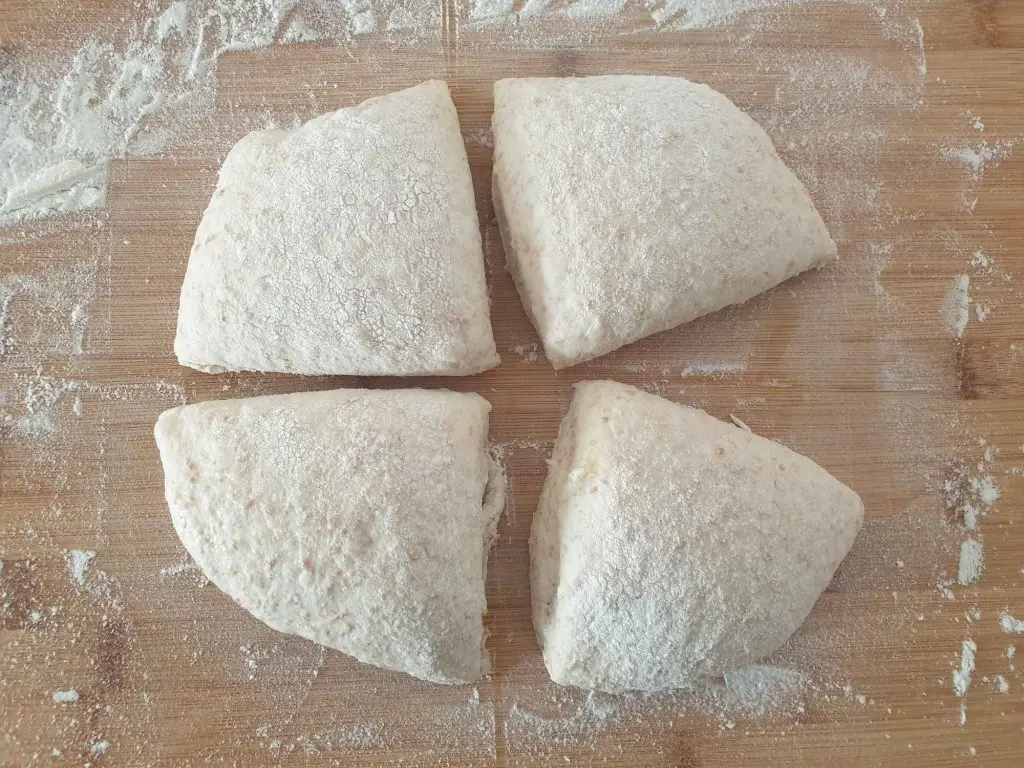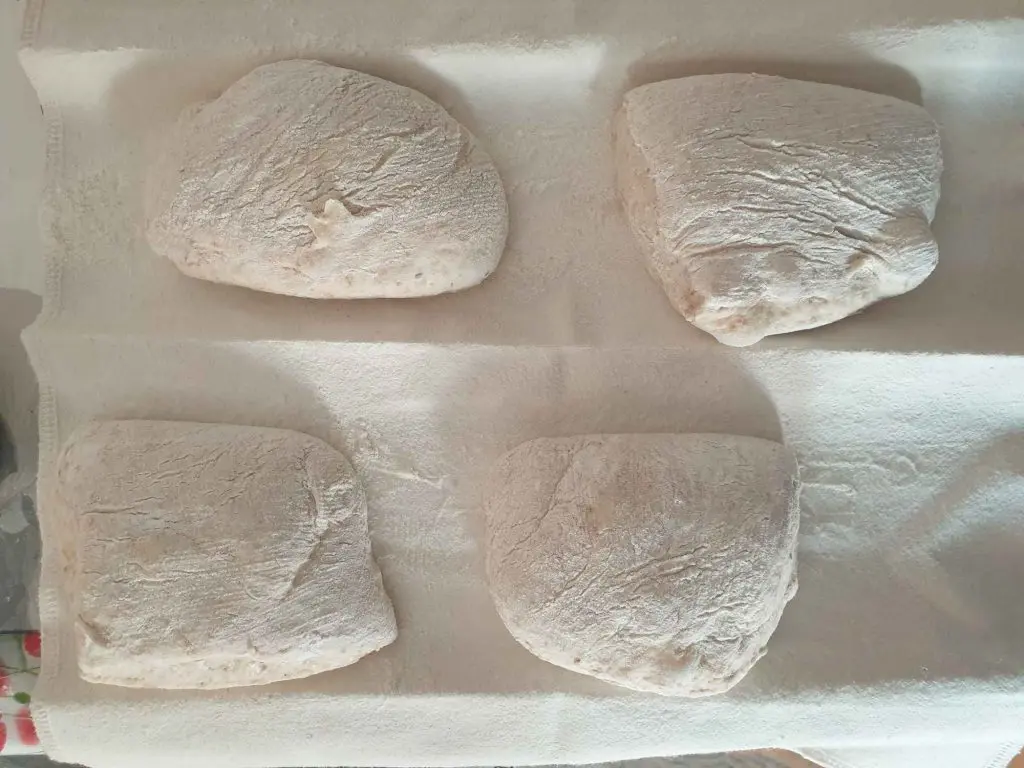 Don't panic if the ciabatta rolls look a bit flat before baking. They will puff up nicely in the oven.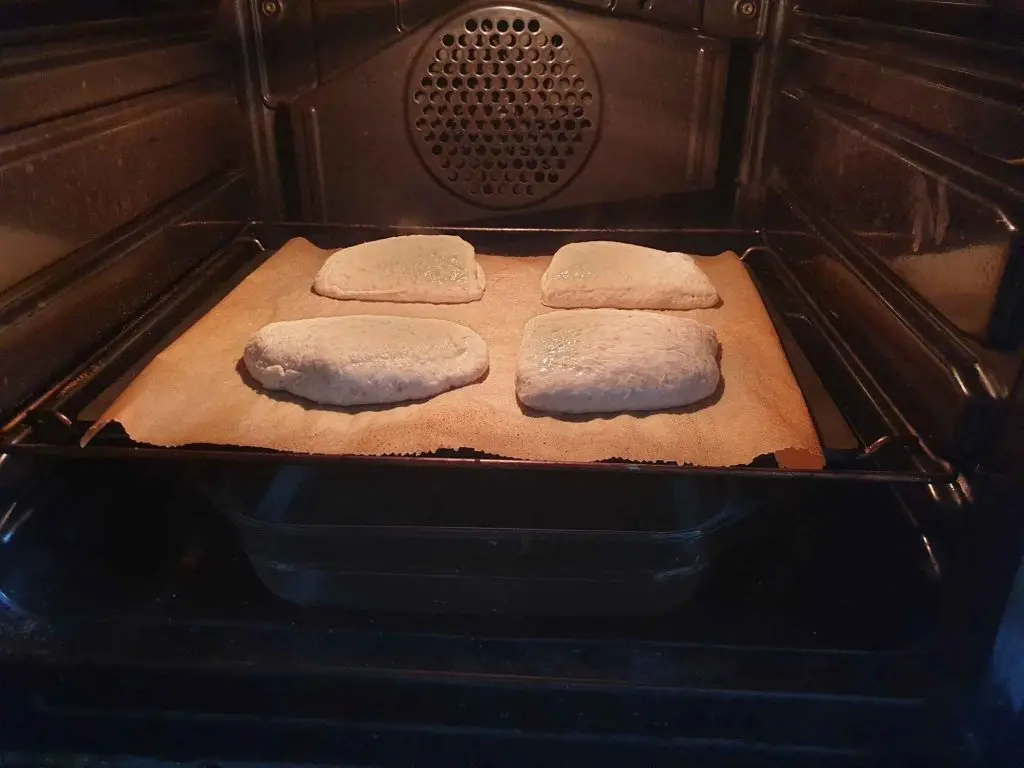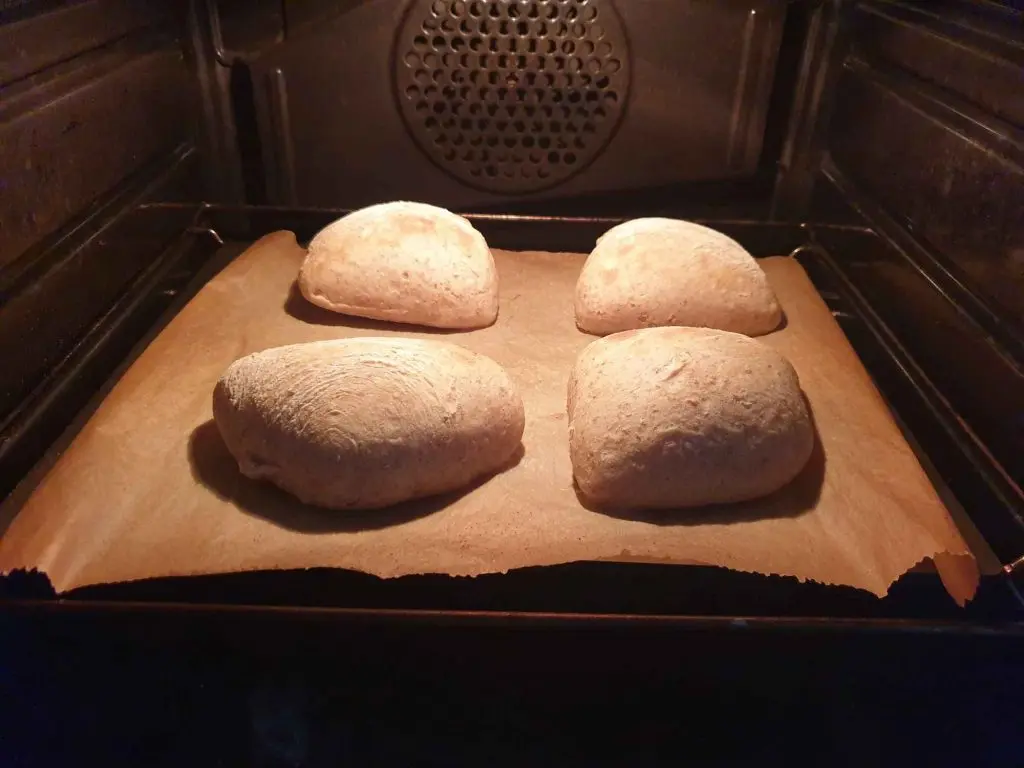 Look at that crumb: Light as a pillow even though I added wheat bran.
Whole Grain Ciabatta Rolls ('Vollkorn Ciabattabrötchen')

Ingredients
For the biga:
5 grams (0.2 ounces) firm wheat sourdough starter (ideally 60 % hydration)
60 grams (2.1 ounces) water, at 35 °C (95 °F)
95 grams (3.4 ounces) ciabatta flour
For the Quellstück (soaked thing):
30 grams (1 ounce) wheat bran
75 grams (2.6 ounces) water, at room temperature
For the final dough:
280 grams (10 ounces) water, at room temperature
350 grams (12.3 ounces) ciabatta flour
9 grams (0.3 ounces) salt
6 grams (0.2 ounces) fresh yeast
For greasing bowls and fingers:
Instructions
Prepare the biga and Quellstück:
The day before you plan to bake, whisk together the sourdough starter and water for the biga. Combine with the flour and briefly mix until no dry spots remain. Cover and leave the biga to ferment at room temperature between 16-22 hours.
Toast the wheat bran in a dry pan over medium heat until aromatic and toasty. Leave to cool down. Then cover with the water and leave to soak in the fridge overnight.
Mix and knead the final dough:
In a bowl, combine the water and flour for the final dough. Mix until no dry spots remain and leave the mixture to sit, covered, for 30 minutes at room temperature (autolyse). Add the biga, salt, and yeast to the dough and knead the dough gently until smooth and elastic, about 6-10 minutes by machine. You should be able to stretch out the dough very thinly without tearing it. Take your bran out of the fridge and drain any excess water that the bran hasn't absorbed. Gently fold the bran into the kneaded dough until evenly distributed. Don't worry if the dough has a "soupy" consistency at this stage. After kneading, the dough temperature should ideally only be 22-24 °C (70-75 °F), thanks to the gentle kneading. If you're attempting this recipe in summer, consider using chilled flour or water to prevent the dough from getting too hot.
Bulk ferment the ciabatta dough:
Grease a small plastic or glass bowl with olive oil and transfer the kneaded dough into it. Bulk ferment the ciabatta dough for 3-3.5 hours at room temperature, until airy and bubbly. Stretch and fold the dough 4-5 times without deflating it. Do this with olive-oiled hands 30, 60, 90, 120, and (optionally) 150 minutes into bulk fermentation.
Preheat your oven with baking stone or steel inside to 250 °C (480 °F). Place a tray filled with water on the bottom of the oven to generate steam.
Shape and proof the ciabatta dough:
Gently transfer the risen dough onto a floured work surface without deflating it. Cut into 8 rectangles with a greased dough scraper. Place the bread rolls on a baker's couche and leave them to proof uncovered for 10-15 minutes.
Bake the ciabatta rolls:
Gently transfer the ciabatta rolls onto your preheated baking stone or steel. Spray the oven with water and bake the ciabatta rolls at 250 °C (480 °F) for 10 minutes. Then remove the tray with water from the oven and continue to bake the ciabatta rolls at 250 °C (480 °F) until browned to your liking, about 5-15 more minutes.
Once you've taken the rolls out of the oven, lightly spray them with water to give them a nice sheen. Leave to cool down completely before eating them.