Jump to recipe
We love to eat saucy goulash in Germany. Especially during the cold days, it is a very comforting meal. Winter is the prime time to eat game meat.
This goulash can be prepared with venison, wild pig, lamb, or even just regular pork or beef. It's special because I use port wine to cook the goulash and serve it with lingonberry jam. That makes this goulash a little sweeter than usual. But it works. Sweet things and game meat go great together.
As always when preparing goulash, add lots of onions. In this goulash, I add about 1/2 part of onions per 1 part of the meat. That's very conservative. The traditional goulash recipe on my blog calls for a ratio of 1 part onions to 1 part of the meat. But in this version stew, we already have port wine and lingonberry jam that provide plenty of sweetness.
If you like, you can experiment with the spices you add to flavor the stew. I stick with the traditional ones: juniper berries, allspice berries, and clove. But things like star anise, caraway seeds, or cinnamon would work equally well.
You don't necessarily need to add vegetables to your stew. However, I like to add at least one to my goulash. May it be bell pepper, mushrooms, or celeriac. If you've never eaten fried celeriac before, you're in for a treat. I am not really a fan of steamed or boiled celeriac. But if you fry it until crisp it becomes delicious. Such an underrated vegetable and such a great gravy sponge.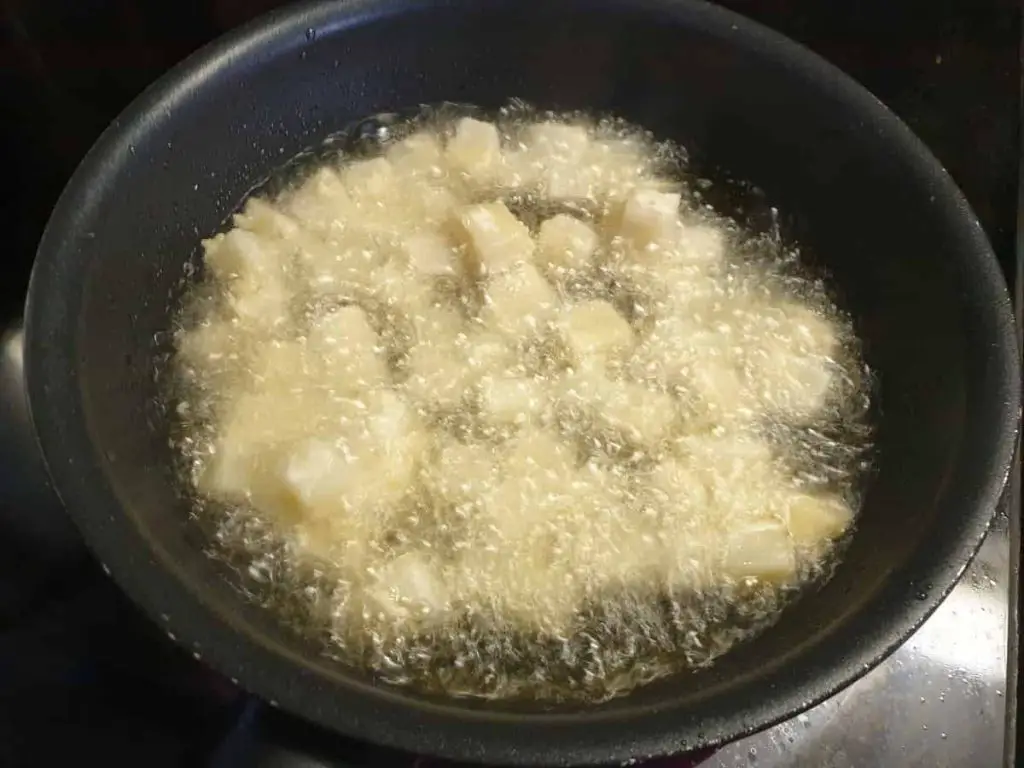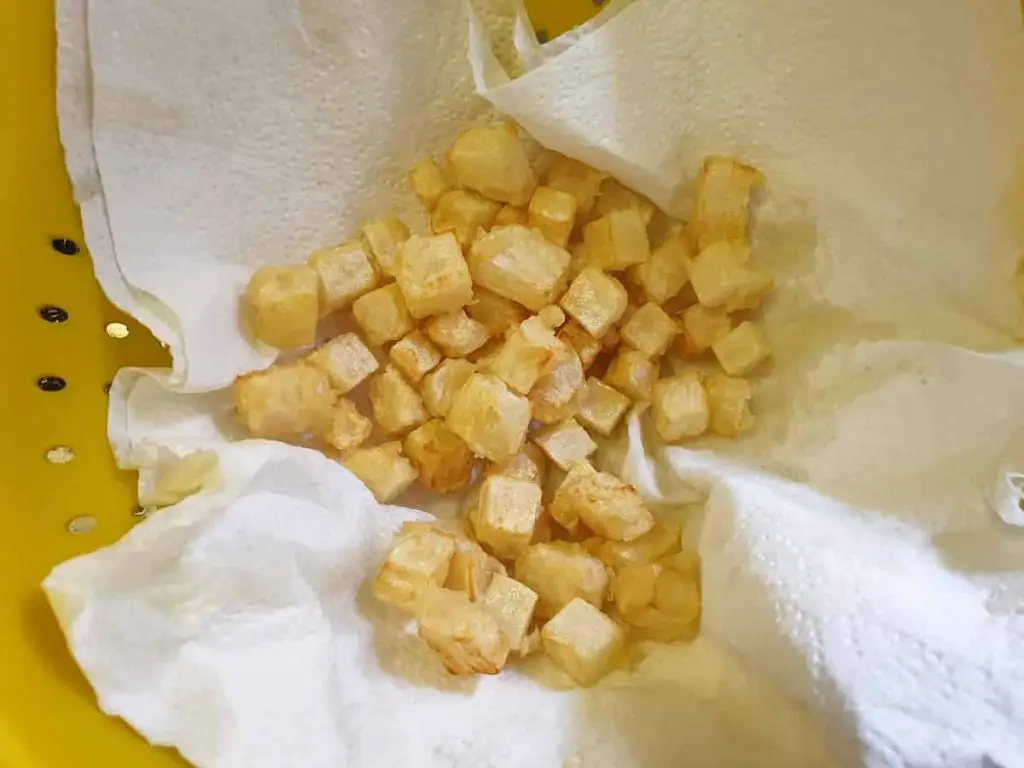 Ingredients
For the venison:
1 pound (450 g) version stew-meat, cubed
salt, to taste
2 tablespoons all-purpose flour
2 tablespoons lard
For the stewing liquid:
1/2 pound onions (225 g), finely chopped
3 garlic cloves, finely chopped
3.5 ounces (100 g) smoked bacon, cut into tiny cubes
1 tablespoon tomato paste
1 sachet consisting of 3 juniper berries, 1 clove, 1/2 teaspoon allspice berries, 2 bay leaves, 1 rosemary sprig, 5 thyme sprigs
1 cup port wine
1 cup beef broth
salt, to taste
For the celeriac
5.5 ounces (160 g) celeriac (celery root), cut into bite-sized cubes, about 1.5 cups total
salt, to taste
1 tablespoon all-purpose flour
1/2 tablespoon cornstarch
1 cup clarified butter or canola oil, for deep-frying
For serving:
Instructions
Sear the venison:
Lightly season the venison meat with salt to taste and dust with flour. Heat the lard in your pressure cooker or another large pot over high heat. Place the venison cubes in the pot in one even layer and sear them until golden on all sides. Set them aside.
Prepare the stewing liquid:
Turn down the heat to medium-low and add the onions, garlic, and bacon into your pot. Sweat the mixture for 3-4 minutes or until the onions turn translucent. Add the tomato paste and sweat for another minute. Deglaze the pan with port wine and beef broth. Add the stew meat and sachet to your pot and bring the stewing liquid to a simmer. If using a pressure cooker, cook the stew on the high-pressure setting for 20 minutes and let the pressure release naturally afterward. If using a traditional pot, gently let the goulash simmer, covered, for about 1.5 hours or until the meat is tender to your liking. Taste the finished stew and add extra salt if needed. I often don't add any additional salt as the bacon usually adds enough salt to the stew.
Cook the celeriac:
It's best to prepare the celeriac while the stew is simmering. Bring a pot of generously salted water to a heavy boil and blanch the celeriac cubes for 3-4 minutes. Shock the blanched celeriac cubes in ice water. Drain them and dust with the flour and cornstarch so that any excess moisture gets absorbed. It's ok if the flour forms little lumps.
Heat the clarified butter or oil in a small pot or saute pan to 350 °F (180 °C) and add the celeriac cubes. Fry them for 4-5 minutes until they turn lightly golden and crisp up. Drain them on a paper towel.
Serve the stew:
Just before serving, add the fried celeriac cubes into your stew. Serve with lingonberry jam on the side so that every diner can add the jam to his or her taste. Always serve this stew with a starchy side dish to soak up the gravy, for example bread dumplings, potato dumplings, spätzle, or duchess potatoes.