Jump to recipe
These spiced braided bread rolls are another recipe from the amazing book "Hand Made Small Breads" by Robert from Fabolous Fricot. I have already reviewed the carrot bread rolls and they came out perfect on the first try. Fluffy, moist, and intensely flavorful.
I'm a big fan of braided bread so it is no surprise that I had to test Robert's recipe from the book. To be honest, it is very uncommon to find braided bread served as a bread roll in Germany. Usually, you bake a full loaf. This was the first time for me to bake small individual braided bread rolls.
As expected, the recipe turned out great. I had to increase the hydration a little because the dough seemed a little too dry for me after mixing. And, unusual for me, the next time I would also increase the amount of sugar and add a bit of lemon zest for some freshness. Usually, I don't like braided bread if it is sweet. But I think the Christmas spices really shine if the taste is a little sweeter, more like a French brioche that is rich and sweet. The sweetness would also allow me to increase the amount of spice added without it being overwhelming.
You can see a picture of the original recipe below: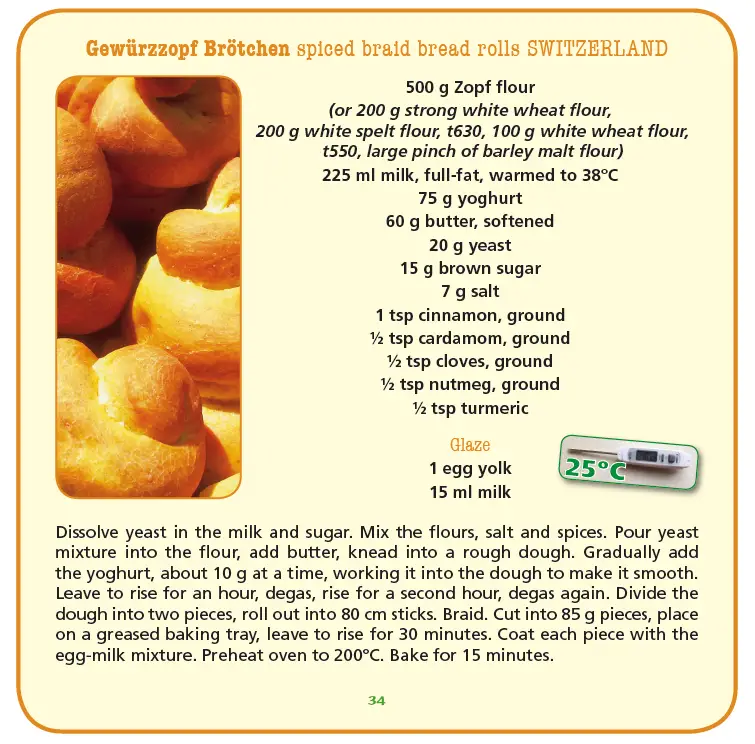 Don't be surprised if my method is a little different from the original recipe. As already pointed out in my post about carrot bread rolls, I like to do things my way.
A visual guide to making spiced braided bread rolls
As almost always when making German bread: Knead your dough well. It needs to be smooth and elastic!
The original recipe doesn't tell you but you need to let your dough rest before rolling it out into a long sausage. Otherwise, it will be tense and resist your attempts to stretch it.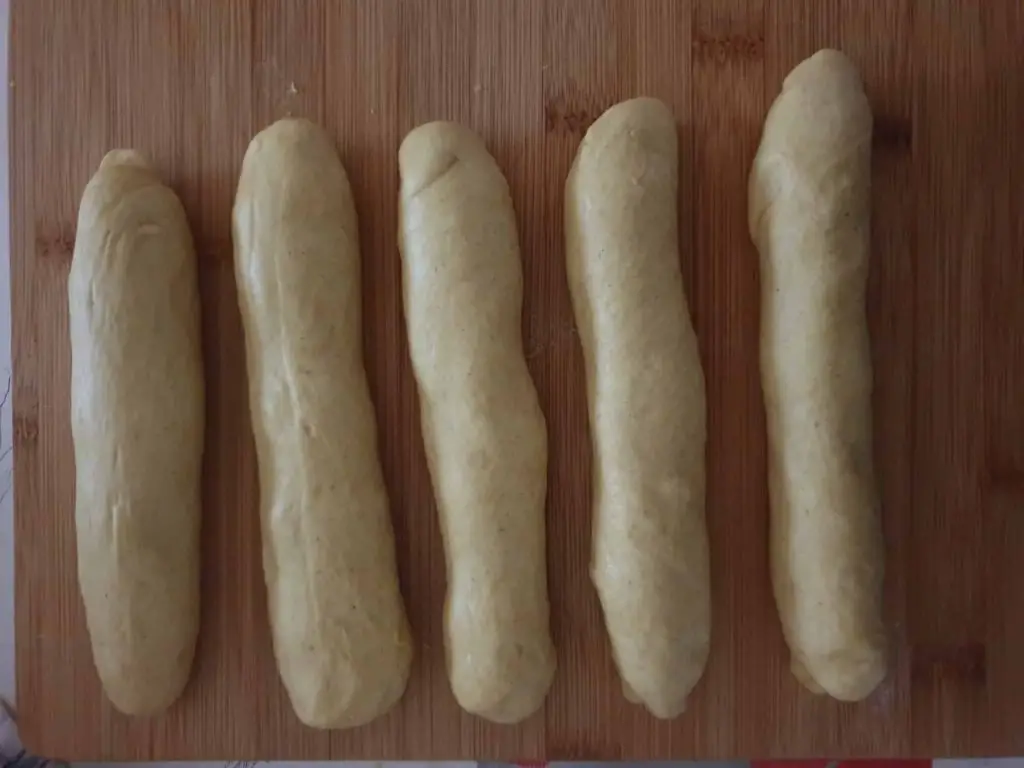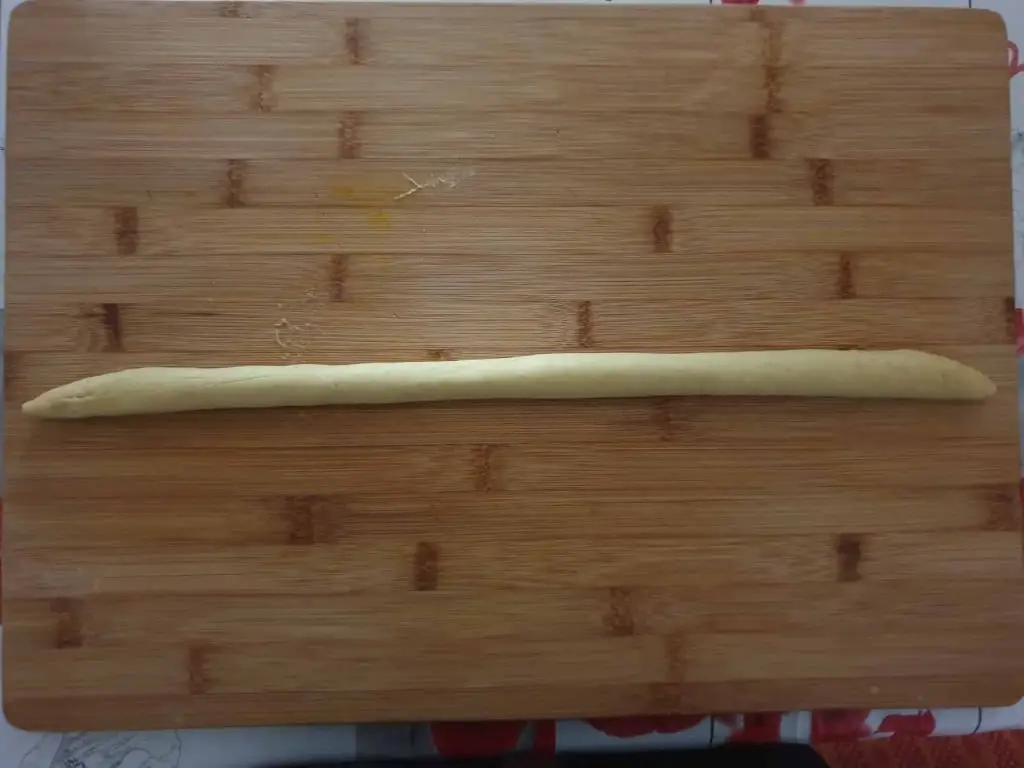 Shaping is easy but not so easy to do picture-perfect. I am no braiding master. I am someone who gets the job done and that's it. The pictures below show you how to braid a bread roll from one strand.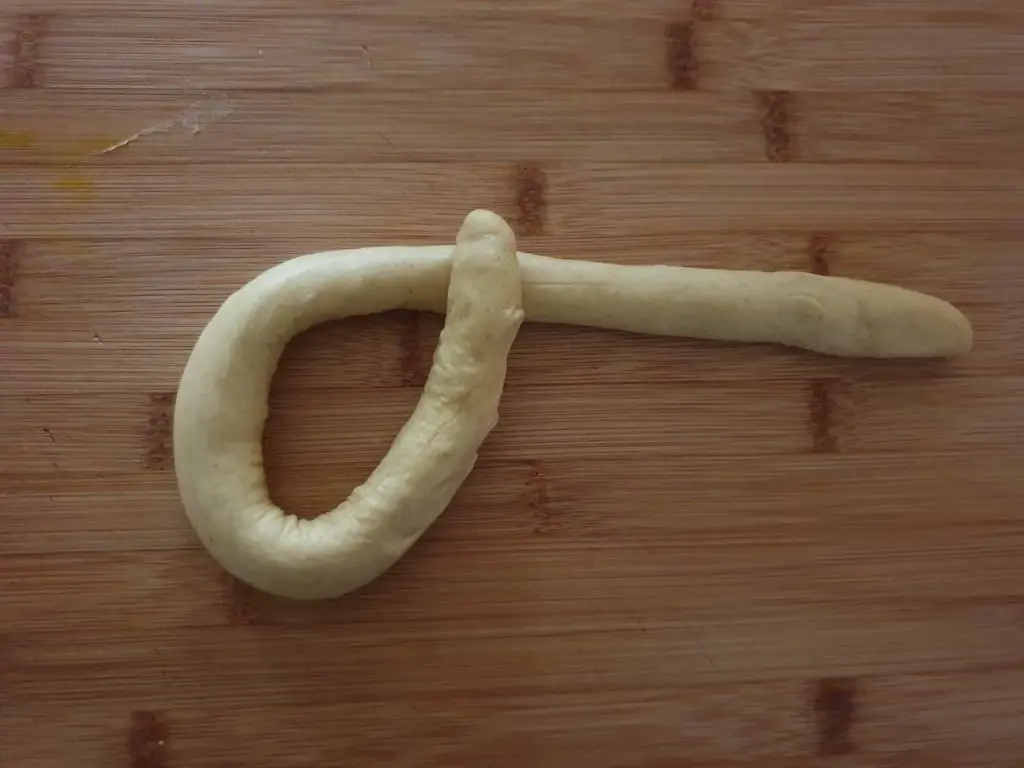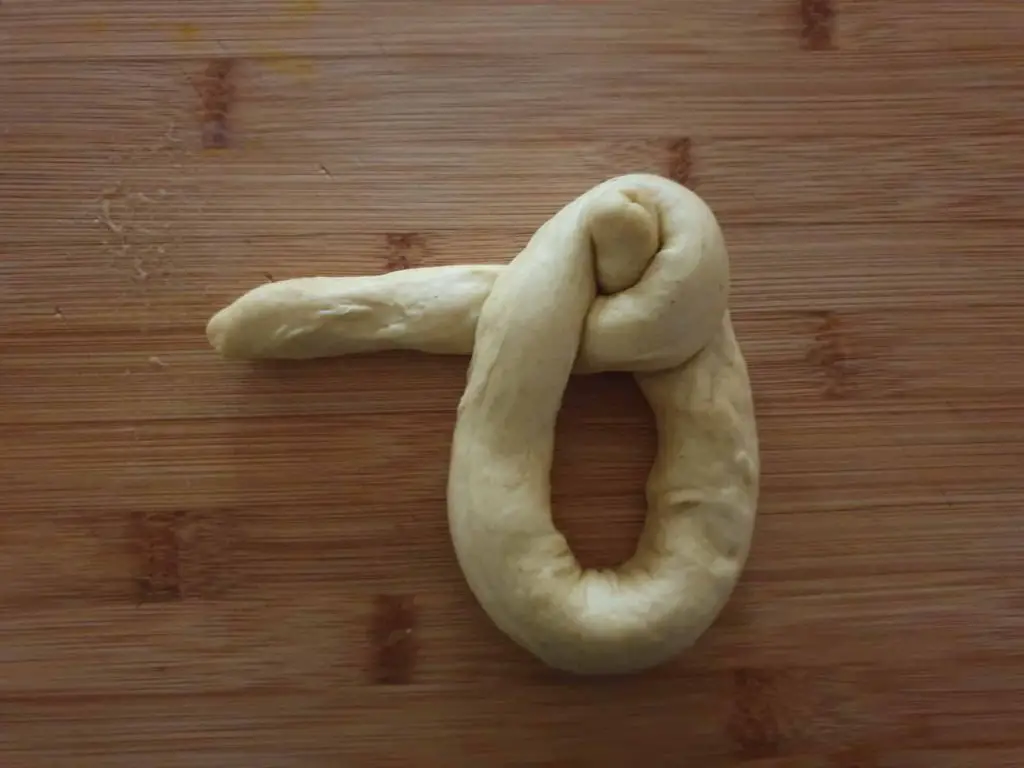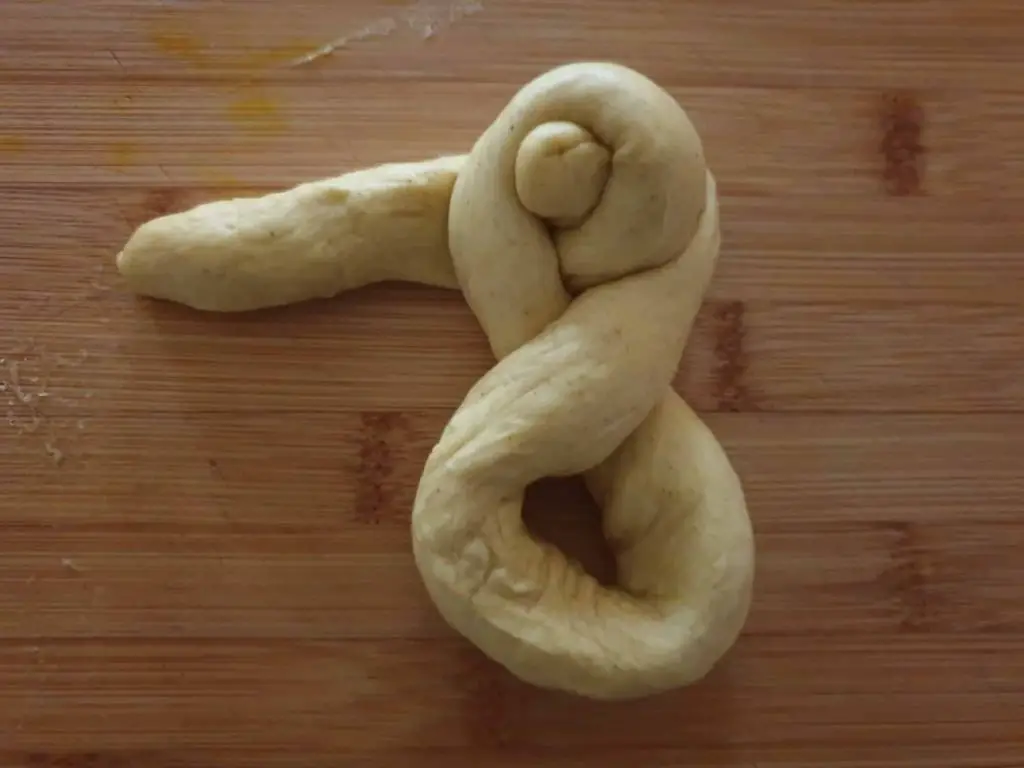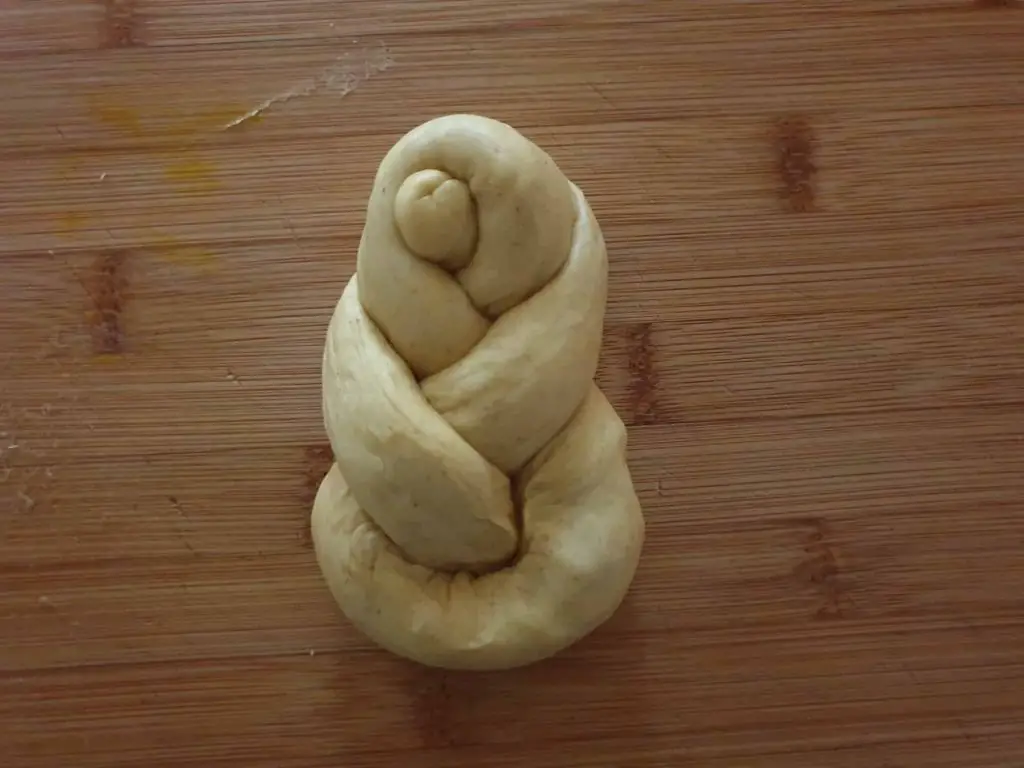 Always make sure your spiced braided bread rolls have puffed up nicely before they go into the oven. And please make sure to brush them generously with egg wash.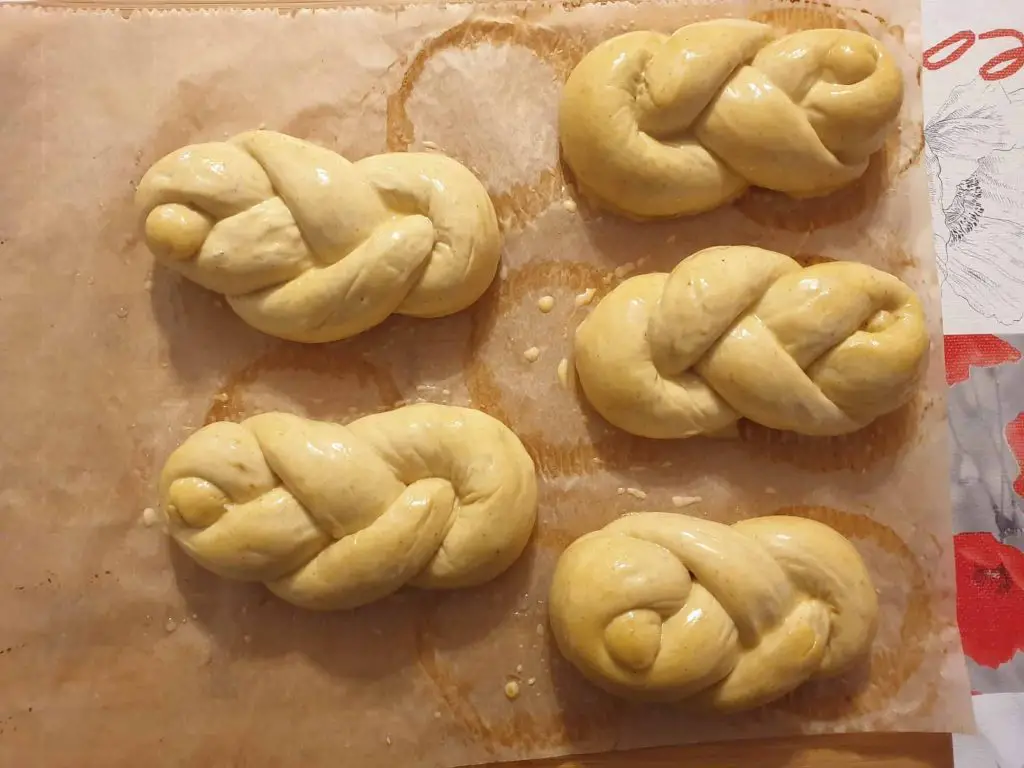 And lastly, look at that soft and cotton-like crumb.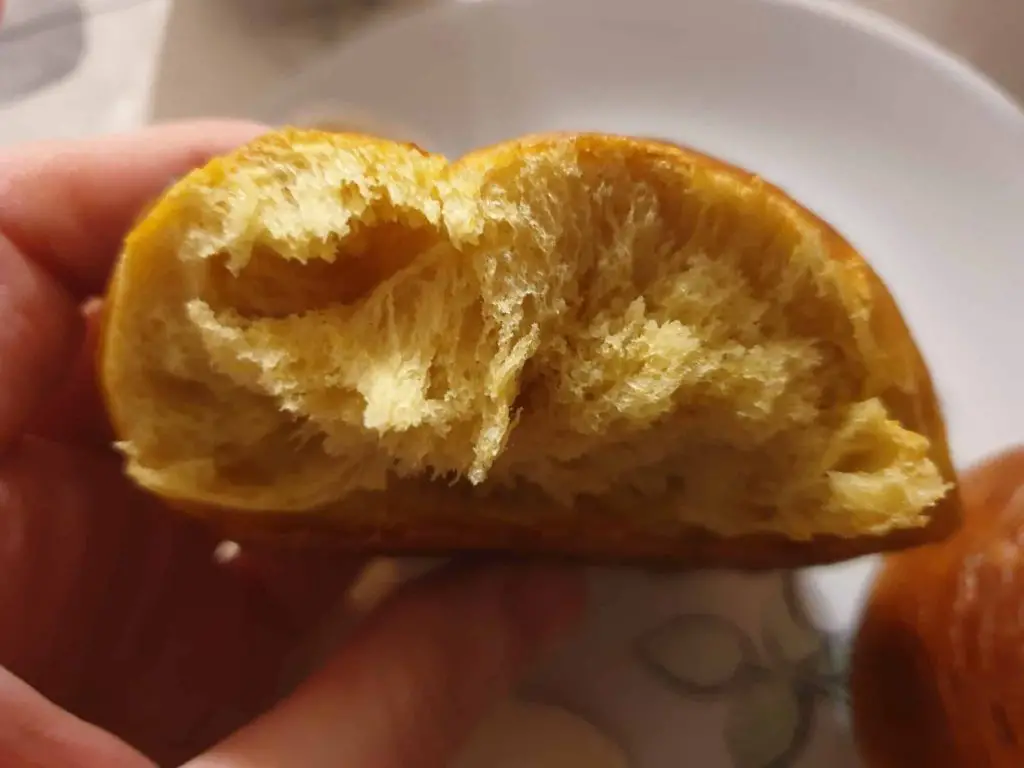 Usually, you would just tear those bread rolls apart. Below you can see a picture of the crumb when you cut the spiced braided bread rolls open. Don't do that! Just look at my picture. The best way to eat such tender bread rolls is to tear them apart and spread them with some jam or cream cheese. I love apricot or sour jerry jam on braided bread.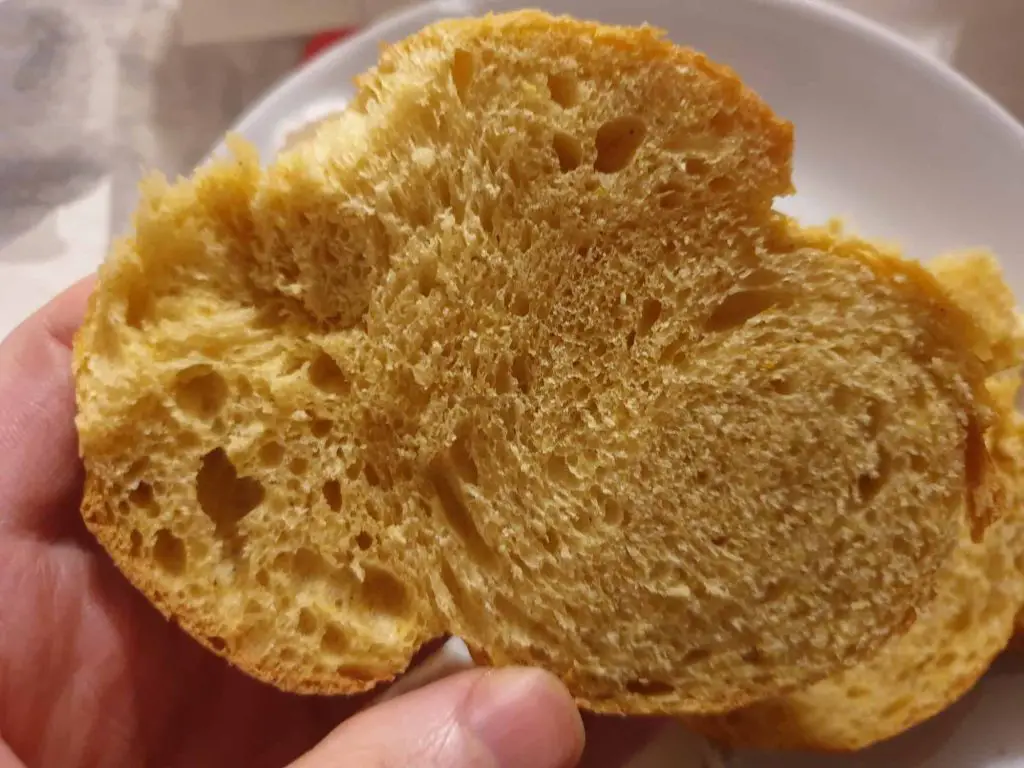 Spiced Braided Bread Rolls ('Gewürzzopf Brötchen')

Ingredients
For the dough:
40 grams (1.4 ounces) full-fat (3.8 %) yogurt
130 grams (4.6 ounces) whole milk, at 38 °C (100 °F)
10 grams (0.35 ounces) fresh yeast
10 grams (0.35 ounces) brown sugar
3 grams (0.1 ounces) barley malt powder, enzymatically inactive
4 grams (0.15 ounces) salt
1/2 teaspoon ground Ceylon cinnamon
1/4 teaspoon ground cardamom
1/4 teaspoon ground cloves
1/4 teaspoon freshly grated nutmeg
1/4 teaspoon turmeric
100 grams (3.5 ounces) white soft wheat flour (German Type 550)
100 grams (3.5 ounces) white spelt flour (German Type 630)
50 grams (1.75 ounces) cake flour (German Type 405)
30 grams (1 ounce) butter, softened
For the glaze:
Instructions
Mix and rise the dough:
In a bowl, combine all the dough ingredients except the butter starting with the wet ingredients. Mix until the flour is evenly hydrated. Then knead the dough either by hand or machine until elastic, about 8 minutes. Then work in the butter and continue to knead the dough until you can pull it apart very thinly without tearing it, about 5 minutes. The dough temperature should ideally be 26 °C (79 °F) after kneading.
Cover the dough and leave to rise for half an hour at room temperature.
Divide the dough, braid it, and proof it:
Divide the dough into 5 evenly sized pieces, about 95 grams (3.4 ounces) each. Flatten the dough pieces and roll them up like a cinnamon roll to form dough sausages. Cover and leave to relax for 10 minutes. Roll the dough sausages into long and thin sausages. Pleat into one-strand braided bread rolls as shown in the pictures above. Place on a parchment-lined baking sheet.
Lightly brush the surface of the braided bread rolls with water and cover with a towel. Leave them to rise until they have puffed up nicely, about 1 hour.
Preheat your oven with baking stone or steel inside to 220 °C (430 °F).
Brush and bake the bread rolls:
Whisk together the egg and milk for the glaze. Brush your proofed bread rolls generously with the egg wash. Transfer onto the baking stone of your pre-heated oven and bake the braided bread rolls at 220 °C (430 °F) for 15 minutes or until browned to your liking. After you've taken the bread rolls out of the oven, immediately spray them with water so they develop a nice shine. Leave to cool down before eating.