Jump to recipe
What do Germans traditionally eat for Christmas? Roast goose, of course. My family is no different from that. However, there's another dish that is also very popular during the holiday season in Southern Germany: Schäufele.
The Schäufele (literally: shovel) is a cut of meat from the pork shoulder. It is called shovel because it looks like one. The Schäufele we have in Baden and Swabia is different from the Schäufele that you find in Franconia.
In Franconia, they like to prepare a pork roast with crispy skin from the raw shovel. However, in Swabia, the shovel is cured and smoked and then left to simmer in water mixed with white wine until tender. The result in both preparations is succulent and tender meat.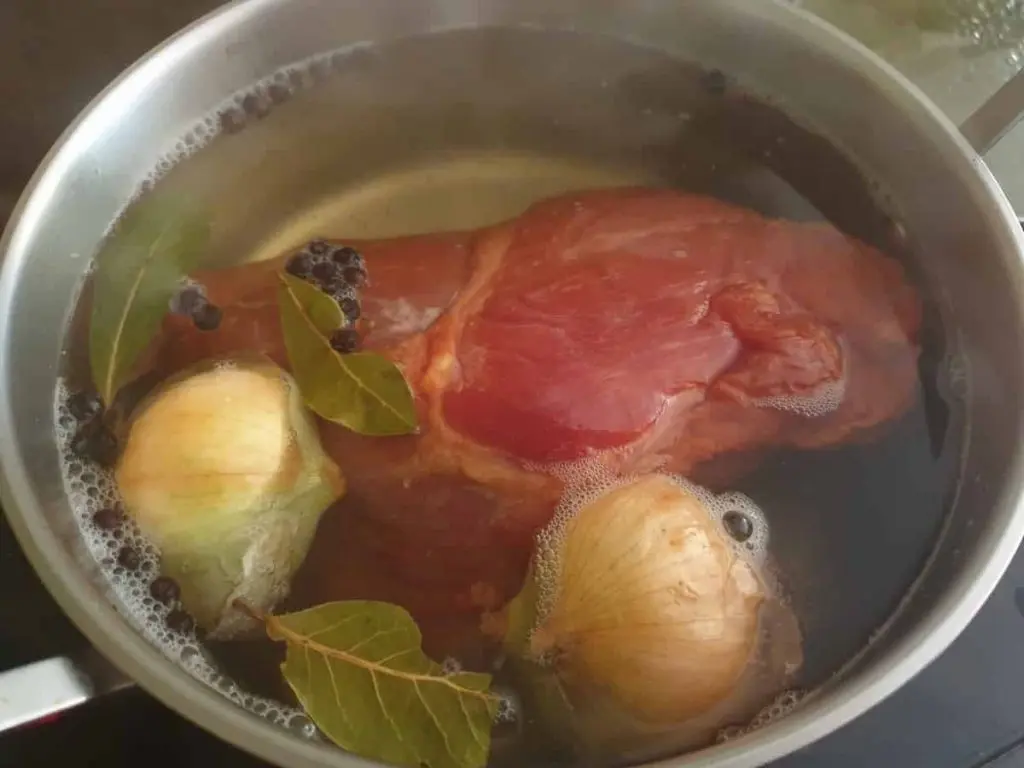 The fact that Germans eat a lot of sauerkraut is a myth. However, for this dish, I can't imagine anything better suited to accompany the meat. Add a slice of spelt bread or Swabian potato salad to the Schäufele and you will be in food heaven.
If you live outside of Swabia it might be hard for you to source a cured and smoked pork shovel. If you can get German Kasseler that is a great substitute. Other than that, any cured and smoked pork shoulder or belly will do. Of course, with bacon, the dish is not quite the same. The shovel is a unique cut of meat, just like the infamous Tafelspitz.
Baden-style Smoked Pork Shoulder ('Badisches Schäufele')

Ingredients
For the Schäufele:
1 yellow onion, halved
2 cloves
3 bay leaves
1 teaspoon juniper berries
2 cups dry white wine
2 pounds (900 g) boneless smoked and cured pork shoulder ('Schäufele') or 2.5 pounds (1.2 kg) bone-in smoked and cured pork shoulder
For serving (optional):
sauerkraut
whole grain mustard
Instructions
Stud the onion halves with the cloves. Then add the onions together with the bay leaves, juniper berries, and white wine into a large pot. Add enough water so that you can completely submerge the smoked pork shoulder.
Bring the poaching liquid to a light simmer before you add in the meat. Then turn the heat down to the lowest setting your stove will go and gently let the meat steep in the poaching liquid anywhere from 1.5 to 2.5 hours. If you're using bone-in meat, the meat is ready to serve once it easily slides off the bone. Make sure the poaching doesn't boil so the meat doesn't get tough and dry. Once cooked, leave the meat to rest for at least 15 minutes before slicing to keep it juicy.
While the meat rests, you can use the leftover poaching liquid to season the sauerkraut or potato salad if you decide to serve your Schäufele along with these sides. In Germany, any leftover meat is usually eaten cold the next day on a slice of bread.