In autumn and winter, I always have a large supply of apples. My parents grow quite a few different varieties of apples in their garden. All of these apple trees are old varieties with an astonishing aroma. The neighbors of my parents are always envious because they had planted their apple trees just a few years ago with new seeds. However, these new apples might be robust and look beautiful but they lack flavor.
What we find nowadays in supermarkets is a shame and disgrace to one of the tastiest fruits on earth. Newer apple cultivars might have a perfectly engineered sugar-to-acid ratio yet they lack aroma. They are sweet and sour but there is not much flavor beyond that. They also have a great bite and keep fresh for a long time. But when I eat an apple, I want to taste an apple. I want to be able to identify the cultivar by its unique aroma.
However, having so many apples is not always a blessing. It's quite an effort to preserve all of them. There's apple jam, apple juice, and apple sauce. And then there is apple tea. I love apple tea for its sweet and comforting aroma. It's especially good during the cold season of the year.
How to make your own apple tea
Preparing apple tea is a very simple task. If you have a dehydrator, you can simply dry your apple slices and then chop them into crumbles (I use the food processor for this task).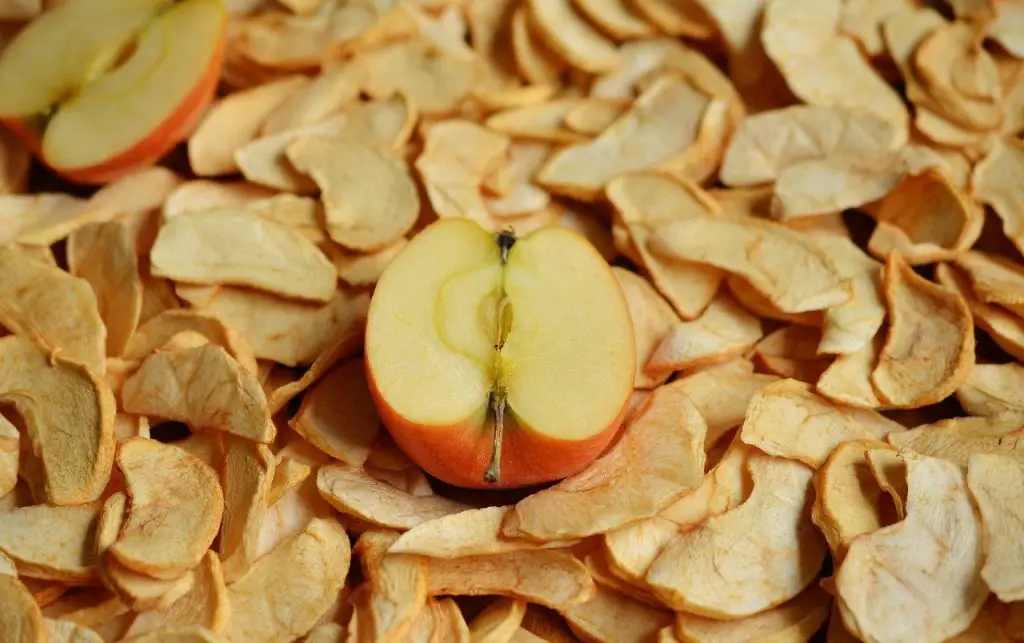 No question, pure apple tea is already delicious by itself. However, when blended with other flavorful compounds like ginger, lemon, or cinnamon you can add a ton of flavor and do something good for your health.
According to Hildegard von Bingen (1098 – 1179), one of the most influential German teachers about natural history, apples are best eaten in their cooked form (eg. as apple sauce, apple strudel, apple tea):
"Die Frucht dieses Baumes ist zart und leicht verdaulich und schadet roh keinem Gesunden. Denn die Äpfel wachsen und erquicken sich am Tau der Nacht vom ersten Schlaf bis fast vor Tagesanbruch. Deshalb sind sie roh Gesunden gut zu essen, weil sie aus starkem Tau gekocht sind. Kränklichen aber schaden rohe Äpfel etwas, weil diese eben schwächlich sind. Gekocht und gebraten sind sie gut für Starke und Sieche. Wenn die Äpfel alt und runzelig geworden sind, also im Winter, können Gesunde und Kranke sie gut roh essen."
"The fruit of this tree is tender and easily digestible and does not harm a healthy person if eaten raw. For the apples grow and refresh themselves on the dew of the night from their first sleep until almost before daybreak. Therefore they are good to eat raw and healthy because they are cooked from strong dew. However, raw apples do harm to sickly people because sickly people are weak. Boiled and roasted, they are good for the strong and the weak. When the apples have become old and wrinkled, i.e. in winter, healthy and sick people can eat them raw.
So, if you feel sick or weak, it's best to stick to cooked or wrinkled apples according to traditional German medicine. Cooked apples are much easier to digest than raw apples.
Apples cleanse the blood and aid digestion. Apple tea is known to reduce anxiety and mental exhaustion as well as to relieve hoarseness. It can also help if you suffer from diarrhea or constipation.
Blending apple tea with other fruits, flowers, or spices can enhance its effect on health. Here are five harmonious apple-based tea blends that can help us get through the cold season.
1. Apple-Cinnamon Tea
One of the most popular blends of apple tea is apple-cinnamon tea. It not just tastes great but is also very beneficial to health. Already 4500 years BC, Chinese doctors used cinnamon to treat diseases. In German natural medicine, it is used to lower and regulate cholesterol and blood sugar levels. Cinnamon is also very potent in treating loss of appetite, indigestion, and gastrointestinal cramps.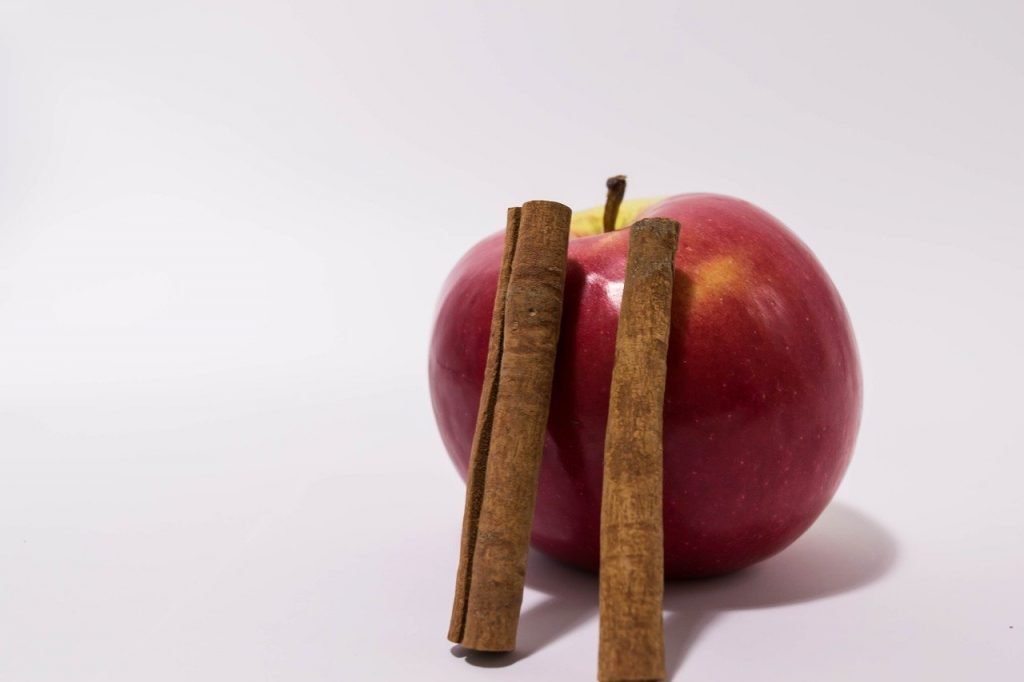 Until 1536, when the Portuguese conquered Ceylon, cinnamon was unaffordable for the great majority of European people. Until 1833, all of the world production of cinnamon was cultivated on this small island south of India. Whoever had the cinnamon monopoly was very wealthy. The last nation to hold it was the British Empire from 1796 to 1833. The Netherlands were the ones to break the cinnamon monopoly by cultivating cinnamon trees in Java, Indonesia.
Since then cinnamon has become an affordable spice for the masses. In Germany, we still prefer the "original" Ceylon cinnamon over the Cassia cinnamon which is more popular in Asia. If you're looking for the traditional German Christmas aroma, Ceylon cinnamon is the way to go.
2. Apple-Ginger Tea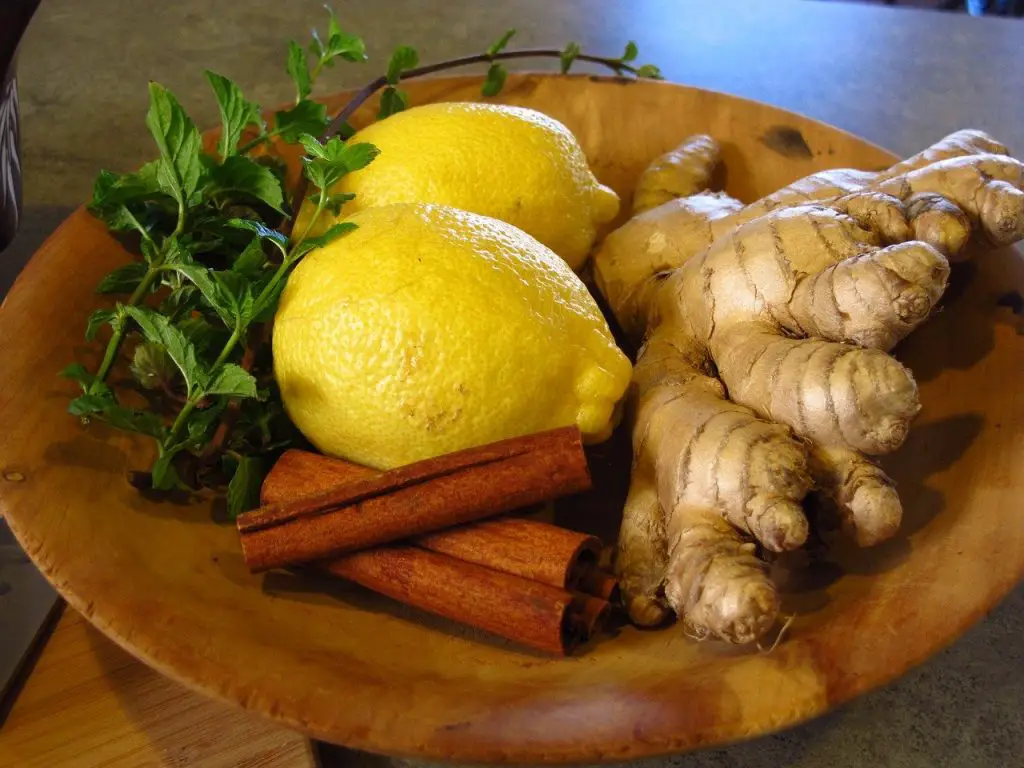 Another popular variety of apple tea is apple-ginger tea. Ginger is a potent pain-reliever and can counteract nausea. Just as apples and cinnamon, ginger is also known to aid digestion so that it is always a good idea to have a cup of apple-ginger or apple-cinnamon tea after dinner.
During Medieval times, ginger and galangal were immensely popular in Europe. Yet, Hildegard von Bingen stated that one should choose galangal over ginger. Von Bingen regarded galangal as one of the most potent pain and fever remedies. Yet, ginger was only recommended to the sick people by her.
According to von Bingen, ginger is a very warm spice that makes healthy people unrestrained and ignorant. This is a reference to the aphrodisiac effects of ginger. As you might know, von Bingen was a nun so that she had to restrain from any sexual activity. In India, ginger mixed with eggs and honey is still a traditional treatment for impotence.
3. Apple-Lemon Tea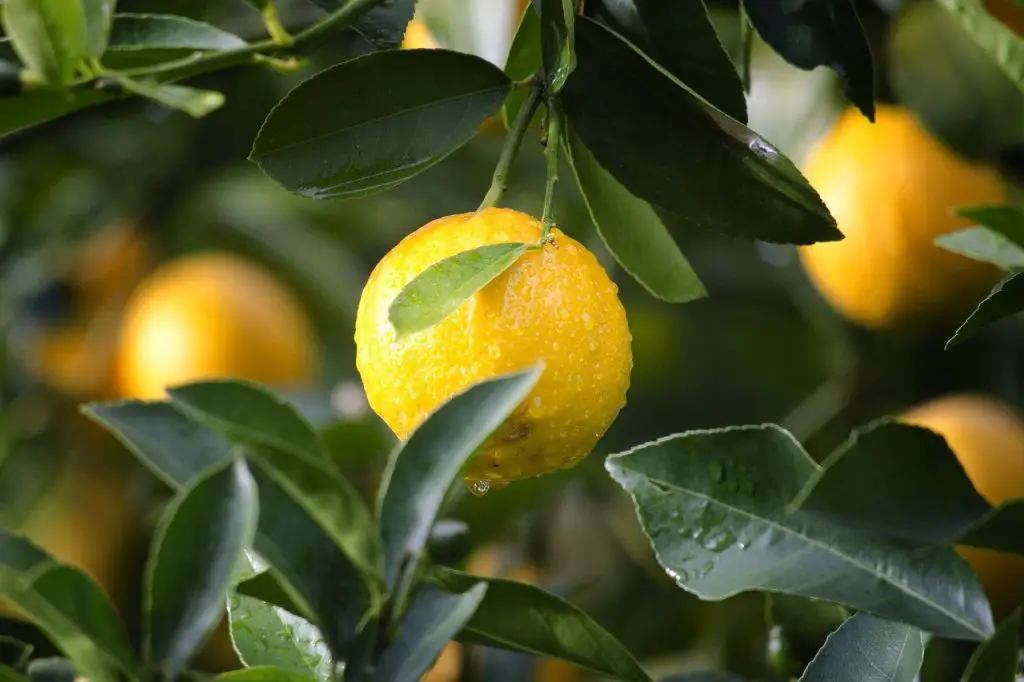 Adding a few pieces of candied lemon peel to your apple tea is also a great idea. Lemons have antiviral and antibacterial properties so that they might protect us from infectious diseases. Adding to that, lemons can also help to regulate the blood sugar and cholesterol levels, similar to cinnamon.
As apple tea can often be on the sweeter side, the lemon peel adds a refreshing acidic touch to the tea with a few hints of bitterness that are masked by sugar if you're using candied lemon peels. If you're preparing your own candied lemon peel, please make sure to use only organic lemons with peels suitable for human consumption. You don't want your tea to be full of pesticides.
Always use the best produce you can find for tea. If you can get homegrown, pesticide-free produce, that is always the best. Because unless you grow things yourself, or get it from a reliable source, you can never be quite sure how contaminated the products you buy in the supermarket are with pesticides and other harmful substances. Always take caution!
4. Apple-Hibiscus Tea
I love apple-hibiscus tea. The color and acidity you get from hibiscus blossoms are fantastic. Hibiscus is not native to Germany but to tropical and subtropical climates such as India, Sri Lanka, Ethiopia, or Sudan. Nevertheless, it is commonly used in natural medicine to treat obesity, acne, colds, loss of appetite, and high blood pressure.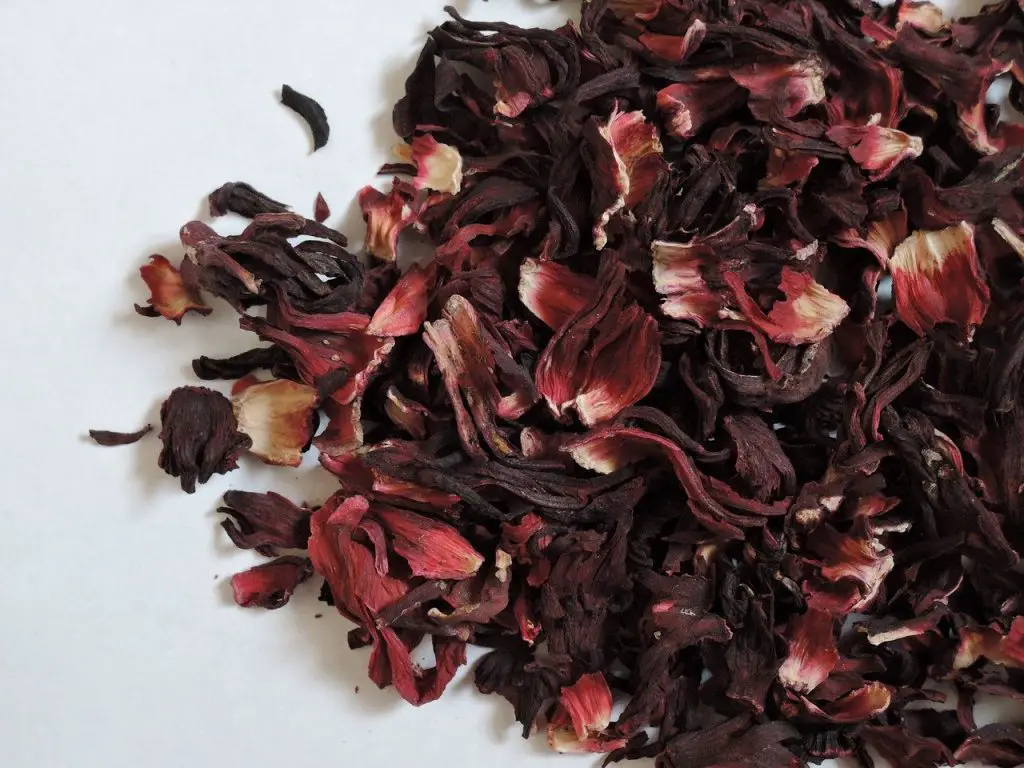 Hibiscus harmonizes very well with ginger, lemon, and apple. It is very often included in commercial fruit-tea mixes sold in Germany. However, you shouldn't let any tea with hibiscus blossoms in it steep for longer than 5 minutes. If steeped for too long, hibiscus tea can get very bitter.
In North Africa and the Middle East, hibiscus blossoms are most often blended with cardamom and cinnamon which is a very harmonic combination as well. Although if you omit the apples, it is advisable to add some sugar or honey to the tea because hibiscus blossoms are quite acidic. For a refreshing and light taste, lemon balm or mint are also great additions to an apple-hibiscus-based fruit tea mix.
5. Apple-Elderflower Tea
I can find elderberries and elderflowers everywhere I go here in Germany. Elderberries and elderflowers are very beneficial to your health. An old German saying goes as far as to state:
"Ein Holunder im Garten ist so wertvoll wie eine ganze Apotheke."
"An elder tree in the garden is as valuable as a whole pharmacy"
For a long time of German history, elder trees in front of the house were not allowed to be cut. Disease and death would inevitably follow if you had damaged an elder tree. If the elder tree had to be felled nevertheless, only kids and widows were allowed to do the job. Afterward, they had to pray for forgiveness. An old German saying states that:
"Willst du aus dem Leben scheiden, tue den Holunder schneiden."
"If you want to die, cut the elder tree."
The elder tree was a holy tree for Celtic cultures. It represents the endlessness of life. From the "birth" of the tree in spring to the "death" of the tree in winter. An endless cycle that never ends.
There are few native plants more beneficial to our health than elderberries and elderflowers. Elderberries and elderflowers reduce fevers, cramps, stress, pain, inflammation, and cleanse the blood. They strengthen the immune system and are especially potent in fighting the flu and colds. They can also help us find peaceful sleep. Whenever you start to feel sick, a cup of apple-elderflower tea might be all you need to feel better.
Resources:
Natürliche Apotheke – Heilpflanze Ingwer
Hibiskus – Inhaltsstoffe, Wirkung und Anwendung